Posted: 13 May 2021
As we transition from winter to summer, there's a special lull in Aspen. Whether you call it secret season, shoulder season, or off season, it's a great time of year to experience the best of our destination without crowds and at a lower pricepoint.
Here are just a few reasons why this time of relative quiet is a great season to visit Aspen:
ASPEN LODGING DEALS

After the lifts stop spinning, lodging rates dip. We dramatically reduce nightly rates for our condos and homes, and many of our most luxurious accommodations become quite affordable. Thanks to some big events moving to our fall season this year, our low-season rates extend through Friday, June 18, 2021. START YOUR SEARCH >>

Whether you're looking for a cozy, cabin-like condo with a rustic, wood-burning fireplace or a modern, sleek suite with beautiful views, our selection of 200+ lodging options likely includes your perfect vacation rental.

THE FIRST EVENTS OF THE SEASON

Live events are returning to Aspen during summer 2021, and the first few start in spring! Test your pedal mettle with the Ride for The Pass, a race up Independence Pass on May 22 before the road is reopened for car traffic. Hone your skills with Night Photography with ACES & Art Base during an instructor-led session on May 22 where participants learn how to photograph the night sky and learn from a local astronomer. Run in the 44th Annual Basalt Half Marathon on June 6, and kick off the summer season with the first Aspen Saturday Market on June 12!

SHOPPING AT A DISCOUNT

With the change of seasons, Aspen's famed shopping scene also transitions. Aspen shops, ranging from designer stores to locally owned boutiques, start to swap out their winter inventory for spring and summer goods. If you're in the market for ski gear, May is the best month to find deals on apparel, equipment, and accessories.

FINE DINING ON DEMANDFrom world-class steakhouses to authentic Italian cuisine, Aspen's restaurants serve up world-class meals. And contrary to high-season reservation requirements, during the spring, you can secure the best table in the house on short notice. Local restaurants often offer prix-fixe specials and great bar menus which attract a great mix of locals and vacationers enjoying fine dining.
MULTI-SPORT OUTDOOR ADVENTURELet's face it -- no one comes to Aspen just to stay inside the entire time. The outdoor majesty of Aspen doesn't end during the off-season, and there are plenty of opportunities for you to take in the spectacular scenery.

Spring is backcountry skiing season, and many locals take advantage of road access to higher elevations, especially once Independence Pass reopens to car traffic.

If you'd rather explore on two wheels, Aspen road and mountain biking starts back up during the spring. Road cyclists love the serenity of Maroon Creek Road before the visitors arrive and the shuttle starts running (early June), and mountain bikers seek out tacky dirt after the spring rains recede.

Even Aspen's rivers offer spring adventures, from fly-fishing to stand-up paddle boarding.

PEACE & SERENITY IN THE MOUNTAINS

Aspen's relative quiet during our spring season presents a rare opportunity to just sit back and relax. Enjoy a yoga class or treat yourself to a discounted spa treatment at one of our renowned spas. Take in the views of snow-capped mountains from your cozy condo, or explore our trails at your leisure without crowds. Aspen during the off season feels like you have the town all to yourself.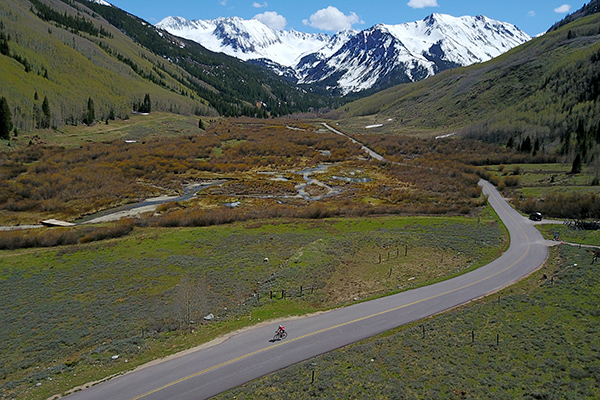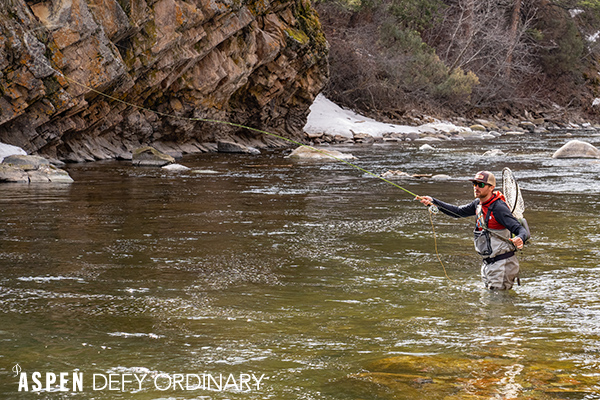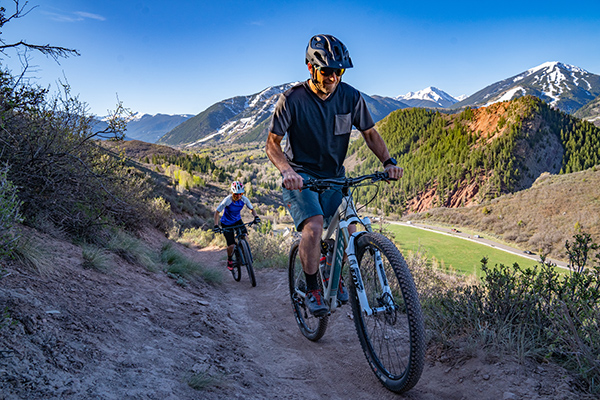 Are you inspired to visit Aspen this spring?
Are you ready to redefine vacation with a trip to Aspen in the off-season? Get incredible deals on everything from lodging to activities when you book your spring ski trip with Frias Properties. Explore our Aspen vacation rentals and contact us.