Posted: 12 Feb 2020
Not everyone is a skier, and skiing is not the only way to enjoy Aspen winters. Whether you're looking for alternative snow activities or snowless options, there are plenty of ways to explore Aspen without ever hitting the slopes.
ON SNOW ADVENTURES
In a place known for its winter weather, activities in the snow are easy to find and a fun way to experience the winter season in Aspen.
Head to Snowmass ski area to find fun for the whole family by taking the gondola up to Elk Camp. There you'll find a favorite winter activity - snow tubing. Large inflatable sleds zoom participants down tubing lanes carved into the snow. Plus, it's lift-served, giving tubers time to relax on the magic carpet on the way up the hill. At Elk Camp, you'll also find the Breathtaker Alpine Coaster. Riders can experience the thrill of winding through a mile of forest on an elevated track at speeds up to 28 miles per hour!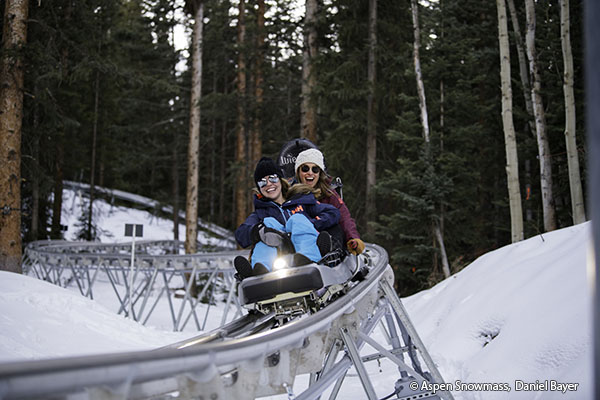 Breathtaker Alpine Coaster
Kradbloonik Dog Sledding
Kradbloonik dog sled rides and husky kennel tours are also based in Snowmass. Available throughout the ski season, each sled is pulled by 8 to 10 Alaskan Husky sled dogs and is guided by a musher. The adventure through the Snowmass backcountry is capped off by a gourmet meal of fantastic game dishes at a gas-lit log cabin. Or just visit for a kennel tour and meet the huskies, each of which is trained as a sled dog. On the tour, you'll learn about the science behind sled training and socializing happy, healthy dogs.
For those looking to venture into the snow, but aren't the most confident on skis, try snowshoeing! There are ample trails to explore as well as guided tours atop both Aspen and Snowmass Mountains led by Aspen Center for Environmental Studies' (ACES) naturalists. Enjoy the fresh mountain air and awe-inspiring views as you learn about winter wildlife, mountain ecology, Aspen history, and avalanches.
A popular outing to explore new areas within the White River National Forrest is snowmobiling. T-Lazy-7 Ranch offers several guide-led tours, including rides to Klondike Cabin, Maroon Bells, and Independence Pass. Each route offers majestic views, a hot meal or hot cocoa stop, and local history.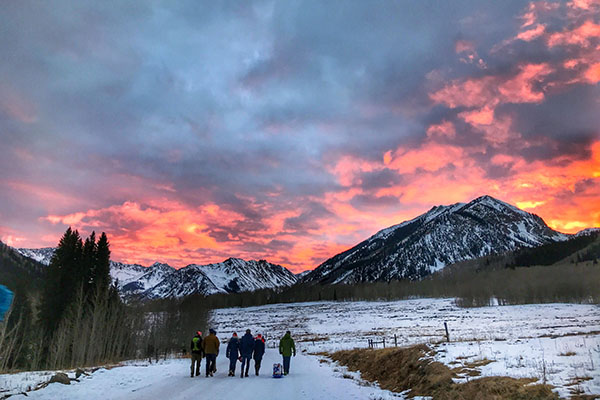 Route to Pine Creek Cookhouse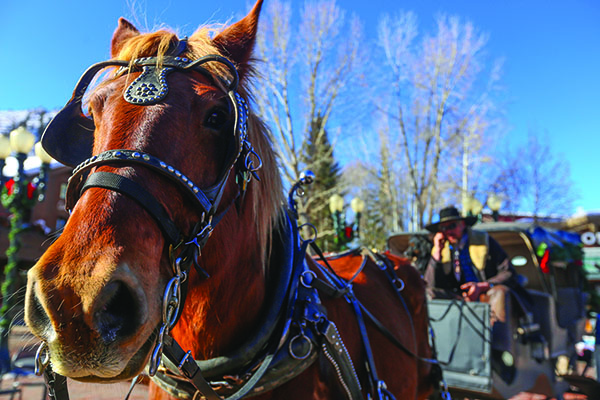 Horse-Drawn Sleigh to Pine Creek Cookhouse
Turn your meal (lunch or dinner) into an adventure when you head to Pine Creek Cookhouse. Located on Castle Creek Road, near the ghost town of Ashcroft, the restaurant not only offers a unique dining experience, but it also has unbeatable views of the Elk Mountains. Located beyond the winter road closure, the journey to this remote restaurant is half the fun. Diners ride a horse-drawn sleigh or snowshoe through snowy alpine groves to arrive at one of Aspen's most picturesque locales.
OFF SNOW ADVENTURES
Although snow is often synonymous with Aspen winters, there are numerous activities to choose from that have nothing to do with snow.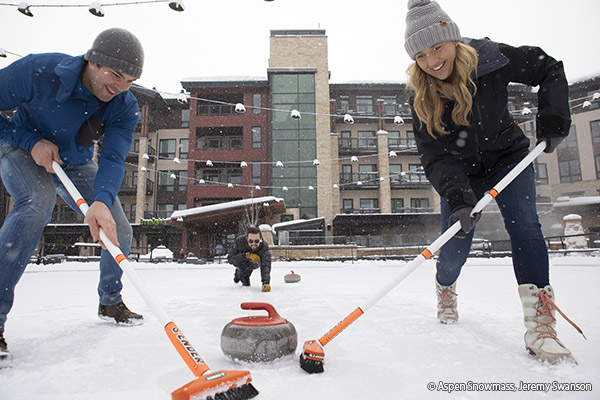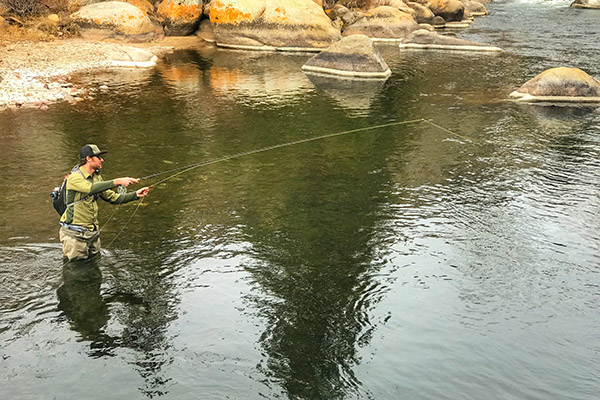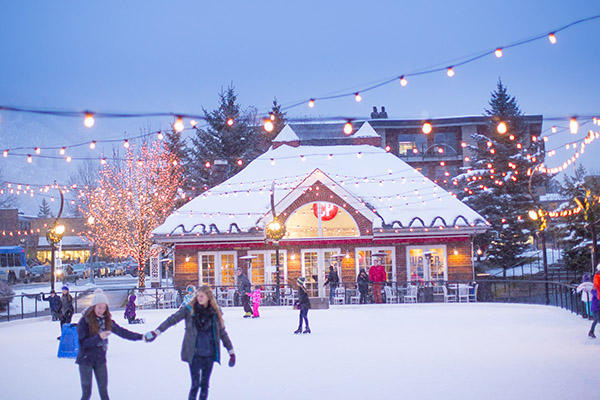 One quintessential activity for an Aspen winter vacation is ice skating. And the small town of Aspen has three ice skating rinks! The outdoor Silver Circle rink is downtown and the Lewis Ice Arena as well as the Aspen Ice Garden are both indoor options.
In Snowmass, The Rink in Base Village hosts a variety of activities including skating clinics and the ice sport curling.
Another off-mountain outdoor activity is winter fly-fishing. Aspen boasts world-class fly-fishing year-round. And winter is one of the best times to cast a line in the local Roaring Fork and Frying Pan Rivers. Waters are clear and slow-moving, and surprisingly, the winter season offers consistent fish activity and larger fish.
History buffs will very much enjoy the Aspen History Tours. Aspen's storied past is discussed on these historian-led tours that include visits to points of interest in downtown Aspen, the West End, and other key locales.
Aspen is also home to numerous indoor activities. The internationally lauded Aspen Art Museum, located right downtown, offers free admission and is a fantastic place to spend a snowy, cold day. Stop in to view one of the rotating contemporary art exhibits, enjoy the view from the top-floor cafe, or just admire the architecture of the building, designed by the renowned architect Shiguru Ban.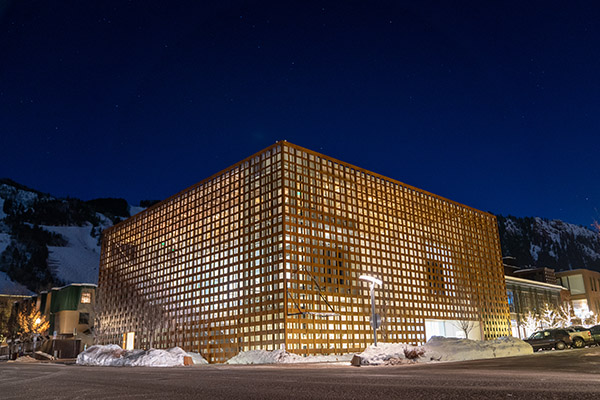 Aspen Art Museum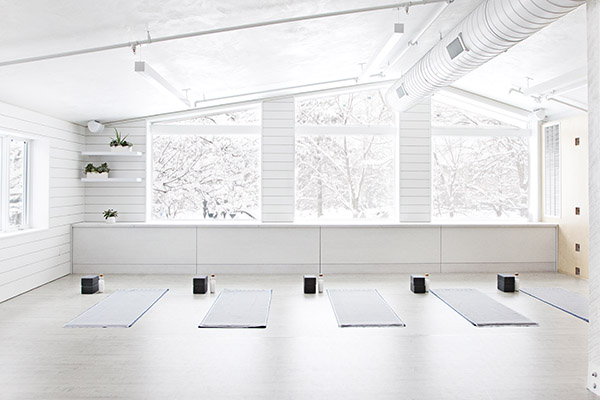 O2 Aspen Yoga Studio
In an active town full of active people, it's no surprise Aspen has a number of workout facilities, health professionals, and spots for relaxation and pampering. O2 Aspen offers yoga, fitness, and Pilates classes as well as has an extensive menu of spa treatments. Plus, Frias Properties' guests receive 15% off their workout classes during winter 2019-20.
In addition to the O2 Aspen discount, Frias Properties' guests receive free entry to both the Aspen Recreation Center (The ARC) and the Red Brick Recreation Center. The rec centers offer an indoor pool with water slide and lazy river (great for kids!), workout facilities, and a climbing gym.
Beyond its ski-town reputation, Aspen has also been lauded for its shopping scene. If you're looking for the newest Gucci handbag or those classic Prada shoes, just wander around the shop-lined downtown core. There you'll find shopping comparable to New York City's Fifth Avenue. In addition to the designer retailers, there are also unique, one-of-a-kind boutiques like Pitkin County Dry Goods and Kemo Sabe that shouldn't be missed.
INSPIRED TO EXPLORE ASPEN'S OFF-MOUNTAIN ADVENTURES?
With more than 200 centrally located vacation rentals, Frias Properties can help you find the best lodging for your visit to Aspen. View some of our rental options online, or contact our Reservations Team to learn more about availability and pricing.