Posted: 21 Dec 2016
As we near the end of 2016, we're seeing annual trends take shape. It has been an interesting year of highs and lows. We saw a new record for price per square foot just this month when a Dancing Bear Aspen penthouse sold for $5,427, exceeding the previous record by more than $1,100 per square foot. On the flipside, we've seen a significant market correction when examining the first 11 months of real estate sales volume in 2016.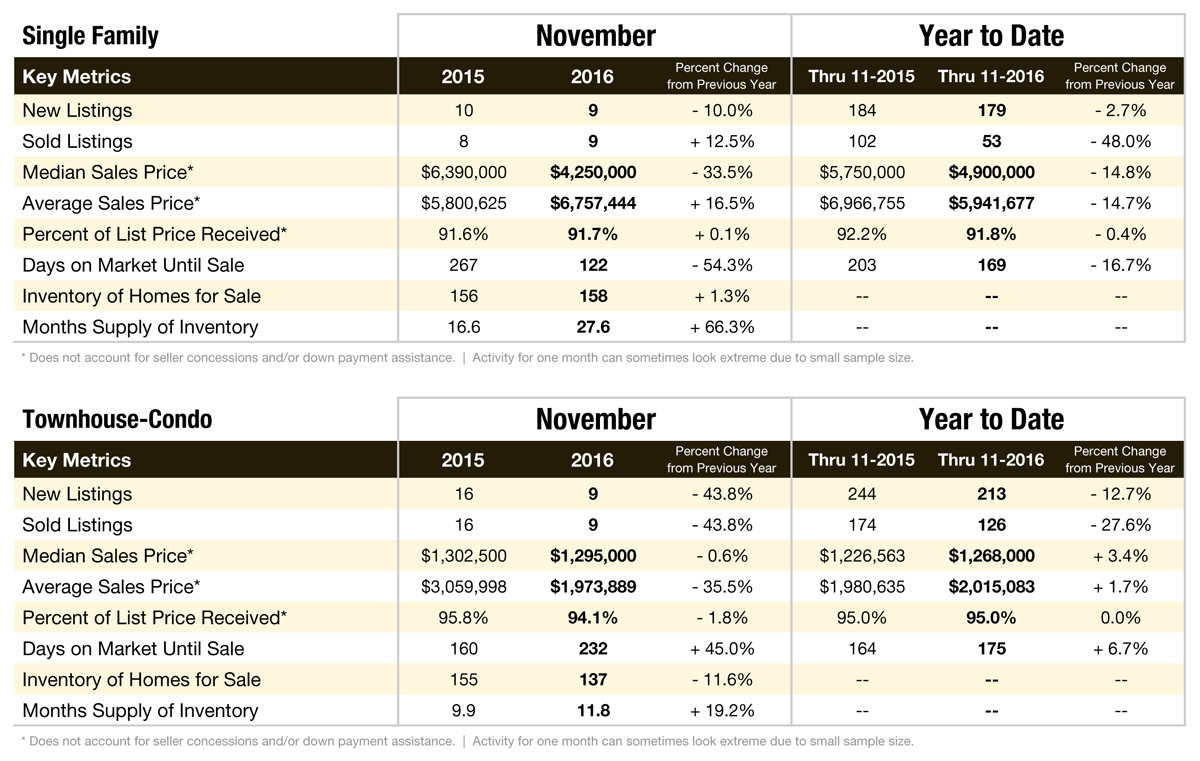 Year-over-year real estate statistics for single family homes in Aspen during 2016 show that active listings are down -3% from 184 to 179, and sold listings are down -48% from 102 to 53. Aspen, Co real estate statistics show that average sales price is down -15%, with the average home price at $5.9 M with a 0.4% drop in list price received. Properties are moving a little quicker with this year's reporting showing reduced days on the market at 170 versus 203 last year. Overall we are seeing that new listings remain close to flat with a decrease in sales volume and prices.
Year-over-year statistics for townhomes and condominiums in Aspen during 2016 show new listings are down -13% from 244 to 213 and sold listings are down -28% from 174 to 126. Average price is up nearly 2% at $2.0 M, and buyers are receiving an average 5% discount off list price. Condos and townhomes are averaging 175 days on the market, which is slightly longer than 2015. Year-to-date we see that the townhome inventory is down, sales volume is down, and there's a slight increase in the average sales price.
Frias Properties of Aspen offers local and knowledgeable Aspen real estate brokers, available 7 days a week, to help you sell your property. Whether you are interested in selling or upgrading - or if you just want to learn more about the real estate market - we are here to share our decades of local real estate knowledge. Contact us today to discuss what is happening with Aspen real estate.