Recognized for its idyllic setting and climate, great skiing and outdoor recreation, fantastic dining, high-end shopping, and as a popular retreat for celebrities and affluent travelers, Aspen has something for everyone. Its rich history and outdoor access add complexity to its reputation as an apres-ski, party town.
And sitting close to 8,000 feet in the Roaring Fork Valley among the Elk Mountains, Aspen is considered one of Colorado's best outdoor playgrounds.
AN OVERVIEW OF ASPEN'S HISTORY
Founded as a mining town during the Colorado silver boom, Aspen was home to thousands of fortune seekers, who rushed out west for their chance to strike it rich. However, not too long after the rise of its wealth, Aspen was devastated by the demonetization of silver - making it almost a ghost town.
Residents transitioned from miners to farmers and ranchers until the late 1930s, when skiing and the intelligencia made an appearance for the first time. Andre Roch, the famous Swiss avalanche expert, was hired to survey the area for a world-class ski resort. At that same time, locals took to Ajax and built their own "boat tow" ski lift and cleared the mountain's first run, naming it Roch's Run. Six years later, the historic Lift 1A carried its first skiers up Ajax. After that, it was all skiing, all the time.
And Aspen's renaissance didn't stop there. With tremendous help from Walter Paepcke, the town became a center of intellect, music, literature, art, and theater. His mark on the Aspen community still lives on today through the Aspen Idea: a community focused on mind, body, and spirit.
In the 1960s, skiing expanded to Buttermilk, Highlands, and Snowmass ski areas, and the town filled with high-rollers, hippies, and intellectuals.
Aspen's vibrant, athletic, and unique culture today, is a tribute to its varied cast of characters and storied past. Whether it's the arts, idyllic setting, fantastic climate, or outdoor activities that lure you here, it's ground zero for a vacation unlike any other.
ASPEN'S CLIMATE & SEASONS
Aspen is a year-round destination and there is never a bad time to visit. Located at 7,908 feet above sea level, we have a high-alpine climate with almost 300 days of sunshine each year.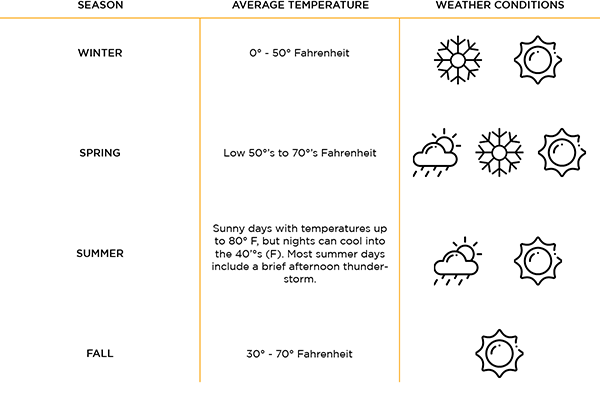 HOW TO GET TO ASPEN
Among the Elk Mountains in the Roaring Fork Valley, Aspen is located in west-central Colorado and is easy to access all year round. Right on State Highway 82, the town is sandwiched between I-70 and Independence Pass.
Driving to and from Aspen is easy in the summer, but a little more limited in the winter, once Independence Pass closes for the season (typically in late October). You can take either I-70 to US 24 and take State Highway 82 over Independence Pass, or I-70 from Denver to Glenwood Springs, where you will take State Highway 82.
Flying to Aspen is also quite simple. The closest airports are:
Aspen/Pitkin County Airport - ASE (3 miles from downtown Aspen)
Denver International Airport - DEN (220 miles from Aspen via I-70 and Colorado 82)
Eagle County Airport - EGE (70 miles from Aspen via I-70 and Colorado 82)
Grand Junction Regional Airport - GJT (125 miles from Aspen via I-70 and Colorado 82)
WHERE TO STAY IN ASPEN
The best location to stay in Aspen, Colorado is the downtown core area. And Frias Properties offers the largest selection of centrally located vacation rentals, including condos, hotel rooms, and private luxury homes. When staying in the downtown neighborhoods, you are within walking distance to all the great restaurants, shopping, and the Silver Queen Gondola at the base of Aspen Mountain.
Our vacation rentals can be found in a number of neighborhoods scattered throughout town.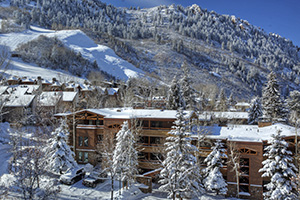 Galena Neighborhood
These condos are just two blocks to the lifts and offer great amenities like outdoor pools and hot tubs.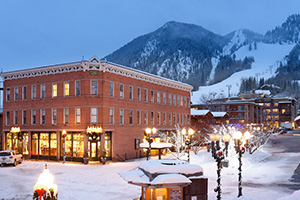 Aspen Central Core
Encompassing only eight blocks, the downtown core is the center of Aspen's vibrant lifestyle.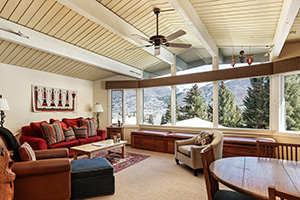 Lift 1A
The alternative access point to Aspen Mountain, this quiet neighborhood is still walking distance to town.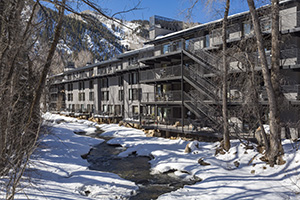 Riverfront Condos
Perched above the Roaring Fork River, these condos treat guests to serenity year-round.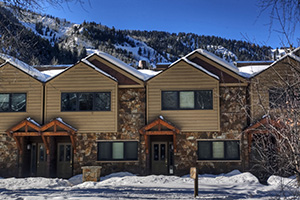 East Aspen
Situated toward Independence Pass, this quiet neighborhood is still walking distance to downtown.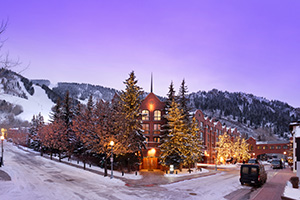 Luxury Collection
Frias Properties offers the largest selection of vacation weeks at Aspen's most exclusive resorts, like Ritz-Carlton Club, The Innsbruck, St. Regis, & Hyatt Grand Aspen.
ATTRACTIONS IN ASPEN
Aspen's prime setting makes it a destination for skiing and other outdoor activities and a place of inspiration for artists and thinkers. With a vibrant outdoor recreation landscape as well as robust art and culture scene, there is something for everyone in Aspen, Colorado.
Throughout both the winter and summer seasons, visitors can find a multitude of activities to explore.
Some of our top-recommended activities include:
Winter Activities in Aspen
Skiing & snowboarding on four world-class ski areas
Snowmobiling to the Maroon Bells
Riding the Alpine Coaster at Elk Camp atop Snowmass ski area
Naturalist-led snowshoe tours atop Aspen Mountain with Aspen Center for Environmental Studies
Ice skating at the Silver Circle Ice Skating Rink in downtown Aspen
Summer Activities in Aspen
Hiking around the Maroon Bells
Riding bikes along the Rio Grande Trail
Mountaintop yoga on Aspen Mountain
River rafting on the Roaring Fork River
Mountain biking on the area's Gold-Medal-rated trails
JOIN US IN ASPEN
Now that you know the basics about Aspen, Colorado, book your next vacation. Start by searching our live selection of more than 200 condos, private homes, and hotel rooms. Or contact us for personalized recommendations of where to stay.