Posted: 2 Jul 2020
With social distancing a high priority this summer, we advise our guests to seek out the trails less traveled. Here are a few recommended routes that share similarities with Aspen classic hikes like the Ute Trail, Smuggler Mountain Road, and Sunnyside.
DOWNLOAD ASPEN TRAILFINDER. While our narratives below give a general sense of these hiking routes, trust the experts who created Aspen's popular Trail Finder app, available for download in the App Store and on Google Play. Learn more >>
Aspen Hiking Etiquette
Before you hit the trails, brush up on your hiking etiquette. Here are some quick reminders that will help you blend in with the locals!
Be self-contained.

Bring everything you may need on the trail, including appropriate clothing/layers, water, snacks, a communication device, and sun protection.

Observe right-of-way rules. Hikers moving uphill have the right-of-way, so those descending the trail should pull over and let them pass. When it comes to other modes of transportation, bikers should yield to hikers and horses, and hikers should yield to horses.
Holster your phone. It may feel convenient to order lunch while descending, but it's bad behavior to be on your phone on the trail. If you must make a phone call, pull over and yield to other hikers.
Leave no trace. Make sure to pack out all your waste, and take an extra minute to look around if you stop. You probably dropped your mask!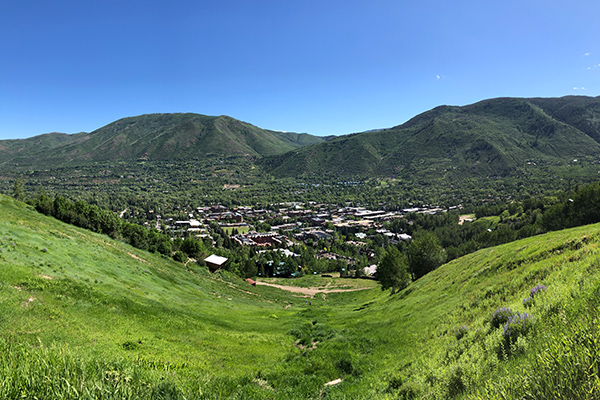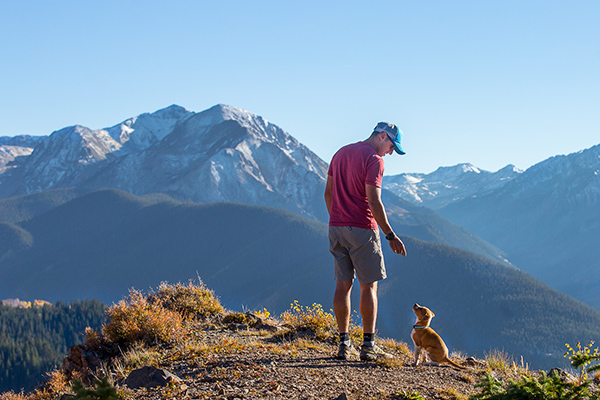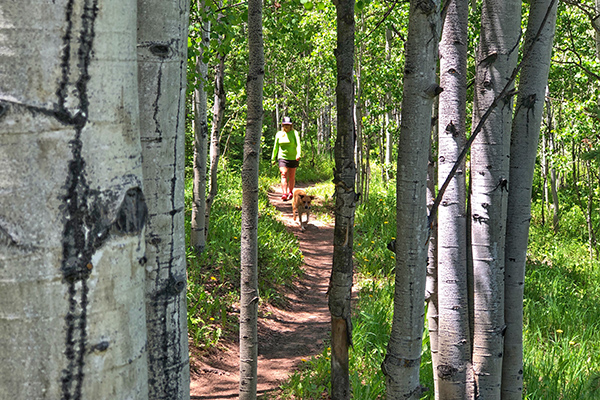 ASPEN CLASSIC HIKING TRAIL: THE UTE
SOCIAL-DISTANCING ALTERNATIVE: LITTLE NELL TRAIL
Please note that the Little Nell Trail is closed from June 8 - early July 2021 while crews replace the Silver Queen Gondola cable.
The Ute is a leg-burning, 1,000-foot ascent from town to a gorgeous lookout. But, with its narrow switchbacks, it doesn't take many hikers for this trail to be very crowded.
For those looking for a similar cardio blast, head up the Little Nell Trail, which starts at Gondola Plaza. Follow the single-track up Little Nell Run under the gondola. The narrow trail meanders through the meadow, and hikers can choose to walk the road for some sections. Near the top, the trail zigs to the right and then links up with a wider fire road as it zags back to the left.
This trail technically ends at Kleenex Corner (just below the old mining cabin at the top of the climb), but if you're feeling strong, continue up the "Power of 1" trail to the top of Aspen Mountain. You'll be rewarded with a cold beverage at the top and a free gondola ride down!
ASPEN CLASSIC HIKING TRAIL: SMUGGLER MOUNTAIN ROAD
SOCIAL-DISTANCING ALTERNATIVE: MIDNIGHT MINE ROAD
Smuggler Mountain Road is a wide fire road with beautiful views the entire way up. This trail is incredibly popular for its short 1.5-mile length, easy access from town, and dog-friendly status. Midnight Mine Road shares many of Smuggler's traits, but it clocks in at 5.5 miles. The upside is that if you make it to the top, you get a free ride down on the Aspen Mountain gondola.
To get to the trailhead, take the Castle Creek exit at the roundabout west of Aspen. Drive for approximately 2.5 miles and turn left onto Midnight Mine Road. Continue until the road narrows to one lane and park in the designated area.
This hike is a continuous climb with views into the Castle Creek Valley. Midnight Mine intersects Little Annie's Road at the 4-mile mark. Stay left to continue to the top of Aspen Mountain. Note: this route to the top of Aspen Mountain is less strenuous than hiking the frontside, but it is still a challenging hike. Bring lots of water!
ASPEN CLASSIC HIKING TRAIL: SUNNYSIDE
SOCIAL-DISTANCING ALTERNATIVE: BUTTERMILK
Sunnyside is another favorite Aspen hiking trail that meanders through sage brush and along water ditches. Most people treat this hike as a there-and-back route and turn around at the water tower (2.4 miles one way).
A great alternative is Buttermilk Summer Road, and while it's a little longer at 3.4 miles, you can cut off lots of mileage by dipping into the singletrack Buttermilk Trail if your legs are up for it! Both of these trails are dog-friendly, and there are some fresh-water springs that the dogs enjoy along the route.
Buttermilk Summer Road starts at the base of Buttermilk, another easy-to-access starting point with plenty of free parking. Head up under the main chairlift and follow the road to the top. The trail ends at the Cliffhouse, a perfect spot for a picnic with a view of Pyramid Peak!
Are you ready to explore Aspen's hiking trails?
Start planning your Aspen summer vacation by browsing our selection of centrally located vacation rentals. Contact us for recommendations or to book!