Posted: 17 Jun 2021
How is the weather in Aspen during the summer? Fantastic! Visitors from hotter climates (including Texas, Florida, and New York) flock to Aspen during summertime to escape high humidity and high temps.
Aspen's elevation at 7,900 feet means that our weather is quite temperate during summer months. Warm days peak at 80 degrees on average, and nights cool down to mid-to-upper 40s. July and August are part of "rainbow season," when monsoon patterns bring afternoon thunderstorms that move in quickly, drop cooling rain, and depart with a rainbow in their wake.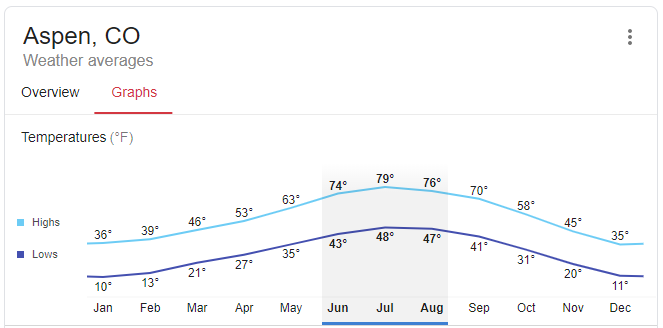 Source: NOAA
With our short, warm season and temperate weather, most Aspen homeowners do not install air conditioning in their condos and homes, instead relying on some simple tricks to keep their residences cool on very hot days.
We have created this guide to help our guests who are accustomed to living with A/C keep their units cool on hot days.
HOW TO KEEP YOUR VACATION RENTAL COOL DURING SUMMER MONTHS
IN THE MORNING:
Open windows and turn on fans to circulate cool air while the temperatures are still cool.
If possible, open windows on opposite sides of your rental to create a cross-breeze.
DURING THE DAY:
Draw shades to block the sunlight, especially on south-facing windows.
Turn on ceiling fans (if available) to circulate air.
Close windows to insulate against the outside heat.
Be sure to turn off any lights or electronics not in use.
AT NIGHT:
When temperatures begin to cool, open the windows to bring in cool air.
Keep fans on to maintain circulation.
If you are staying in a ground-level rental, lock windows and doors at night to prevent bear entry!
OUR GUESTS' COMFORT IS OUR PRIORITY!
If these measures are not adequately cooling your rental, we have portable air conditioning units available upon request on a first-come, first-served basis. Please contact the front desk: (970) 920-2000 or frontdesk@friasproperties.com.