Posted: 31 Mar 2017
While the real estate market in Aspen Snowmass may appear to be out of reach for first-time buyers, purchasing a home instead of renting can be the right choice, especially right now.

A recent Powder Magazine article shed light on the rental housing shortage that many resort communities are experiencing as second-homeowners turn their properties into short-term vacation rentals. Although Aspen has one of the largest workforce housing programs for a ski town, our rental inventory is affected.
As we approach summer 2017, long-term rental inventory remains low, and rents are holding high. One-bedroom Aspen condos are fetching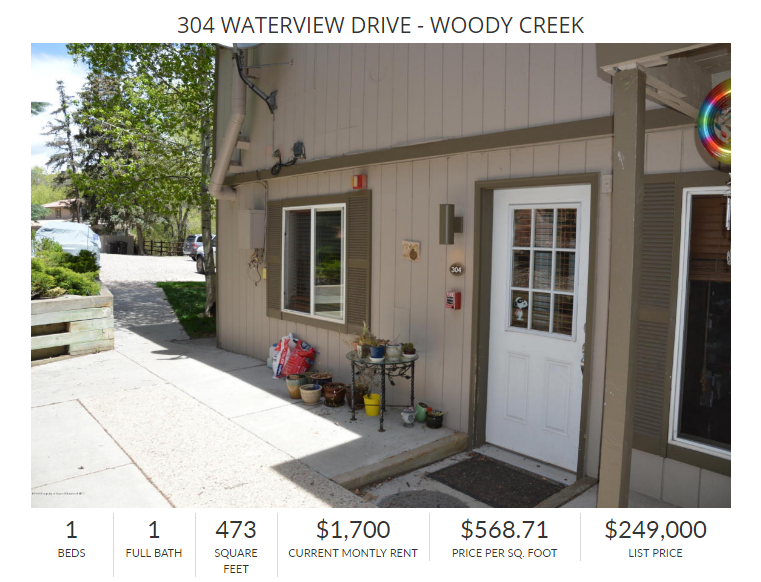 between $2,000 to $4,500 per month for year-long leases. Even in Snowmass Village, an area where long-term rentals have been more available and affordable in recent years, one-bedroom condos start at $1,500 for year-long leases.
Rental rates will likely remain high in the near future; a surge in area development, like the new Limelight Hotel in Snowmass Base Village, are expected to flood the rental market with a temporary workforce this summer and fall. Even city-owned housing is undergoing rent increases with Marolt Ranch seasonal housing cutting off-season discounts.
With these conditions in mind, Frias Broker Andrew Myatt breaks down a scenario when it makes more sense to buy than rent in Aspen Snowmass.
"If you are like most first-time buyers, the idea of putting down 20 percent to purchase a home or condo in the Roaring Fork Valley is a difficult decision to make," Andrew said. "However, most first-time buyers with good credit can find loans where they only need 10 percent down. This makes that decision a little easier, especially once you break down the numbers."
According to Andrew, there are a few prime opportunities for purchase right now in the valley.
"Take this one bedroom that is listed at $249,000 at 304 Waterview Drive in Old Snowmass/Woody Creek," said Andrew, who is the listing broker for the property. "If you were to put 10 percent down, that would be $24,900, and with a 4.5 percent interest rate on a 30-year fixed loan, your monthly mortgage payments would be $1,135. Once you factor in the HOA fees, you would be paying $1,506 per month."
If a buyer is able to put down 20 percent, the monthly payment drops significantly, Andrew said. He added that the best part of the deal is that instead of paying someone else's mortgage, you will be building equity that will be waiting for you once you sell the property for a larger one.
Andrew is available today to schedule a showing at 304 Waterview Dr., or to discuss other opportunities for first-time buyers. He can be reached at (970) 429-2410.