Posted: 10 Jun 2018
Updated April 2019
Great food. Wonderful weather. Spectacular views. It's no secret why Aspen's restaurants with outdoor dining are so popular during summer months. The al fresco dining options in Aspen are many and varied. They range from see-and-be-seen hotspots at the base of Aspen Mountain to landscaped patios with on the buzzing walking malls. Some of our favorites are listed here, but there are more to find and explore on your own.
To find YOUR perfect patio in Aspen, check in with our concierge team. They are ready to help with recommendations and reservations!
SO Cafe, 637 E. Hyman Avenue at the Aspen Art Museum - Offering unobstructed Aspen Mountain views, SO Cafe is located atop the Aspen Art Museum and features an innovative, rotating weekly menu of local ingredients. Art in combination with a delicious lunch and a stunning setting makes SO Cafe a hotspot among locals and visitors. Open for lunch only 11:30 a.m. to 3 p.m. Tuesday through Saturday. There is also beverage and pastry service from 10:30 a.m. to 5 p.m. on Sundays.
Ajax Tavern, 685 E. Durant Avenue - Popular during wintertime for apres ski, the spacious patio at the base of Aspen Mountain is also lively all summer long. Known for its double cheeseburger and French-American fare, the Tavern is a casual place for lunch or dinner, and kids have their own menu of tasty treats. Watch the Gondola ferry people up and down the mountain while enjoying a delicious meal and a speciality cocktail or glass of fine wine.
Casa Tua, 403 S. Galena Street - Offering fine-dining on the Cooper Avenue pedestrian mall, Casa Tua is an upscale restaurant serving Northern Italian dishes. Locals select a sunny spot for happy hour every day from 4 to 6 p.m., and Aspen Music School students often perform nearby, adding to the heavenly atmosphere.
Hops Culture, 414 E. Hyman Avenue - Serving upscale pub food and 200 domestic and imported craft beers, Hops Culture's patio on the Hyman Avenue pedestrian mall is the place to be during the summer. A great spot for a casual bite, we recommend grabbing a shaded seat to enjoy a cold microbrew. The patio is open for lunch and dinner and is always hopping!
BOSQ, 312 S. Mill Street -- This intimate patio located on the walking mall across from Wagner Park provides one of the best locations in the summer for late afternoon and evening sun, and the food served up by Chef Barclay Dodge is some of the most creative and upscale in all of Aspen. Little known secret... one of the best burgers in town can be found at BOSQ. Even when it's not on the menu, ask your server and it will come out piping hot and delicious.
Living Room Terrace at Hotel Jerome, 330 E. Main Street -- The newest addition to Aspen's outdoor dining scene is the renovated terrace at the historic Hotel Jerome. One of the largest outdoor areas in town and conveniently located on Main Street, the terrace is great for groups or long weekend afternoons of socializing. A carefully curated menu of salads, small bites, and some of the entrees locals love from Prospect and J Bar means there is something for everyone.
Looking for more? There is no shortage of great restaurants around town that offer outdoor dining:
White House Tavern, 308 W. Hopkins Avenue - lunch and dinner sidewalk patio with views
Meat & Cheese, 319 W. Hopkins Avenue - lunch and dinner sidewalk patio

Cache Cache, 205 S. Mill St. - courtyard dining, no mountain view

Red Onion, 420 E. Cooper Ave. - expanded walking mall seating

Campo Di Fiori, 205 S. Mill St. - courtyard dining, no mountain view

Ellina, 430 E. Hyman Ave. - walking mall seating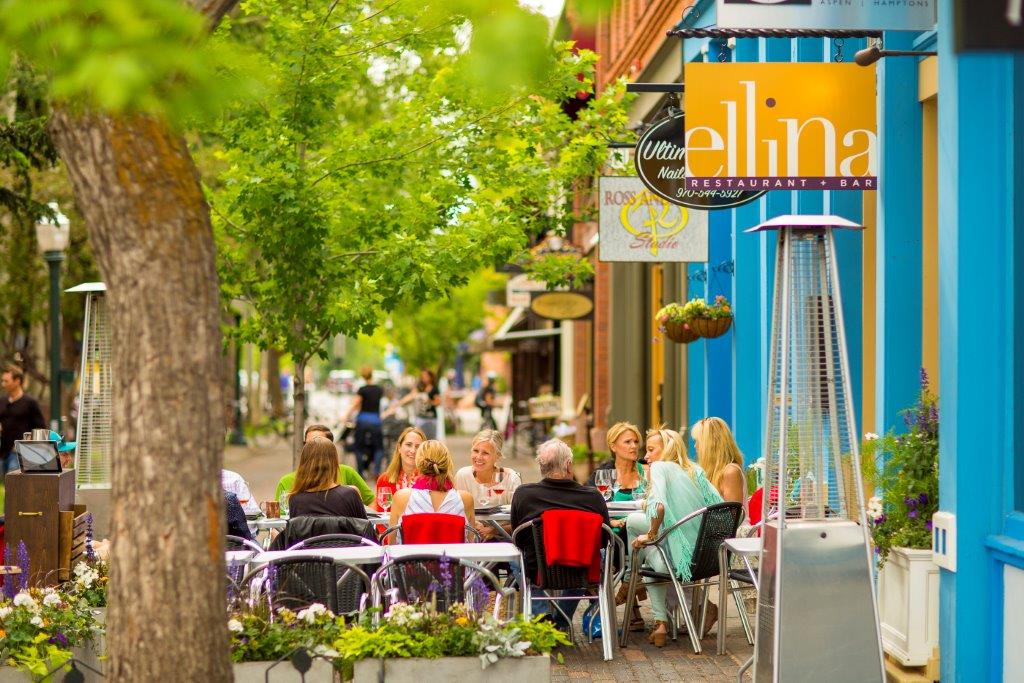 Are you ready to snag your seat?
Imagine summers full of fine dining and beautiful weather, walking to town on a cool evening, laughing with friends over exquisite appetizers and cocktails, savoring a memorable dinner and out-of-this-world dessert... It's all possible in Aspen! Start searching for your summer vacation rental here, or contact Frias Properties' Aspen-based reservations team for recommendations on where to stay.