Posted: 3 Jun 2015
If you're planning to vacation in Aspen this summer, you may have some questions about what to pack. Aspen is blessed with temperate weather during the summer, which is a sweet relief to our Texan and Floridian guests. However, as with all mountain climates, Aspen's weather can change quickly, shifting from perfect sunshine to dramatic thunderstorms - even brief hail events. Read on for essential packing tips for an Aspen summer vacation.
Warm-Weather Active Wear
If you're struggling with what to wear in Aspen, think about how summer days in Aspen are best enjoyed: outside! Make sure to pack clothes that can take you from the hiking trails to the Ajax Tavern patio or other alfresco hot spots. We also recommend bringing a lightweight waterproof jacket. Aspen locals don't leave home without this layer, even if the forecast is clear.
A Bathing Suit
You might not think of Aspen as a destination with lots of water activities, but our rivers and lakes offer many ways to get wet, from kayaking and rafting to stand-up paddleboarding. In addition, most of our condos have access to a complex pool, and all our guests receive complimentary passes to one of Aspen's best pools at the Aspen Recreation Center.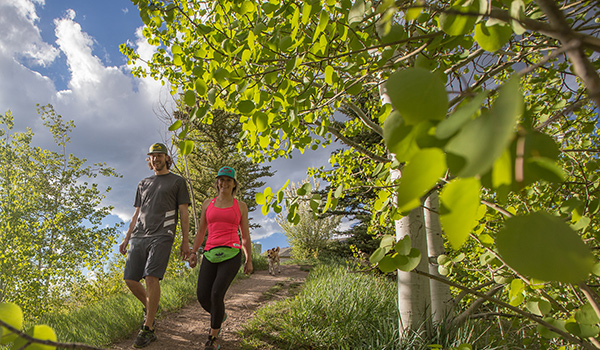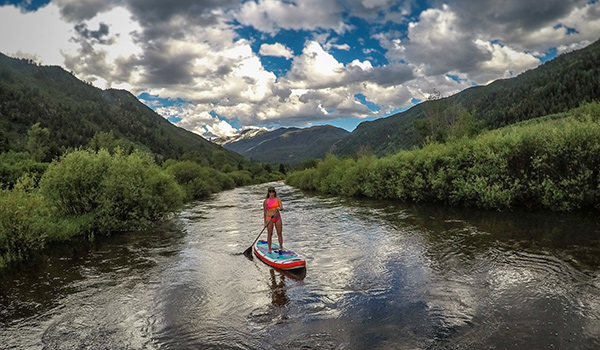 Hiking Shoes and Post-Hike Sandals
Whether you're aiming to summit a Fourteener or just hoping to catch a cool breeze on a nature walk atop Aspen Mountain, you will need sturdy footwear. A lightweight trail shoe serves our guests well, and most people appreciate a comfortable sandal to slip on after a day outside.
Sun Protection
Our high-altitude climate makes the sun much more intense, and we recommend bringing sunscreen, sunglasses, and a hat. Even if you are just strolling around town, the rays at 7,900 feet are intense, so these accessories are a must.

Layers!
As we mentioned before, Aspen's weather can change very quickly, so dress in layers during the day and at night. Bring a lightweight waterproof jacket for daytime adventures, and always grab a sweater or jacket for a night out - the temperature drops when the sun goes down!
"Aspen-Casual" Attire for a Night Out on the Town
For a night out, locals heed the "Aspen Casual" dress code, which means a much more dressed-down version of big-city fashion. Jeans are acceptable in nearly every social scenario, and high-heels (especially stilettos) are not practical on Aspen's brick walking malls. However, just like Aspen's anything-goes spirit, any fashion statement is accepted by our welcoming community.
Your Photogenic Smile
Even if you don't pack it, it will be here when you arrive. Aspen is truly a mountain paradise that is full of excitement and photo opportunities. If you need some pointers about where the best selfie spots are, our Concierge can share her tips!
We can't wait to see you in Aspen! Start planning your trip by browsing our vacation rentals here. If you need tips on where to stay, contact our Aspen-based reservations team who can offer condo recommendations.