06/06/2019 -

5:30pm

to

10:00pm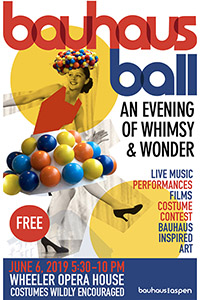 The mission of the Bauhaus 100: Aspen is to celebrate the centennial anniversary of the Bauhaus and to commemorate its influence on Aspen and illuminate the many ways in which it has impacted the city and continues to influence and inspire artists, designers, architects, landscape architects, and thinkers in the Roaring Fork Valley.
The Ball
Head to the Wheeler Opera House for a spirited soiree in honor of the Bauhaus 100th anniversary. Costumes and creativity are wildly encouraged!
It's a free, community event that includes live music, films, Bauhaus-inspired art, performances and a juried costume contest.
For help with your Bauhaus inspired costume, attend one of the Bauhau Costume Workshops at the Red Brick Center for the Arts. Find the dates and times of these sessions at the Bauhaus100Aspen.org website.