Posted: 26 Aug 2015
Updated in January 2020
Aspen's bike sharing program, called WE-cycle, launched in 2013 as the first of its kind in a non-metropolitan area. Originally a great solution for in-town transporation for locals and homeowners, WE-cycle has expanded its usefulness to visitors as well. Starting in summer 2019, all rides are free for the first 30 minutes. And with 16 bike stations at key locations around town, WE-cycle is great way for anyone to get from point-A to point-B.
Read on to learn how to use this FREE bike sharing service during summer months in Aspen
How to use Aspen's WE-cycle bike sharing program
WE-cycle was built to be a fun, flexible, and convenient way to get around Aspen for locals and visitors.
Download the mobile app.
Visit the nearest bike station, open the app, and click on "Get Ride Code."
Enter the one-time 5-digit Ride Code. (Codes are active for five minutes.)
Wait for the green light, pull on the handlebars, and you're on your way!
Return the bike to any WE-cycle station. Make sure you see the green light and confirm the bike is re-locked in the station. Your time resets with each ride.
Ride again! Take as many 30-minute rides as you'd like. It's free every time.
If you want to keep the bike for longer than 30 minutes, you are charged $0.50 per additional minute over 30.
Where are the Aspen WE-cycle stations?
There are 16 WE-cycle kiosks in Aspen where you don't need a physical pass to access a bike. The map below identifies them in orange. Here are a few common routes that our guests take on their WE-cycle bikes:
Pick up at Gondola Plaza and ride to Smuggler | Centennial to hike the Smuggler / Hunter Creek Loop.
Grab a bike at The Gant (near our Silverglo condos) and ride to the Red Brick station -- our guests receive free passes to the Red Brick Rec Center.
Hop on a bike at Cooper | Original, just around the corner from the Frias Properties Main Office, and cruise through the West End to the Benedict Music Tent to enjoy an afternoon concert.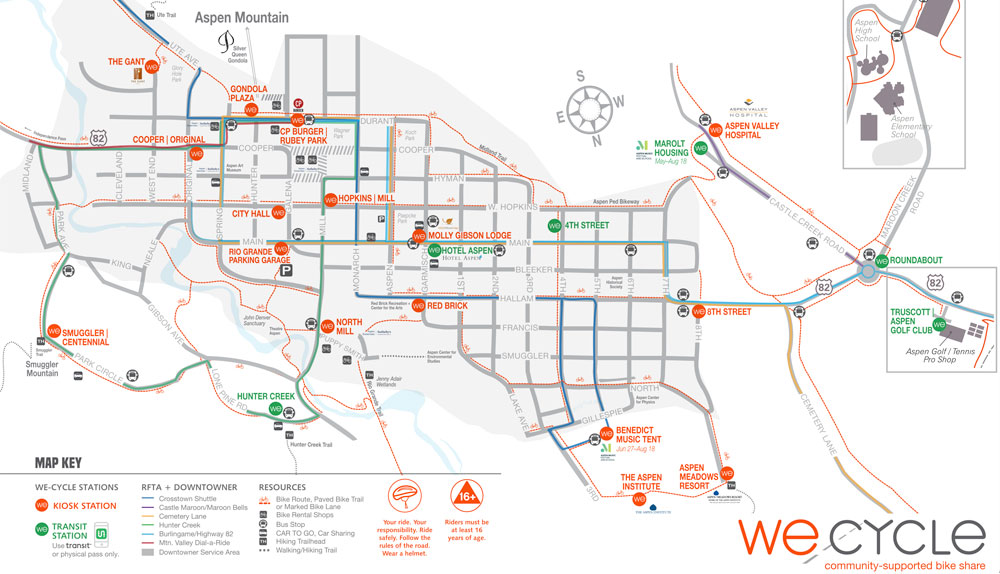 Other Bike Rental Options in Aspen
While WE-cycle is a great way to get around town, we recommend renting a bike if you'd like to do some true sightseeing. Local shops have everything from comfortable cruisers to high-performance road bikes and mountain bikes, event e-bikes! Check out our guide to biking in Aspen Snowmass to see which bike excursion is right for you.
Frias Properties guests receive discounts on bike rentals from a few different shops, so contact the Concierge before setting out on your two-wheeled adventure.
Let's ride together in Aspen!
Now that you know how to get around Aspen on two wheels, start planning your summer vacation. Browse our selection of centrally located Aspen vacation rentals, or contact our reservations team for personalized recommendations.