Posted: 27 Jan 2020
Once a fringe winter sport, uphill skiing is now one of the fastest-growing winter activities, according to Snowsports Industries America. In Aspen, it has been fully embraced by locals, guests, innovative gear companies, and, unlike most North American ski resorts, the operators of our four ski mountains - the Aspen Skiing Company.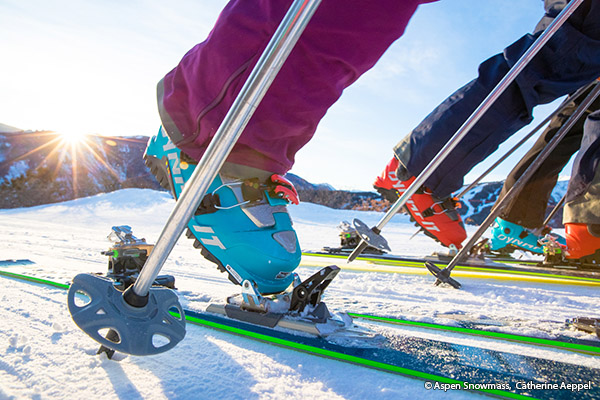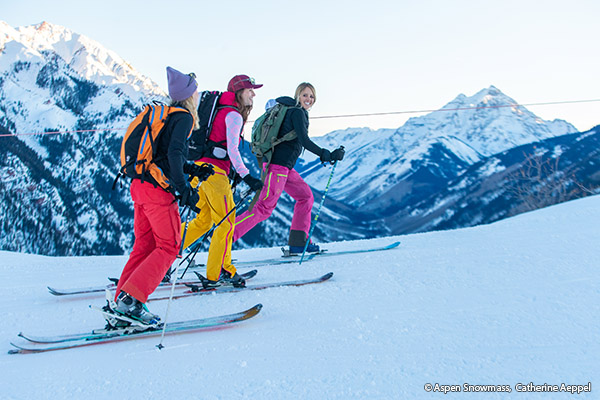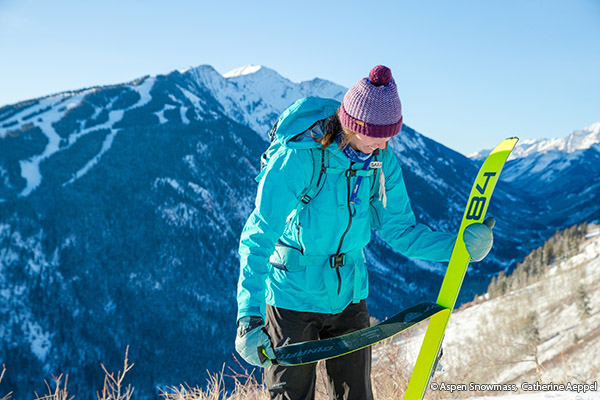 Uphill skiing, also known as uphilling, skinning, or alpine touring, involves traveling up a mountain on skis or a split board, using specialized equipment including skins and touring boots and bindings. Making your own way, at your own pace up the mountain gives uphillers the time to take in the mountain scenery, which is normally not focused on when flying past on downhill skis. In addition to the views, skinning is great for exercise and a true full-body skiing experience.
At the top of the climb, uphillers transition their ski or snowboard settings, as well as their clothing, so they can then ski down the route they just hiked. And finishing a climb is not only just finishing a workout; it's reaching the top of a mountain, which brings a much greater sense of achievement to many skinners.
Those who are enthusiastic "skinners" enjoy the physicality and beautiful surroundings - all within the safety of inbounds ski terrain.
THE GEAR
Much of the gear for uphilling looks quite similar to downhill skis. However, the boots are equipped with both ski and hike modes and the uber lightweight skis are fitted with free-heel bindings that help with ascending the mountain. To keep from sliding down the mountain, climbing skins - adhesive, carpet-like coverings - are affixed to the bottom of the skis.
Renting alpine touring gear is easy in Aspen. You'll find everything you need from free-heel bindings to climbing skins at all the local outfitters. We recommend Four Mountain Sports and Ute Mountaineer.
Don't forget: Consult with your rental technician about your gear before heading out. There's nothing worse than making it to the top of the mountain, and not know how to transition your bindings so you can ski down!
WHAT TO WEAR
Don't underestimate the importance of your apparel. When making your way up the mountain, you will get hot and will probably shed a few layers. However, once you reach the top of the climb, you will want to put those layers back on for the descent.
UPHILLING ROUTES IN ASPEN SNOWMASS
Aspen Snowmass is one of the few ski resorts that allows uphilling during normal lift operations. Each mountain has its own policy, so read on to see where you can strap on your skins and go for a tour.
Winter 2020-21 Update: Uphilling is not permitted during certain dates of the 2020-21 ski season, including Dec. 26, 2020 - Jan. 2, 2021 and Feb. 13 & 14, 2021. Please check the current policy for all four mountains in the links below.
Aspen Mountain
Aspen Highlands
Buttermilk
Snowmass
LEARN TO UPHILL SKI
January is learn-to-ski month. And what better way to take part than to try out uphill skiing? Start your adventure by reserving your vacation rental with Frias Properties. Then consult our concierge to reserve your uphilling equipment in advance and save!