Posted: 31 Aug 2022
Autumn is a wonderful time of year in Aspen, as the summer crowds wane, the verdant foliage transitions to a brilliant gold, and there are limitless activities to enjoy. In recent years, the secret has gotten out, and visitors flock to see Aspen's seasonal spectacle. While there may be a few extra people on the hiking trails, local restaurants, outfitters, event producers, and cultural organizations have begun to extend their services through the "shoulder season." Read on for your complete guide to a fall vacation in Aspen.
Gondola & Chairlift Rides in Aspen Snowmass
A trip to Aspen isn't complete without taking in the views from the top of the mountain. Aspen Mountain and Snowmass run their gondolas through Oct. 2, 2022 and offer lots of family-friendly attractions plus dining at their summits.
Purchase your gondola passes from the concierge, and ask about Sightseeing Passes, which package three days of gondola access, discounts on on-mountain dining and activities, and a free drink with the purchase of a pizza at the Limelight Hotel in Aspen or Snowmass. Cost is $41, and kids ages 4 - 12 ride free with the purchase of an adult pass.
Fall 2022 Gondola Hours:
Operates daily between June 17 - Sept. 5
Open Weekends: Sept. 9 - Oct. 2.
Gondola hours: 10 a.m. - 4 p.m. (last ride down at 4:30 p.m.)
eBiking to the Maroon Bells in the Fall
The cycling route to the Maroon Bells climbs 1,300 feet over nearly 7 miles from Aspen Highlands to Maroon Lake (elevation 9,100 feet). The route passes through countless aspen groves and under the watchful gaze of 14,026-foot Pyramid Peak, before rounding the bend for a spectacular view of Maroon Bells, and an eventual arrival at Maroon Lake. We recommend renting an eBike to tackle the challenging ride. Please make sure to follow the rules for eBiking in the Roaring Fork Valley! Your rental provider will inform you of local regulations.
Leaf Peeping in Aspen in the Fall
Aspen trees begin their transition from green to gold in early September, starting at higher elevations and moving lower as seasonal temperatures drop. The peak typically occurs in the third or fourth week of September, and, depending on the year, fall colors may extend into late-October.
Leaf watchers from around the country come to Aspen to witness the area's gold glow against its stunning backdrop of bluebird skies and snowcapped peaks. From the Maroon Bells to Independence Pass, Aspen has some of the most stunning leaf-peeping territories. Here are a few areas that you don't want to miss.
Ashcroft - Located at the end of Castle Creek Road, this silver mining ghost town is a great place to sightsee and leaf peep!
The Maroon Bells - Reservations are required to access this area by vehicle, but if you don't have one, we recommend biking (or e-biking) to view the stunning fall foliage.
Snowmass - Have lunch in Snowmass Base Village, mountain bike through aspen groves on the ski area, or hike the Rim Trail.
Hunter Creek Valley - Hike or mountain bike through the Hunter Creek Valley, with access close to downtown Aspen. See our hiking & biking sections for details.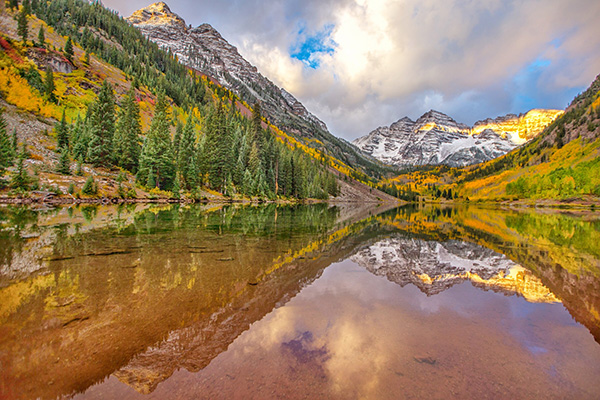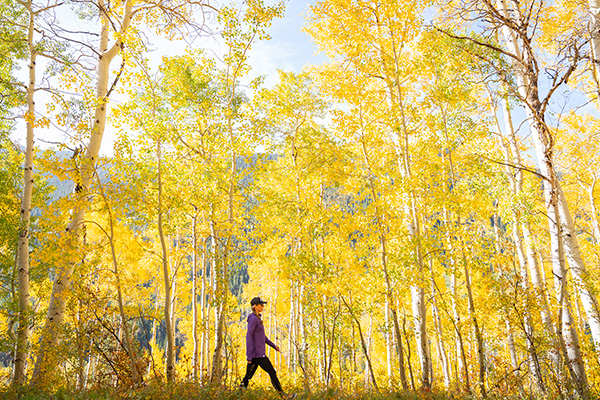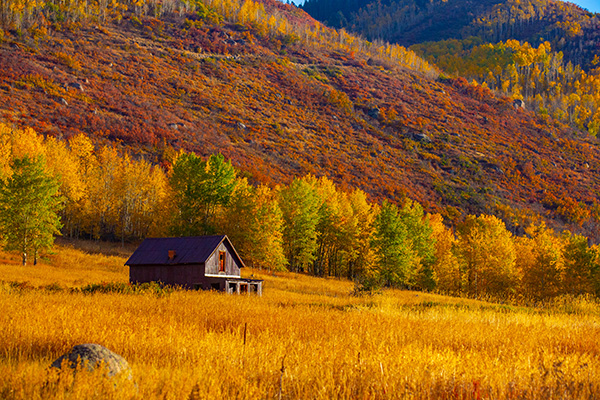 Horseback Riding in Aspen in the Fall
Visitors can take a step back in time when they embark into the wilderness on the back of a horse. Aspen outfitters offer a range of horseback riding excursions, lasting from a couple hours to a few days and accessing pristine wilderness just outside of Aspen proper. Learn more here.
Paragliding in Aspen in the Fall
Soar over Aspen with this unique experience that starts with a ride up Aspen Mountain to the launch site. While the entire trip lasts approximately two hours, the in-air flight time varies with the day's thermal activity, but riders typically enjoy at least 15 minutes of slow descent down 3,000 feet. Fall tandem flights start at 8:30 a.m. After a flight briefing, you'll suit up in the harness, take a few running steps and launch off the side of the hill like a bird. Participants sit in front, with the pilot behind, for the best view. Learn more here.
Scenic Drives in Aspen in the Fall
With so much to see during fall months, we recommend buckling up and hitting the road to take in some of Aspen's best sights. Here are a few of our favorite scenic drives that depart from downtown:
Independence Pass. Head east on Highway 82 and wind up Independence Pass. There are many places to pull off the road and check out points of interest, like Weller Lake Trailhead, The Grottos, Independence ghost town, and the summit of the pass at the Continental Divide. (Approx. 45 minutes, 20 miles)
Aspen to Marble. From Aspen, head west on Highway 82 until you reach Carbondale and signs for Hwy 133. Wind through the box canyon past the quaint town of Redstone alongside the Crystal River. Follow signs to remote Marble, where the canyon opens up and fall foliage splashes across mountainsides. Slow Groovin' BBQ is a great spot for lunch, or continue up McClure Pass for dramatic views. (Approx. 1 hour 20 minutes, 57 miles)
Castle Creek to Ashcroft. From Aspen, head west on Highway 82 and take the Castle Creek exit at the roundabout. Wind up this beautiful two-lane road, past wide-open meadows with meandering streams, huge swaths of aspen trees, and many places to pull over to enjoy the views. Stop at Ashcroft ghost town, near the end of the road, for a walk among relics, and finish up with lunch at Pine Creek Cookhouse. (Approx. 40 minutes, 14 miles)
Jeep Tours in Aspen in the Fall
Take the road less traveled (literally!) in a rugged but comfortable off-road vehicle. Drive through aromatic pine forests as you climb to golden aspen groves overlooking vistas that go on forever.
Blazing Adventures offers a range of tours, and one of our favorite Jeep tours includes a backcountry sunset drive ending at the historic Burlingame Cabin on Snowmass ski area. The whole family will love the delicious dinner hot off the grill, roasting s'mores over the open campfire, and live music.
Aspen Fall Events
Aspen's autumn events calendar has expanded in recent years, and September and October have become primetime for celebrations of the arts, film, and athletic pursuits. Our favorite events are listed below, and you can find more information here.
Motherlode Volleyball Classic | Aug. 31 - Sept. 5, 2022
Jazz Aspen Snowmass Labor Day Experience | Sept. 2 - 4, 2022
Theatre Aspen's Solo Flights | Sept. 10 - 15, 2022
Aspen Ruggerfest | Sept. 15 - 18, 2022
Snowmass Balloon Festival | Sept. 16 - 18, 2022
Snowmass Wine Festival | Sept. 17, 2022
Vida MTB Series Women's Skills Clinic | Sept. 17 - 18, 2022
The Meeting | Sept. 19 - 21, 2022
John Denver Celebration | Oct. 5 - 12, 2022
Are you ready to book your Aspen vacation?
Start by browsing our full selection of centrally located condos and homes. If you'd like a personalized recommendation, contact our Reservations Team at (970) 920-2010 or fill out a brief form.