Posted: 18 May 2022
When arriving in Aspen during summer months, guests are greeted by clean mountain air, verdant mountains, and babbling streams. The scene is invigorating, and it's best enjoyed by stepping farther into nature - on a hike!
Surrounded on all sides by wilderness areas, Aspen offers easy access to remote wilderness experiences, so you can enjoy Aspen hikes without a car. We have many recommendations for Aspen hikes from town, from leg-burning ascents with priceless views to serene strolls alongside picture-perfect rivers and streams.
Easy Aspen Hikes from Town
East of Aspen Trail | 6.3 miles
This popular trail starts a few blocks east of downtown Aspen and meanders alongside the Roaring Fork River and through the Northstar Nature Preserve. There are viewpoints to spot wildlife and learn about the conservation efforts in the area. Watch for bikes, as they use the trail as well.
Trailhead directions: From downtown Aspen, walk east on Cooper Avenue toward Independence Pass. Follow the bike path until you reach Stillwater Lane. Take a right and continue on the dirt path beside the river for as long as you like!
Rio Grande Trail | 42 miles between Aspen and Glenwood Springs
This multi-use trail stretches from Aspen to Glenwood Springs and is a great bike route. For hikers we recommend a shorter there-and-back itinerary starting from downtown Aspen. With a gentle downhill slope, this trail follows the Roaring Fork River with some opportunities to split off and return via Aspen West End.
Trailhead directions: Start at Herron Park on the northeastern edge of downtown Aspen. Follow the paved path past John Denver Park and Rio Grande Park. Cross the bridge toward the Aspen Chamber Resort Association and continue along the river until you must cross another bridge to the right. From here, the Rio Grande Trail goes all the way to Glenwood Springs, so choose your turnaround point based on your endurance.
Moderate Aspen Hikes from Town
Hunter Creek Trail | 3 to 5 miles, depending on route
A quintessential Colorado hike, this trail ascends the Hunter Creek Valley, starting alongside the shaded creek and opening up to a beautiful meadow complete with a ghost town. Hikers can do a there-and-back route or connect to Smuggler Mountain Road and make this hike a loop.
Trailhead directions: Hop on the Hunter Creek Bus from Rubey Park and get off at the first Hunter Creek stop. Walk north through the parking lot to the Hunter Creek trailhead.
Ajax Trail | 3.3 miles
Traversing Aspen Mountain, the Ajax Trail offers beautiful views of Aspen and Red Mountain as it meanders through wildflower fields and stands of aspen trees. Hikers also get to view famous ski runs during summer; note how steep they look without snow!
Trailhead directions: This trail starts at Koch Park, just west of downtown Aspen. Complete the entire route, and end up on the eastern edge of the downtown area.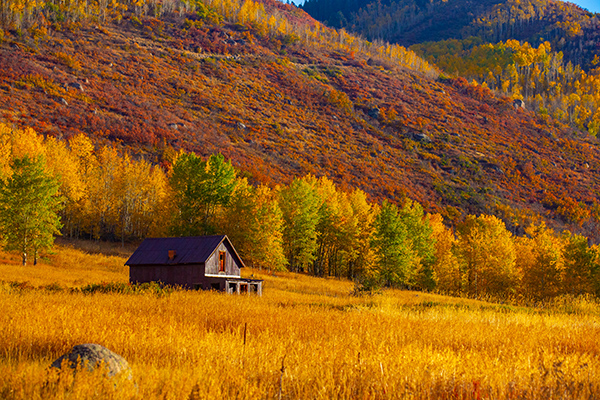 Hunter Creek Valley during the fall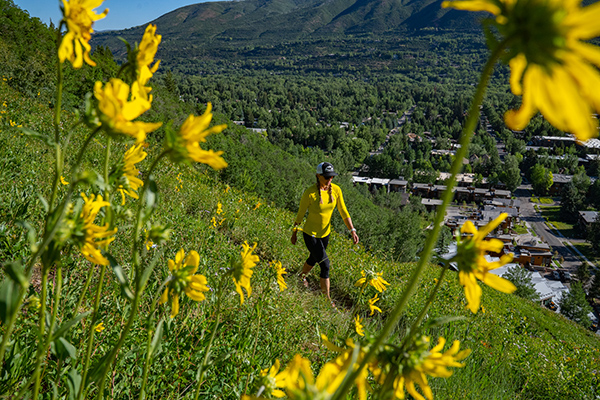 Ajax Trail offers great views of town.
Challenging Aspen Hikes from Town
The Ute Trail | 3.1 miles to the top of Aspen Mountain, 1 mile to the Ute Rock lookout
Known as Aspen's treadmill, this unforgiving stretch of switchbacks goes up, up, up. Hikers ascend nearly 1,000 feet in just a mile to get to Ute Rock, which offers stunning views of town and the surrounding mountains. For the very energetic, continue up an additional 2,000 vertical feet to the top of Aspen Mountain. During peak summer months, the Sundeck offers great food and cold drinks, and you can catch a free ride down on the Aspen Mountain Gondola.
Trailhead directions: Follow Ute Avenue to the trailhead.
Smuggler Mountain Road | 1.44 miles to the Smuggler Mountain Overlook
Rising from town and offering great views of all four ski areas, Smuggler is a must-do Aspen hike. The trail is a wider fire road, making conversation with friends a little easier - that is, if you aren't out of breath from the steep incline. For those looking for extra mileage, continue up to Smuggler Open Space or drop into the Hunter Creek Valley and connect with other trails back to town.
Trailhead directions: Hop on the free Hunter Creek Bus from Rubey Park, and ask the driver to stop at the Smuggler trailhead.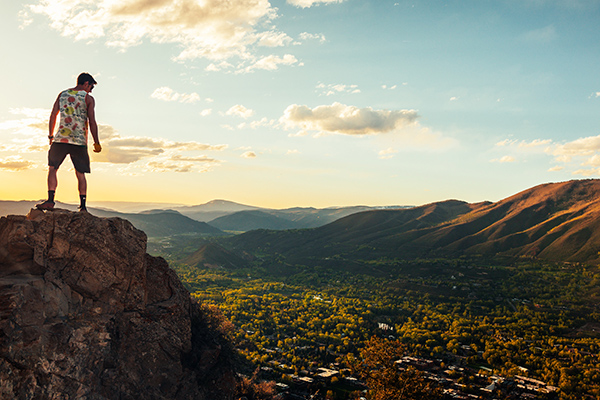 The view from Ute Rock is worth the leg burn!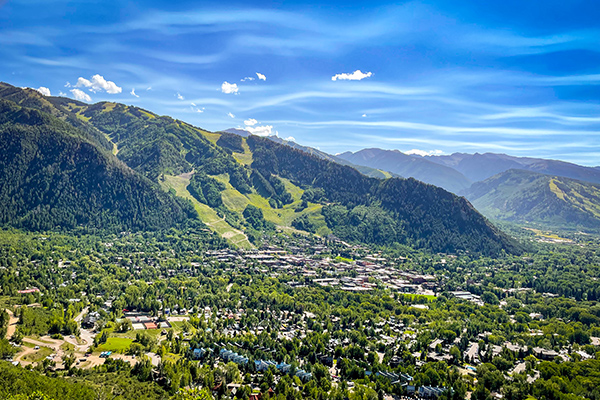 Hikers enjoy this vantage the whole way up Smuggler Mountain Road.
Join us for an Aspen hiking adventure
Now that you are well-versed in Aspen hikes from town, plan your summer vacation. Start by browsing our selection of centrally located vacation rentals. Need a recommendation? Our Aspen-based reservations team is standing by to provide you with a personalized quote. We hope to see you on the trails!