Posted: 10 Mar 2022
An Aspen vacation can be a vacation from your car, too! In all four seasons, Aspen is pedestrian-friendly, compact, easy to navigate, and has many public transportation options.
Most importantly, a highlight of any Aspen vacation is the experience of walking through the picturesque streets and on well-maintained trails. As you stroll through town, discover the character of Aspen through its historic architecture, beautiful natural scenery, and friendly residents.
Frias Properties vacation rentals are all centrally located in Aspen or at Aspen Highlands. Our condominiums, homes, and hotel rooms are either walking distance from the downtown zone or located on the free public shuttle routes. While we provide complimentary parking to our guests, we often recommend they park their cars (or leave them at home altogether) and enjoy a car-free vacation.
If you're considering a visit to Aspen without a car, read on for our year-round guide to getting around.
Year-Round Basics for Visiting Aspen Without a Car
Aspen Airport Transportation - If you're flying into Aspen, you'll need to find a ride into town. Guests of Frias Properties receive complimentary Aspen Airport transportation with our trusted vendor, Aspen Luxury Limousine. (This amenity is not available to guests of the Independence Square Hotel.)
For those who need to arrange transportation between the airport and their accommodations, we recommend hiring a taxi. Uber and Lyft are not widely available in Aspen. Alternatively, there is a RFTA bus stop a short walk from the airport terminal, and these free buses run on a frequent schedule with many stops in downtown Aspen.
RFTA Free Buses & Shuttles - The Roaring Fork Transit Authority (RFTA) operates in-town shuttles that access visitor attractions and hiking trails as well as buses that visit all four Aspen Snowmass ski areas. These routes are all free and operate with frequent schedules.
The best place to catch the bus is the Rubey Park Transit Center, where RFTA representatives can share information about schedules, recommended routes, and more.
The Downtowner - This fleet of electric cars offers free, on-demand rides within downtown Aspen. Visitors can download the Downtowner app and hail a ride to dinner or to grab a few groceries. Please note that the vehicles are small and do not accommodate ski gear.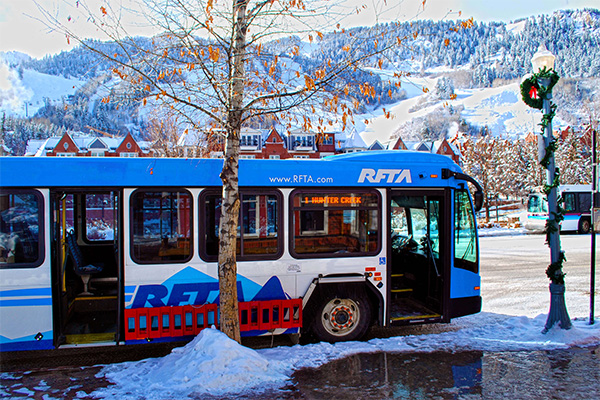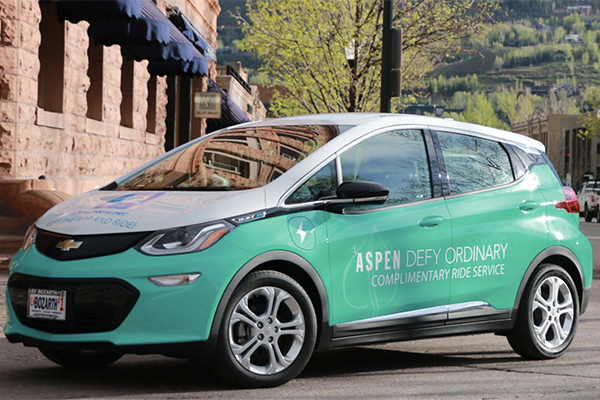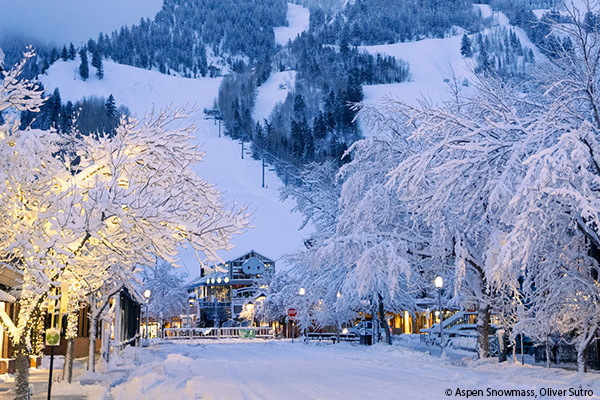 Winter in Aspen without a Car
Aspen winter visitors are typically focused on activities at our four ski areas, and Aspen's free bus system typically accommodates all their needs. Here are a few routes frequented by our winter visitors:
To Aspen Highlands, Buttermilk, or Snowmass: Take a RFTA bus from Rubey Park Transit Center. Buses to all ski areas depart from here on frequent schedules. Slide your skis or snowboard into the exterior racks, hop on board, and enjoy the stress-free ride to your mountain of choice.
If your accommodations are not near Rubey Park, you may need to take a town bus to the transit center (for example, the Hunter Creek bus from east-Aspen neighborhoods) or head to Main Street where there are several stops serviced by the skier shuttles.
To restaurants or grocery stores: Use the Downtowner, a free, on-demand ride service. Just download the app and request a pick-up.
To winter hiking trails: Ride the Hunter Creek bus from Rubey Park to the Smuggler Mountain Road stop. From there, you can access Aspen's favorite winter hiking trail, Smuggler. The bus stops every 20 minutes, so it's easy to catch a ride from where you were dropped off or just walk back to town (approx. 10 minutes from the trailhead).
To Pine Creek Cookhouse: You'll need to arrange a taxi in advance, and be aware that fares can be high. This legendary restaurant is located about 30 minutes from downtown Aspen. We recommend High Mountain Taxi for this type of transportation.
Summer in Aspen without a Car
In summer, activities expand beyond the four ski areas, but car-free transportation options abound! Bikes become a great mode of transportation, and the eBike boom makes two-wheeled transportation accessible to everyone. Plus, the ski area gondolas also run during summer months, adding yet another type of vehicle to your vacation itinerary.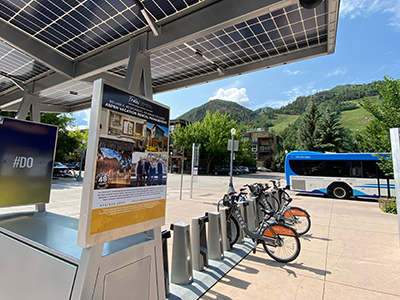 WE-Cycle Bike Share Program
During summer and fall, look for the solar-power bike kiosk with grey, blue, and green bikes parked in front. Aspen's bike-share program allows riders to enjoy 30 minutes free of charge, so you can use these bikes to get from point-A to point-B. Learn more >>
To Smuggler and Hunter Creek hiking trails: Catch the free Hunter Creek bus from Rubey Park and get off at either the first Hunter Creek stop or the Smuggler Mountain Road stop. These two hikes can be a loop, so when you're finished, either find the nearest bus stop or walk back to town (approx. 10 minutes).
To the Aspen Music Festival music tent & the West End: WE-cycle bikes are available at stations throughout Aspen and are free for the first 30 minutes. There are some limited ebikes available as well! Sign up for an account and check out your bike from the many stations around town.
Alternatively, you can catch the any RFTA bus that's heading out of town as well as the Cross-Town Shuttle for a free ride. Get off near 5th Street for a pleasant walk through the West End to your destination.
To the Maroon Bells: There are a couple ways to visit this must-see summer attraction.
By bus: Reservations required! Catch the Castle/Maroon bus from Rubey Park to Aspen Highlands. When you disembark, enter the village and find the Maroon Bells Ticket Window where you'll pick up your pre-reserved passes for the Maroon Bells Shuttle.
By bike or ebike: No reservations necessary! Pick up your bike or ebike rental from one of our trusted providers and embark on your ride to the Bells. Follow the car-free corridor along Hopkins Ave. and connect with the bike-path system until you reach Maroon Creek Road. Then follow the rules of the road as you enjoy the stunning uphill ride to the Maroon Bells. Once you have arrived, make sure to park your bike in the designated areas.
To Northstar Nature Preserve: To access this serene setting, it's best to either rent a bike or ebike or walk from town along the East of Aspen Trail. The walk or ride is along a well-maintained bike path just off the road, the journey is an experience unto itself.
To Aspen Highlands or Snowmass: RFTA provides free transportation between the Aspen Snowmass ski areas, even during the summer. From Rubey Park, catch the Castle/Maroon bus for Aspen Highlands or the Snowmass bus.