Posted: 25 Sep 2020
Aspen Snowmass debuted their winter operations plan in late September, and guest safety as well as continuous access to skiing and snowboarding were named as the top priorities.
See how we have adapted our Guest Safety protocols for our Aspen vacation rentals, and read on to learn what we know about the upcoming Aspen Snowmass ski season.
Watch Aspen Snowmass's COVID-19 Operations Plan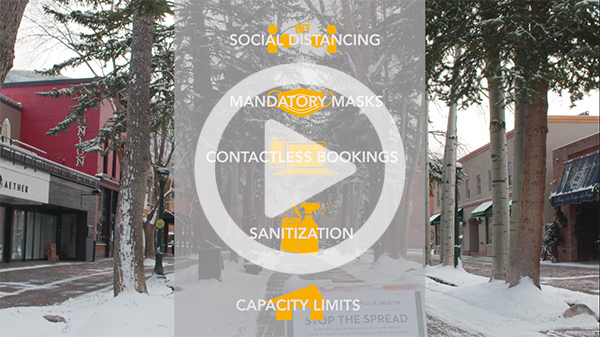 Guest Safety
With newly instituted safety protocols across every aspect of their business, Aspen Snowmass will strictly adhere to distancing protocols, face-covering requirements, capacity limits in buildings, and all recommended health and safety measures this winter. In addition, they have redesigned operating proceedings in ski school, lift lines, on-mountain dining, and in rental and retail stores. New technology will allow for "digital distancing" with many of the processes that formerly took place in person.
Season Dates
Aspen Mountain: Nov. 26, 2020 - April 18, 2021
Snowmass: Nov. 26, 2020 - April 18, 2021
Aspen Highlands: Dec. 18, 2020 - April 4, 2021
Buttermilk: Dec. 18, 2020 - April 4, 2021
Lift Tickets
Lift tickets go on sale in late October, and guests are strongly encouraged to purchase lift tickets as soon as they have secured lodging and travel arrangements. Advanced ticket purchases ensure access to all four mountains and will assist the resort in managing guest capacity and safety as required by state and local health authorities. Volume may be limited at any time and those who have already secured their tickets will be given priority access. For more information, visit our guide to purchasing lift tickets.
On-Mountain Dining
Aspen Snowmass will continue to offer a wide range of on-mountain dining options, but, with guest safety as a top priority, seating capacity will be greatly reduced. To spread out diners, Aspen Snowmass is adding outdoor, heated tents with seating outside several of the main restaurants, including The Sundeck, Merry-Go-Round, Elk Camp, and the new High Alpine at Snowmass (formerly Gwyn's High Alpine).
Grab-and-go service and market-style takeaway items will be expanded, and the updated Aspen Snowmass App will also offer skiers the option to order food to-go from a mobile device.
Cloud Nine Alpine Bistro will be open for lunch, offering a sit-down, fine-dining experience with the same incredible views and delicious menu, including fondue, raclette, and apple strudel. The vibe will be decidely more relaxed without the apres-ski parties, but this special place .
Ruthie's on Aspen Mountain will be open as a warming hut and bathroom station but will not offer food service.
Bonnie's on Aspen Mountain has installed igloos that are available to reserve for breakfast and lunch ($50).
Each mountain will feature expanded picnic areas, ideal lunch spots on sunny days!
Riding the Lifts & Gondolas
Safety takes precedence this season. Lift lines will be spaced at distanced intervals with face coverings required when loading and unloading. When riding a chairlift or gondola, lift operators also ask that you keep face coverings on.
Gondolas and chairlifts will load with families and groups that are comfortable together. You will not be required to board a gondola or a chairlift with someone you are not comfortable riding with. Our teams will always work with you on your preference and comfort level. Windows will be kept open in all gondola cabins, and cabins will be sanitized at least twice a day.
At Aspen Highlands, the Highland Bowl snowcat will not operate this winter.
Reservation System
If the resort implements a reservation system for skiing, it will apply to passholders only and will be based on prevailing state and local COVID-19 metrics as determined by health and government agencies. Should these metrics show an increased rate of community spread that initiates additional restrictions and regulations, Aspen Snowmass may implement a reservations system and/or limit lift ticket sales.
Ikon Passholder Information
Aspen Snowmass is instituting a reservation system for Ikon Passholders, accessed through IkonPass.com or the Ikon Pass app. Ikon Passholders can ski when their passes permit access and must use the Ikon Pass reservation system to alert the resort when they plan to visit. Ikon Passholders can start making reservations on Nov. 9, 2020.
The season will begin with no daily cap on the number of Ikon Pass reservations available, which means passholders can book lodging with confidence that when the reservation system opens on Nov. 9, 2020, you will be able to secure your preferred dates.
Should the resort be forced to limit how many Ikon Passholders can access the mountain, Ikon Passholders will be notified via the app.
Book early to save
We encourage anyone considering an Aspen ski vacation this winter to book early. Browse our lodging deals to find extra value, and review our worry-free booking policies that provide you with trip-cancellation protections. Start planning your stay by searching for vacation rentals online, or contact us for personalized recommendations.