Posted: 10 Jun 2019
The year 2019 marks big milestones for Aspen's cultural organizations, many of which were established alongside the ski areas. The anniversary celebrations are happening all summer long with tons of opportunities for visitors to join in on the fun.
While the celebrations are noteworthy in themselves, these anniversaries showcase Aspen's depth of offerings, which set it apart from other ski-centric destinations. Aspen was a town first and a ski area second, and after nearly a quarter century of delighting residents and visitors, our cultural organizations are truly world-class.
100 Years of Bauhaus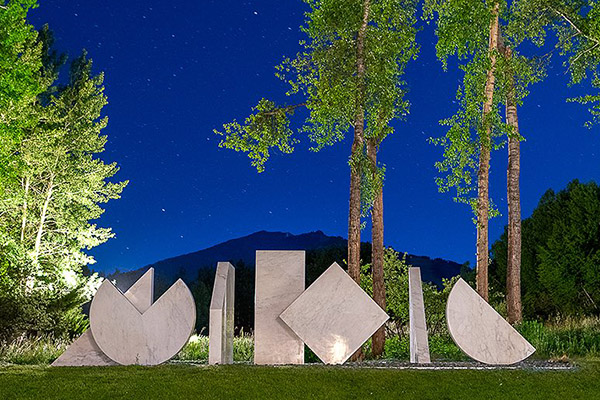 Aspen is celebrating the centennial of the Bauhaus movement and its past and continual impact on its residents, architects, artists, and thinkers in the Roaring Fork Valley.
In 1946, Herbert Bayer, an influencer of the Bauhaus style, was invited by Walter Paepcke to move to Aspen and help him design his cultural vision. This led to the "Aspen Idea" - to relish in bettering the mind, body, and spirit.
Bayer's architectural work quickly imprinted on Aspen, as he renovated and designed some of the city's most prominent public spaces, including The Wheeler Opera House, Hotel Jerome, Aspen Mountain's original restaurant (the Sun Deck), private residences, and the Aspen Institute's campus. His poignant designs, influence, and contributions to Aspen's visual and intellectual life are still prominent today.
Bauhaus 100 will host events during the 2019 Aspen Idea Festival, including regular tours of the Herbert Bayer collection, art exhibits, and an additional symposium Aug. 6 - 9, 2019.
Throughout the summer, check out Bauhaus-inspired activities at the Anderson Ranch Arts Center, Aspen Historical Society, Aspen Art Museum, and more.
Aspen Ideas Festival Hits 15 Years
Celebrating its 15th iteration this year, the Aspen Ideas Festival brings together thought leaders from around the globe to discuss, debate, and facilitate ideas and issues that impact and transform our lives. With more than 3,000 attendees, the festival packs in over 200 panels in ten days.
This year's festival is broken up into three parts: Aspen Ideas: Health (June 20-23), Festival 1 (June 23-25), and Festival 2 (June 26-29). The festival sessions will touch on topics related to international relations, U.S. policy and politics, and mental wellness.
Attendees may purchase passes to each session, and, in an effort to keep the event public, there are also single tickets available for most events.
Attendees, featured speakers, and esteemed guests all have the opportunity to interact with each other throughout the festival. This is a chance to broaden your horizons, challenge points of view, and simply learn from some of the brightest minds across the world.
70 Years of Classical Music in the Mountains
The Aspen Music School and Festival is the leading classical summer music festival in the United States, and this year marks its 70th anniversary. Their summer season includes more than 400 classical music events from late June to mid-August.
The theme this year is "Being American." Works by Gershwin, Ives, Wynton Marsalis, and Copland as well as poetry by Walt Whitman and Emily Dickinson will all be featured throughout the summer.
Don't miss out on the Festival's annual free Fourth of July concert. It's held at the Benedict Music Tent and a fun event for the whole family.
Half a Century of Environmental Education and Study

The Aspen Center for Environmental Studies (ACES) is celebrating 50 years of educating environmental responsibility in the Roaring Fork Valley. The organization inspires all ages to make a life-long commitment to preserving the Earth.
Through ACES' year-round programs focusing on ecological literacy, regenerative agriculture, forest and ecosystem health, land restoration, and environmental leadership, the organization has educated and advocated locales and Aspen visitors, alike. In classrooms, on trails, at ski mountains, and at ACES' sites, the staff bring to life the wonder of the natural world in and around Aspen.
Through its four locations, Hallam Lake, Rock Bottom Ranch, Catto Center at Toklat, and Spring Creek, across the Roaring Fork Valley, ACES has and will continue to provide the needed and greatly enjoyed environmental programming and conservation work that is so important to our town.
This year's 50th-anniversary celebration includes special programming throughout the year with a special anniversary celebration event at Hallam Lake on July 11, 2019.
Whether you're interested in birding, forest restoration, or simply love the panoramic views of the Aspen area, ACES is a great stop for kids and adults on your Aspen vacation.
Inspiring Aspen Since 1979
Its home a piece of art in itself, the Aspen Art Museum is a well-known hallmark of the Roaring Fork Valley.
As a non-collecting museum, AAM rotates and shows the newest, most poignant contemporary art and artists. Through its innovative and timely exhibits, the organization provides education, public programs, immersive activities, and happenings that engages and challenges the whole community, children and adults.
This year marks the museum's 40th year, and the summer season celebrates works by Rashid Johnson, Margaret Kilgallen, and Walter Price. Admission to the museum is free and you can attend free guided tours on Wednesdays and Saturdays at 1 p.m.
In July, Aspen Art Museum's annual fundraiser and summer gala ArtCrush will celebrate the museum's successful tenure as well as raise vital funding in support of its programming.
The rooftop restaurant, So Cafe, is a must-see at the museum. It offers 360-degree views of Aspen and the surrounding mountains. It's a perfect place to enjoy a sunset cocktail!
40 Years of Cinema Legacy
Creating unique and memorable experiences for moviebuffs and casual viewers alike, Aspen Film's flagship annual event, Filmfest, features fall previews, award-winning independent films (both domestic and internationa)l, and panel discussions with directors, actors, and other special guests.
This year's festival marks 40 years of the nonprofit's goals to enlighten, enrich, educate, and entertain through film. Twenty narrative and documentary films will be featured out of the hundreds screened. Plus, there's the chance to interact and hear from the directors of two of the most compelling documentaries of the year.
Funded mainly by ticket sales, membership programs, and individual contributions, Aspen Film is a true celebration of the arts.
Tickets and passes are available to all, and VIP and Priority passes are available to Aspen Film Members. All showings will be a The Wheeler Opera House and ISIS Theater in Aspen as well as the Crystal Theater in Carbondale.
As the event is held September 24 - 29, 2019, it's the perfect time to make a trip out to Aspen to enjoy the town's philosophy to enrich body, mind, and spirit. Hike and bike among the golden-clad aspen trees and take in some of the year's most anticipated independent films.
Interested in Attending This Summer?
With these landmark events planned for this summer, it's a great time to experience all Aspen has to offer. In addition to the anniversary celebrations, there are countless activities for all.
Let us at Frias Properties help you find a place to stay, so you can enjoy the forthcoming events. Reach out to our Reservations Team to learn about our centrally located vacation rentals.