Aspen/Pitkin County Airport
The Aspen/Pitkin County Airport is just three miles from downtown Aspen via Highway 82.
Frias Properties of Aspen offers complimentary transportation to and from the Aspen/Pitkin County Airport for all guests (excluding guests of the Independence Square Hotel). Call the Frias Properties front desk at (970) 920-2000 to arrange your complimentary transportation before you arrive.
For more information about Aspen Airport arrivals and departures, click here.
SUMMER 2022 AIR SERVICE
Aspen / Pitkin County Airport (ASE) is serviced by United Airlines, Delta Airlines, and American Airlines with direct flights from Denver, Los Angeles, San Francisco, Chicago, Austin, Dallas/Fort Worth, Houston, and Phoenix.
For the most up-to-date information about air service, visit the Aspen/Pitkin County Airport website.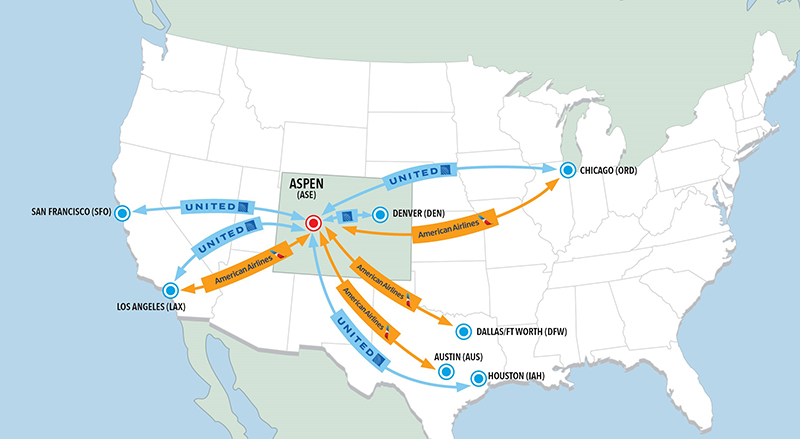 Other nearby airports
Eagle County Airport (EGE) is a 1.5-hour drive to Aspen and offers more than 28 daily flights operated by American, Delta and United with service to Atlanta, Chicago, Dallas, Denver, Houston, Los Angeles, Miami, Minneapolis, New York, Newark, Toronto and Washington D.C.
Denver International Airport (DIA) is a 4 to 5-hour drive to Aspen and is Colorado's largest airport, with numerous national and international flights daily.
Important Aspen Airport phone numbers
Below are important airline phone numbers. If you need immediate customer service, please call one of the following:
Arrival and departure information for Aspen Airport - (970) 544-3188
Aspen Airport Parking - (970) 379-6507
American Airlines - Reservations: (800) 433-7300
United Airlines - Customer Service: (800) 864-8331
Additional transportation information
Once you have arrived in Aspen, it's easy to get around. Here are a few ways to get from point-A to point-B during winter and summer.
Complimentary Skier Shuttles: During the ski season, free shuttle buses run from 8 a.m. to 4:30 p.m. between the four mountains - Snowmass, Aspen Mountain, Aspen Highlands and Buttermilk. All shuttles depart from Rubey Park with many stops between destinations.
Aspen Buses: The Roaring Fork Transit Authority (RFTA) provides a free and extensive bus service for the Aspen area. Most routes begin and end at Rubey Park on Durant Avenue in downtown Aspen. Visit RFTA.com for more information.
The Downtowner: This complimentary ride-share service reopens for the summer season on June 15, 2021. Catch a free ride within the downtown core by downloading the Downtowner App and requesting a pick-up.
WE-Cycle Bicycles (summer only): This bike-sharing service is available during summer months. With many stations around Aspen, it's easy to rent a bike for a short period of time to get from point-A to point-B. New in summer 2020, there are a handful of e-bikes available in Aspen! For more information, visit we-cycle.org.