Posted: 20 Jan 2022
To the uninitiated, spring in Aspen sounds just like any other time of winter - there's skiing, great food, nightlife, even shopping. However, when the days get longer, the sun shines brighter, and the snow gets slushier, Aspen becomes even more invigorating.
There's almost too much to do on a spring vacation in Aspen. To help you squeeze the most out of your March or April visit, we've created this guide to spring in Aspen.
Aspen's Best Spring Activities & Events
SKI LATE. With longer daylight hours and warmer afternoon temps during the spring, it is a wonderful time of year to get the whole family on the slopes.
Starting on Feb. 12, 2022, select lifts run until 4 p.m. or 4:15 p.m. on all four mountains.

Sunset Skiing returns this spring. Aspen Snowmass keeps the lifts and restaurants running until 6 p.m. at a select mountain. The first Sunset Skiing night is at Buttermilk on March 14, when Summit Express will stay open until 6 p.m., and the Cliffhouse and Bumps will serve dinner.
HEAD UPHILL! The SkiMo craze has grown roots in Aspen, as its one of the only ski resorts with an open uphill-traffic policy and huge participant base. Spring is a great time of year to try the sport. The longer daylight hours and warmer temperatures make uphilling a little more beginner-friendly!
Join the Friday Morning Uphill Breakfast Club and skin up Buttermilk on Friday mornings between Feb. 4 and April 1, 2022. Enjoy incredible views of Pyramid Peak as well as breakfast at the Cliffhouse, served from 8:45 a.m. to 10 a.m.
Please note that Aspen Snowmass requires uphillers to purchase and display an Uphill Pass. See details and learn about Aspen Snowmass uphill policies in our Guide to Uphilling.
While you're considering your uphill trajectory, don't forget to hike the Highland Bowl. The hike is lovely on a sunny spring day with views that are worth the cardio. And for those who are still holding onto winter, it stays alive and well at 12,392 feet (the summit's elevation) and all throughout the untouched powder fields on the 2,500-foot vertical descent.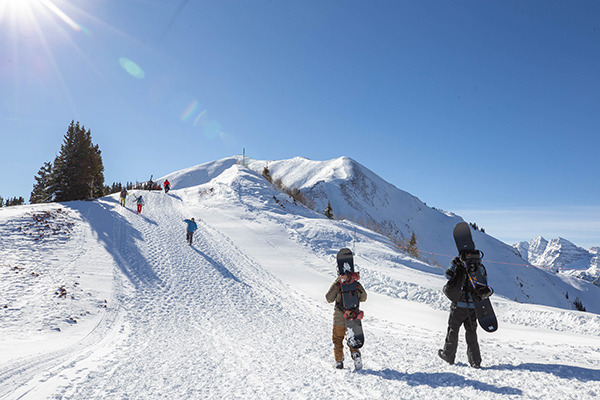 Spring can be the best time for a Highland Bowl hike. | Photo: Jordan Curet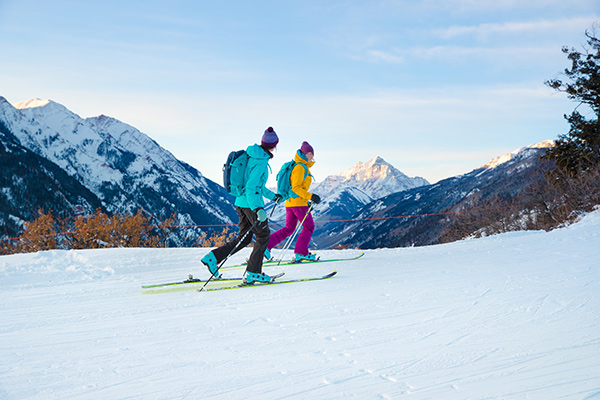 Join the SkiMo craze with a relatively easy skin up Buttermilk. | Photo: Aspen Snowmass, Catherine Aeppel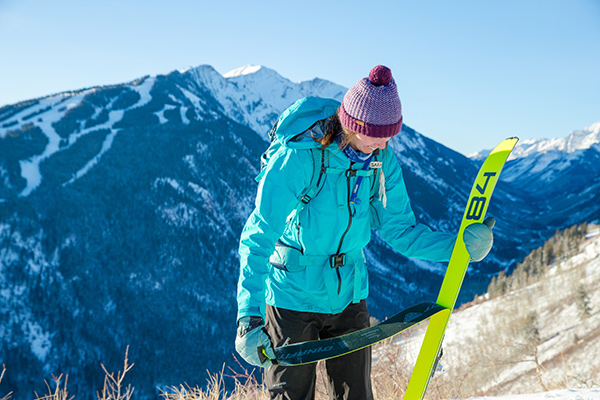 Skins allow you to move uphill on skis. | Photo: Aspen Snowmass, Catherine Aeppel
PLAY WITH FRIENDS & FAMILY. From alpine coasters to curling, Aspen Snowmass has unique activities that appeal to all members of your family.
NASTAR is free during the 2021-22 ski season! Race your friends and family down this recreational course, and compare times with a nationwide network of ski racers. The Aspen Mountain NASTAR course is open daily from 11 a.m. to 3 p.m., and the Snowmass NASTAR course is open Wednesdays through Saturdays from 11 a.m. to 2 p.m.
Kids and adults love the Elk Camp attractions at Snowmass. The Breathtaker Alpine Coaster zooms riders through a mile of forest on an elevated track and reaches speeds up to 28 miles per hour. And the multi-lane Snow Tubing course is a thrill for all ages. This adventure zone is open between 11 a.m. and 3:30 p.m. daily. Learn more >>
For the sporty (but not cardio-crazed), Aspen Snowmass hosts Game of Stones, a weekly curling match at the new Snowmass Base Village Ice Rink. Every Thursday from 3 p.m. to 5 p.m. through March 31, 2022, teams of two compete in a head-to-head elimination tournament. Registration takes place at the rink, before the first stone slides.
APRES SKI. If apres ski is more your speed, Aspen glows a little brighter when Clicquot in the Snow returns to Aspen in the spring. The Ajax Tavern gets dressed up in Veuve Clicquot's signature color, and champagne specials flow every Friday through Sunday on the patio from 2:30 p.m. - 6:30 p.m. starting Feb. 18, 2022.
Speaking of glowing, Snowmass Luminescence is a family-friendly, interactive art and light display on the slopes of Fanny Hill. From sunset to 9 p.m., meander through large-scale light installations like The Tunnel and Wave by Squidsoup. Learn more >>
Just announced, the ultimate family-friendly apres-ski event -- Ullr Nights -- returns on Feb. 18 and Feb. 25, 2022 from 5 p.m. to 7:30 p.m. Enjoy dinner at Elk Camp Restaurant at Snowmass as well as all the activities, including the Breathtaker Alpine Coaster, Snow Tubing, and a roaring bonfire.
DINE WELL. There are many opportunities for an indulgent meal in Aspen Snowmass, but the best spots to dine in the spring include sunshine and a view.
Introducing Snow Beach presented by ASPENX and Gray Malin! New this spring, skiers and snowboarders on Aspen Mountain can reserve chaise lounges or cabanas on a pop-up "beach." Reservations include bottle service and multi-course food pairings, executed by the five-star Little Nell team. This new experience is offered Fridays, Saturdays, and Sundays starting on Feb. 18, 2022. Reserve your chaise lounge or cabana >>
Pine Creek Cookhouse should be on the list for any winter vacation, but visiting the outpost on a sunny spring day is truly special. During winter months, the road is closed at Ashcroft ghost town, so visitors must walk, cross-country ski, or take a horse-drawn sleigh to the remote restaurant. Once there, enjoy a feast of the senses with gourmet food, a roaring fire, and stunning views. Make your reservation >>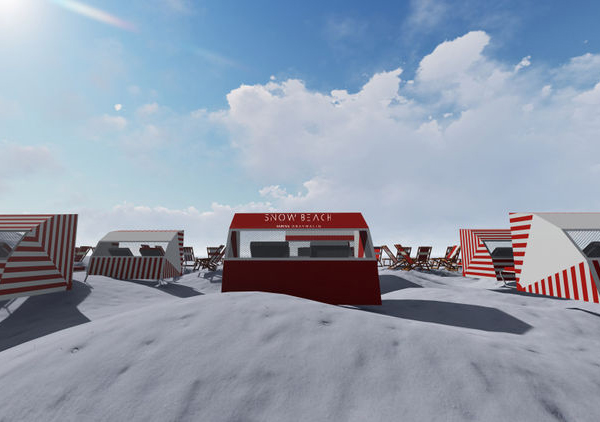 A rendering of Snow Beach by ASPENX & Gray Malin.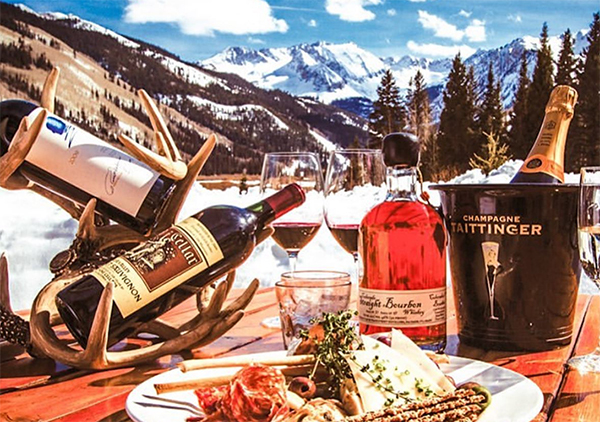 A sampling of the goodness that awaits at Pine Creek Cookhouse!
JAM OUT. For music-lovers, the Bud Light Hi-Fi Concert Series is a free, outdoor concert series that turns up the volume during the spring in Aspen Snowmass. Just announced: Aspen Snowmass is starting to fill in the Hi-Fi concert schedule. Here's what we know so far:
CELEBRATE THE END OF THE SEASON. Don't forget to celebrate Closing Day, x4! While it's bittersweet to say farewell to ski season, Aspen Snowmass does it right. Each closing day celebration has its own unique flavor. This year's closing days are scheduled for:
Buttermilk: April 3, 2022
Aspen Highlands: April 10, 2022
Aspen Mountain & Snowmass: April 17, 2022
Join us in Aspen this Spring!
If you're inspired to join us this spring, start planning your vacation today. Begin by browsing our online inventory of centrally located Aspen vacation rentals. Then contact us to score deals and get recommendations on the ideal rental for your group. We hope to see you this spring!