Posted: 14 Feb 2019
Updated in January 2020
To the uninitiated, spring in Aspen sounds just like any other time of winter - there's skiing, great food, nightlight, even shopping. However, when the days get longer, the sun shines brighter, and the snow gets slushier, Aspen comes alive with events, festival, and can't-miss activities.
There's almost too much to do on a spring vacation in Aspen. To help you squeeze the most out of your March or April visit, we've created this guide to spring in Aspen.
Aspen's Best Spring Activities & Events
Ski late. Starting in mid-February, select lifts run until 4 p.m. on all four mountains. With longer daylight hours and warmer afternoon temps during the spring, it is a wonderful time of year to get the whole family on the slopes.
Head uphill! The SkiMo craze has grown roots in Aspen, as its one of the only ski resorts with an open uphill-traffic policy and huge participant base. During the spring, there are great events for newbies to try skinning or veterans to find like-minded uphillers.
The Friday Morning Uphill Breakfast Club invites uphillers of all levels to skin up Buttermilk and enjoy breakfast at the Cliffhouse. The Ute Mountaineer event offers free rentals for this event! (Fridays through April 3, 2020; 8:45 a.m. - 10 a.m.)
Join a Cliffhouse Full Moon Uphill Dinner, where locals and visitors skin to Buttermilk's Cliffhouse under the stars. The last edition for this season is on March 9, 2020.
While you're considering your uphill trajectory, don't forget to hike the Highland Bowl. The hike is lovely on a sunny spring day with views that are worth the cardio. And for those who are still holding onto winter, it stays alive and well at 12,392 feet (the summit's elevation) and all throughout the untouched powder fields on the 2,500-foot vertical descent.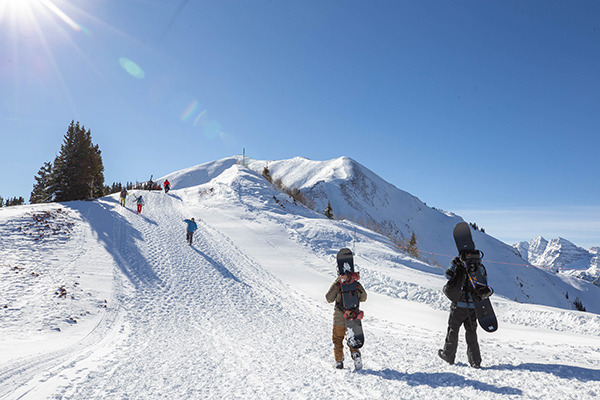 Spring can be the best time for a Highland Bowl hike. | Photo: Jordan Curet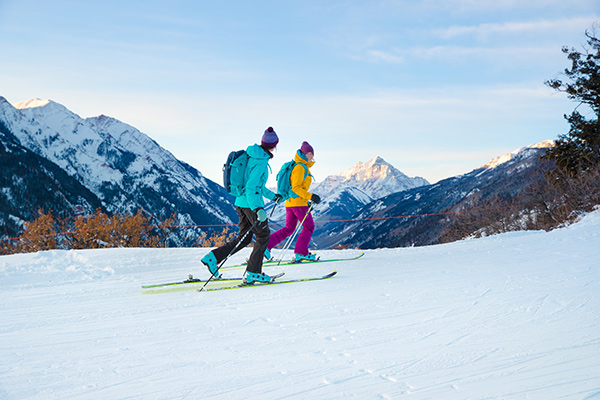 Join the SkiMo craze with a relatively easy skin up Buttermilk. | Photo: Aspen Snowmass, Catherine Aeppel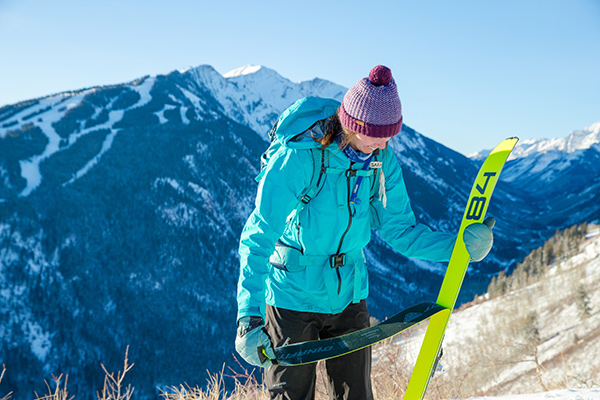 Skins allow you to move uphill on skis. | Photo: Aspen Snowmass, Catherine Aeppel
For the sporty (but not cardio-crazed), Aspen Snowmass hosts Game of Stones, a weekly curling match at the new Snowmass Base Village Ice Rink. Every Friday from 3 p.m. to 5 p.m. between through Feb. 28, 2020, teams of two compete in a head-to-head elimination tournament. Registration takes place at the rink, before the first stone slides.
If apres ski is more your speed, Aspen glows a little brighter when Clicquot in the Snow returns to Aspen in the spring. The Ajax Tavern gets dressed up in Veuve Clicquot's signature color, and champagne specials flow every Friday through Sunday on the patio. (Feb. 14 - March 29, 2020; 2 p.m. - 6 p.m.)
In the theme of incredible apres ski, don't miss the Apres Ski Cocktail Classic, March 12 - 15, 2020. This annual celebration of all things apres includes the Apres Tasting Experience, seminars by award-winning mixologists, snow parties, pop-up bars, spirit-paired dinners, and the Great Apres Ski Pub Crawl & Cocktail Competition.

Photo courtesy of the Apres Ski Cocktail Classic
Photo courtesy of the Apres Ski Cocktail Classic
Pine Creek Cookhouse should be on the list for any winter vacation, but visiting the outpost on a sunny spring day is truly special. During winter months, the road is closed at Ashcroft ghost town, so visitors must walk, cross-country ski, or take a horse-drawn sleigh to the remote restaurant. Once there, enjoy a feast of the senses with gourmet food, a roaring fire, and stunning views.
A family-friendly favorite, Ullr Nights is a Friday-night celebration of the Norse god of snow. Ride up Elk Camp Gondola to the mid-mountain lodge and enjoy outdoor winter activities like snow tubing, snowbiking, alpine coaster rides, and more. Kids love the s'mores & hot chocolate station, and the whole family can enjoy the delicious food served at the Elk Camp Restaurant.

The whole family can enjoy snow tubing during Ullr Nights. | Photo: Aspen Snowmass, Hal Williams

Roasting marshmallows is a main event at Ullr Nights. | Photo: Aspen Snowmass, Hal Williams
For music-lovers, the Bud Light Hi-Fi Concert Series is a free, outdoor concert series that turns up the volume in Aspen and Snowmass.
For fun-lovers of all kinds, our annual spring festival now in its 20th year -- Bud Light Spring Jam -- takes place March 20 -27, 2020. It includes a full week of competitions, downtown concerts, and on-mountain parties. The mainstay events include two free, outdoor concerts in downtown Aspen (see the Bud Light Hi-Fi Concert Series line-up), the Banked Slalom, KickAspen CORE Party, and more. New last year, Aspen Snowmass presents the Helly Hansen 4 MTN Mission (March 21), where teams compete in a massive adventure race / scavenger hunt that spans all four ski areas.
Don't forget to celebrate Closing Day, x4! While it's bittersweet to say farewell to ski season, Aspen Snowmass does it right. Each closing day celebration has its own unique flavor, and this year new events kick off the first final weekend at Buttermilk:
Aspen Highlands Closing Weekend is getting turned up this year with a free Bud Light HiFi Concert on April 11, 2020 as well as the notorious party at the base on April 12, 2020.
Join us in Aspen this Spring!
If you're inspired to join us this spring, start planning your vacation today. Begin by browsing our live inventory of centrally located Aspen vacation rentals. Then contact us to score deals and get recommendations on the ideal rental for your group. We hope to see you this spring!