Posted: 26 Aug 2020
This summer has been a little different as we locals and visitors make the best of our new, post-pandemic normal. But a true silver lining of our community's COVID-19 safety measures has been Aspen's expanded dining opportunities.
With guests seeking sunny patios with adequate social distance, our Concierge Team has put together a list of their top five recommendations for the best al fresco dining experiences in Aspen.
Don't forget your mask! All restaurants require masks to be worn when entering, moving about, and exiting. In addition, Aspen has a Mandatory Face Covering Zone, where masks must be worn outdoors. For more information, view our COVID-19 Visitor Resources.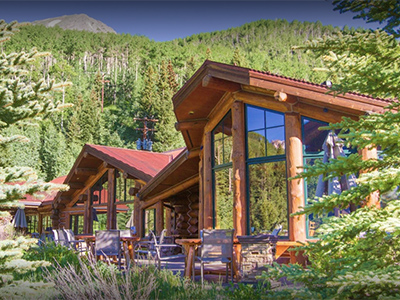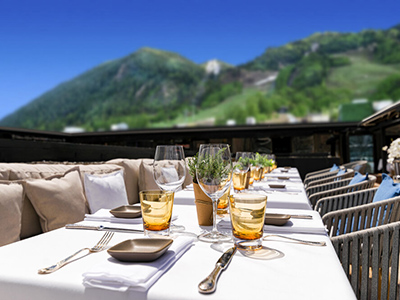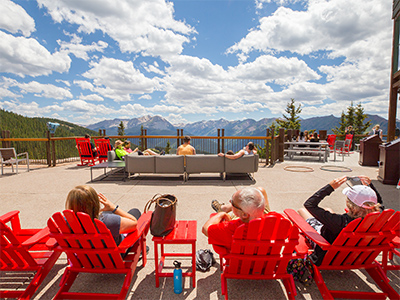 1. PINE CREEK COOKHOUSE
A legendary Aspen restaurant during any season or circumstances, the Pine Creek Cookhouse is nestled at the base of the Elk Mountains 12.5 miles up Castle Creek Road, approximately 30 minutes from downtown Aspen. The views are stunning, the food is noteworthy, and the overall ambiance is truly memorable.
The Cookhouse features a gourmet, Alpine-influenced menu with entrees ranging from wild game to fresh fish, all brought to life with organic, locally-sourced produce. From field to stream, Cookhouse chefs prepare inspired dishes made from scratch every day.
Reservations are required for the three lunch seatings: 11:30 a.m., 1:30 p.m. and 3 p.m.
Concierge Tip: American Lake and Cathedral Lake hiking trails are nearby and offer gorgeous but strenuous hikes - lunch will be well-deserved!
2. T-LAZY-7 RANCH | Bonus Weekend: Sept. 11 - 13
This summer, the T-Lazy-7 Ranch is hosting a pop-up restaurant, the T-Lazy-7 Bar & Grill. Located on Maroon Creek Road, just before the US Forest Service gate, T-Lazy-7 Ranch is the starting point for many quintessential Aspen adventures, including horseback riding with Maroon Creek Outfitters.
We recommend renting eBikes from an Aspen bike shop, cruising up to the Maroon Bells, and stopping in at the T-Lazy-7 Bar & Grill for a ranch-raised Waygu beef burger and a cold drink.
T-Lazy-7 Bar & Grill is open Wednesdays through Sundays from 11 a.m. to 4 p.m. (weather permitting) but ends for the season on Sept. 6.
3. BETULA'S MOUNTAIN-VIEW BALCONY
Right in the heart of Aspen, Betula occupies a second-floor space with a beautiful balcony offering surprisingly dramatic views of Aspen Mountain.
While the views and ambiance are impressive, Chef Laurent's innovative French Pan-American cuisine makes this restaurant a must-visit location in Aspen.
Reservations are recommended!
4. THE SUNDECK ATOP ASPEN MOUNTAIN
Operated by Aspen's only five-star, five-diamond hotel, The Little Nell, the Sundeck offers breathtaking views from a sunny patio with plenty of seating. Ride the Silver Queen Gondola to the top to indulge in a gourmet lunch with the best views in town. We recommend the made-to-order stir-fry dishes from the wok station!
A gondola ticket is required to get to the restaurant: $29 for one ride or $39 for a Sightseeing Pass, which includes $10 lunch credit and other discounts.
5. RIVERSIDE DINING AT THE TIPSY TROUT IN BASALT
If you are headed down valley for a round of golf or another summer activity, stop into the Tipsy Trout, the only true riverfront restaurant in the Roaring Fork Valley. This locals' favorite serves homemade food to satisfy all palates, be it burgers and wings or sauteed trout with a lemon butter caper sauce.
The restaurant is located in the historic downtown Basalt, a 30-minute drive from downtown Aspen. No reservations required.
READY TO VISIT ASPEN?
Plan a last-minute summer getaway to Aspen and enjoy our outdoor dining experiences. Start by searching our Aspen vacation rentals or contact our Aspen-based reservations team. We hope to see you soon!