Posted: 27 Apr 2022
When indoor dining was suspended during the early days of the pandemic, Aspen's outdoor dining scene emerged as a silver lining of COVID-19. With breathtaking scenery on every corner, ideal summer weather, and countless renowned restaurants, Aspen's patios are primed to serve up peak lunch and dinner experiences.
We have updated this list of Aspen's top outdoor dining experiences for summer 2022, and we invite you to pick your patio for a meal to remember!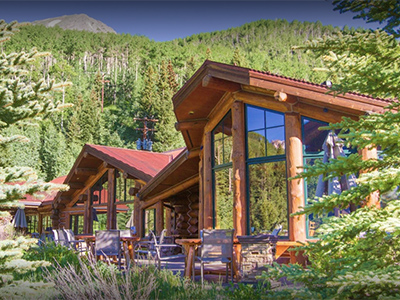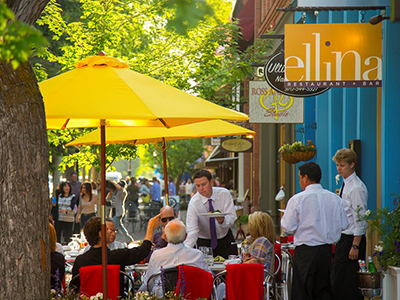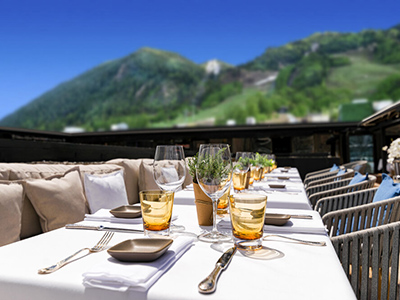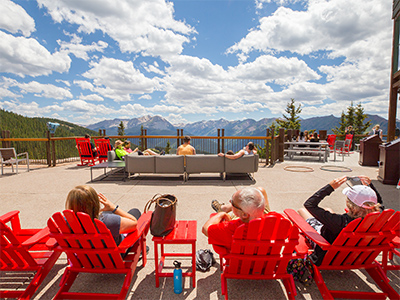 1. PINE CREEK COOKHOUSE (Lunch & Dinner)
A legendary Aspen restaurant during any season or circumstances, the Pine Creek Cookhouse is nestled at the base of the Elk Mountains 12.5 miles up Castle Creek Road, approximately 30 minutes from downtown Aspen. The views are stunning, the food is noteworthy, and the overall ambiance is truly memorable.
The Cookhouse features a gourmet, Alpine-influenced menu with entrees ranging from wild game to fresh fish, all brought to life with organic, locally-sourced produce. From field to stream, Cookhouse chefs prepare inspired dishes made from scratch every day.
Reservations are required for the three lunch seatings: 11:30 a.m., 1:30 p.m. and 3 p.m.
Concierge Tip: American Lake and Cathedral Lake hiking trails are nearby and offer gorgeous but strenuous hikes - lunch will be well-deserved!
2. ELLINA RESTAURANT (Dinner Only)
Tucked into a nook of the Hyman Avenue walking mall, Ellina Restaurant's tiered outdoor seating is the perfect venue for a memorable meal.
We recommend booking an early reservation on the mall for the people watching and sunset ambiance. Enjoy Mediterranean dishes like the braised artichoke or house-made pasts, or select from their seasonal taco menu with Mexican masterpieces by Chef Miguel Diaz.
Reservations are recommended!
3. BETULA'S MOUNTAIN-VIEW BALCONY (Lunch & Dinner)
Right in the heart of Aspen, Betula occupies a second-floor space with a beautiful balcony offering surprisingly dramatic views of Aspen Mountain.
While the views and ambiance are impressive, Chef Laurent's innovative French Pan-American cuisine makes this restaurant a must-visit location in Aspen.
Reservations are recommended!
4. THE SUNDECK ATOP ASPEN MOUNTAIN (Lunch Only)
Operated by Aspen's only five-star, five-diamond hotel, The Little Nell, the Sundeck offers breathtaking views from a sunny patio with plenty of seating. Ride the Silver Queen Gondola to the top to indulge in a gourmet lunch with the best views in town. We recommend the made-to-order stir-fry dishes from the wok station!
A gondola ticket is required to get to the restaurant: $29 for one ride or $39 for a Sightseeing Pass, which includes $10 lunch credit and other discounts.
5. CASA TUA (Lunch & Dinner)
This patio is in the center of it all, situated in a bustling corner of downtown Aspen but shaded with beautiful umbrellas and bordered by lovely planters.
At lunch and dinner, diners can look out to view the Aspen action while they indulge in Alpine-style Italian cuisine made with fresh, local ingredients.
Reservations are recommended!
READY TO VISIT ASPEN?
Plan a last-minute summer getaway to Aspen and enjoy our outdoor dining experiences. Start by searching our Aspen vacation rentals or contact our Aspen-based reservations team. We hope to see you soon!