14 Nov 2023
With 3,332 acres of skiable terrain, Snowmass is the largest of the four mountains in the Aspen Snowmass area. Its massive size, diverse trails, and various terrain make it a haven for skiers and riders of all abilities and ages.
The newly upgraded base facilities, a beginner's area at Elk Camp, and a renowned ski school make Snowmass great for beginners. Intermediate skiers and riders love the groomed, wide trails with amazing views. Experts will delight in the steeps, bumps, and park terrain. This means a fun ski vacation is within reach for everyone in your party - from beginners to experts.
The following is a list of our favorite runs, grouped by skill level, to help ensure you take advantage of the mountain and all of the amazing trails it has to offer. Download the trail map to locate these runs before your arrival.
Best Beginner Runs on Snowmass Mountain
Despite its size and reputation as an intermediate ski and snowboard hotspot, Snowmass offers a terrific beginner skiing experience. It's a great spot for ski and snowboard novices, with some designated beginner areas.
The Snowmass Ski and Snowboard School is well-regarded as one of the best ski schools in the country. Various lesson options for ski and snowboard lessons are offered by the school, ranging from daily lessons to multi-day packages to meet multiple needs. Kids of all abilities and levels will have the chance to hone their skills while gaining more confidence on the mountain after spending time with our pro instructors. 
For beginner skiers and riders 6 and under, the Treehouse Kids' Adventure Center is unlike any other beginner ski area. This 25,000 sq ft facility was built by the creators of Universal Studios to help make kids comfortable while learning to ski. The center offers a mix of playgrounds, a ski school, a kid-friendly cafeteria, and a rental shop filled with gear for an amazing once-in-a-lifetime experience.
Fanny Hill and Assay Hill
Fanny Hill and Assay Hill are located near the main base area of the mountain and are home to much of the green terrain at Snowmass. Both of these large beginner-friendly zones are ideal places for true beginners and children to learn how to ski or ride and begin to develop their skills further.
The Meadows
Beginner skiers and riders can also take the Elk Camp Gondola to the protected Meadows Area, which hosts two magic carpets and a short lift. This area is perfect for first-time skiers to try their wits with its more remote location and larger size.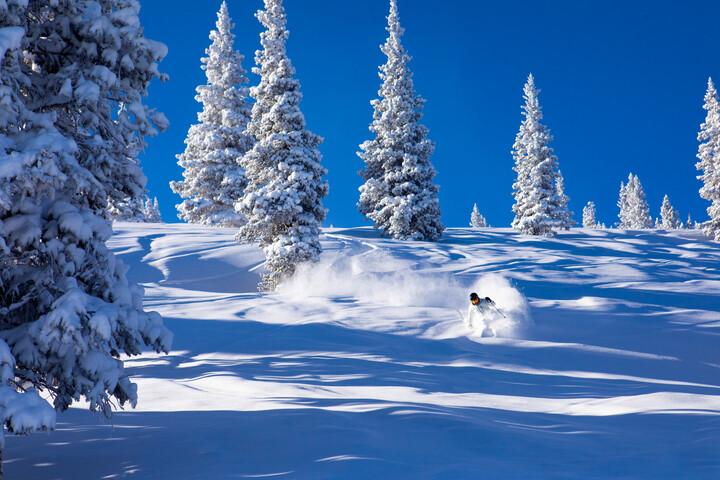 Best Intermediate Runs on Snowmass Mountain
With almost half of its terrain rated as blue, Snowmass is nirvana for intermediate runs. Skiers and riders will find it worthwhile to check out Snowmass's famed cruisers while also enjoying the long and consistently pitched groomed runs for which the area is known. Adventure seekers can enjoy some steeper blue runs along with plenty of bumps on different areas of the mountain or feel the joy of carving turns on long groomers.  
Sneaky's
For those looking to ski and ride trees or wide-open runs, Sneaky's Glades off the Big Burn lift is a perfect choice. This trail offers well-spaced glades with gradual pitches and a tight, almost roller coaster-like terrain. This run also provides stunning views of the Roaring Fork Valley, making it a great place to enjoy a day of skiing or riding.
Sheer Bliss
Located at the top of the Big Burn area, the Sheer Bliss run starts above treeline and drops nearly 2,000 ft through beautiful glades. This trail is a fun challenge with plenty of space to spread out and enjoy some bumps on the way down.
Long Shot
Touted as the longest continuous ski run in Colorado, Longshot is a rewarding 5.3 mile leg-burning run.  Take the Elk Camp lift to the top, soak in some incredible views, and enjoy the quick 10-minute hike to the beginning of Longshot.  It's a must do!
The Elk Camp lift also brings you to additional fun rolling intermediate terrain like Grey Wolf and Sandy Park.  
Bull Run
Located just left of the Elk Camp lift, Bull Run is an intermediate run that is a lot of fun peppered with a bit of adventure with small strands of trees throughout. This run also offers amazing views of the iconic Maroon Bells for a fun time with unforgettable scenery.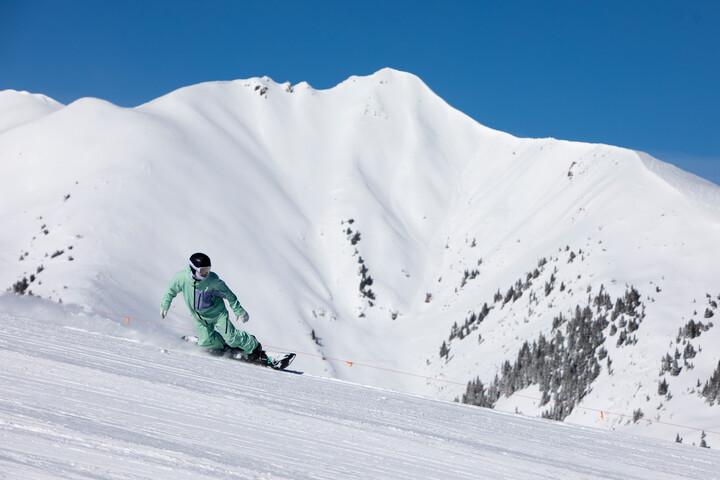 Best Expert Runs on Snowmass Mountain
Despite its reputation as a family-friendly mountain with primarily intermediate runs, Snowmass has its fair share of more advanced terrain. Nearly a third of the mountain is Double Black Diamond, perfect for those looking for a challenge.
Start by warming up with some laps on the eastern side of the resort. Gradually work your way west and check out Powderhorn off of Sam's Knob for fun rolling moguls and great views, then take some turns on Garrett Gulch to prepare for the more challenging runs.
Cirque
Accessible via ten different gates, Cirque and Burn Cliffs feature a host of different routes for skiers and riders. The Burn Cliffs have some of the most extreme open terrain in the area, with small technical chutes. 
The Cirque Headwall, which runs down the gut of Cirque, is the highest run on all four mountains and includes a combination of glades, open rolling pitches, and pillow lines, funneling back to the High Alpine lift. This run is designated expert-only, but it's a fun and challenging run worth checking out if you have the skills.
Hanging Valley
The double-black glades of the Hanging Valley Wall are nearly 23 named "runs" and secret stashes in an expansive area that includes cliff band splitting chutes, gladed runs, and open powder fields. Check out this large area to get lost in extreme terrain.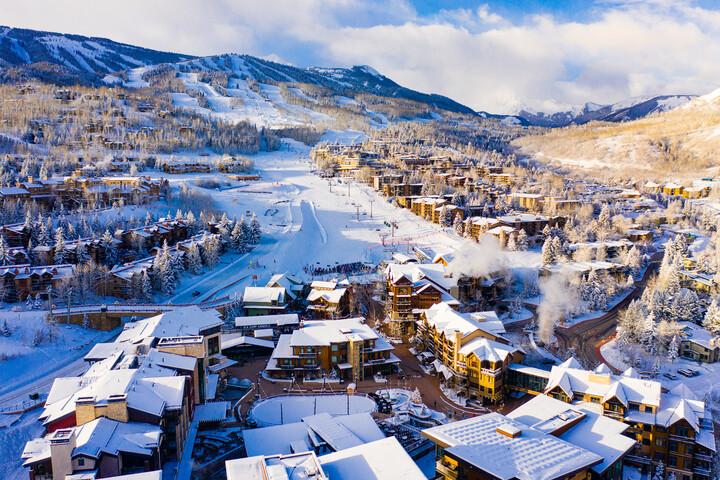 Plan Your Snowmass Ski Vacation with Frias Properties
Explore our slope-side condos and vacation home rentals in Snowmass Village and find the perfect place to stay for your ski vacation. Guests of Frias Properties receive airport transfers, concierge services, health club access, front desk check-in, housekeeping, and 24/7 maintenance and support with their Aspen or Snowmass vacation rental.
Contact our Reservations Team today for more information or call (970) 920-2010 with any questions.