Posted: 14 Jul 2017
Aspen's nightlife is famous and frequented by jet setters and celebrities, and it evolves with each season as new, trendy speakeasies, craft brew pubs, and see-and-be-seen nightclubs join the scene. We've compiled a list of Aspen's best after-hours offerings to help you plan your night after dinner. For the most up-to-date information, double-check with each establishment listed below, or call the Frias Concierge at (970) 429-2449 to get the scoop.
BREWS AND COCKTAILS
The Aspen Brewing Company tapped its first keg in 2008 and later opened its first tap room on Restaurant Row. But in the winter of 2017/18, the company elevated their in-town offering by opening Aspen Tap in the bigger, ground-level space on the corner of Galena St. and Hopkins Ave. The still upbeat atmosphere now features a food menu, wine, and cocktails in addition to the Aspen brewed beers.
The historic Hotel Jerome at 330 E. Main Street is home to the legendary J-Bar, which has been serving drinks since 1889 and is a favorite of locals and guests who love its contemporary-yet-classic Western feel. Order an "Aspen Crud" to get a feel for Aspen during prohibition; this spiked milkshake was served when the J-Bar was an ice-cream parlor with trap-door liquor service.
It's hard to miss the newly opened Aspen Public House in downtown Aspen with its iconic location on the corner of the Wheeler Opera House at 328 E. Hyman Avenue. More Roaring Fork brewed beers from the restaurant's sister location, Capitol Creek Brewery in Basalt, top the drink menu, but a large array of local spirits and cocktails make the list as well along with a unique food menu.
Hooch Aspen, located at 301 E. Hopkins Avenue, joined the local craft cocktail scene in 2016 and is operated by the owners of its upstairs neighbor Meat & Cheese. With seasonally inspired cocktails, a great wine list and an inviting yet sophisticated lounge atmosphere, this underground hotspot is perfect for an after-dinner drink.
The newest tenant of the basement bar space in the Ute building is the Silver City Mountain Saloon. Sports fans will appreciate the multiple television screens and recreational billiards players will love the new table in the lounge area. Live music often graces the stage on the weekends, but the wide-ranging drink and food menu are available seven days a week.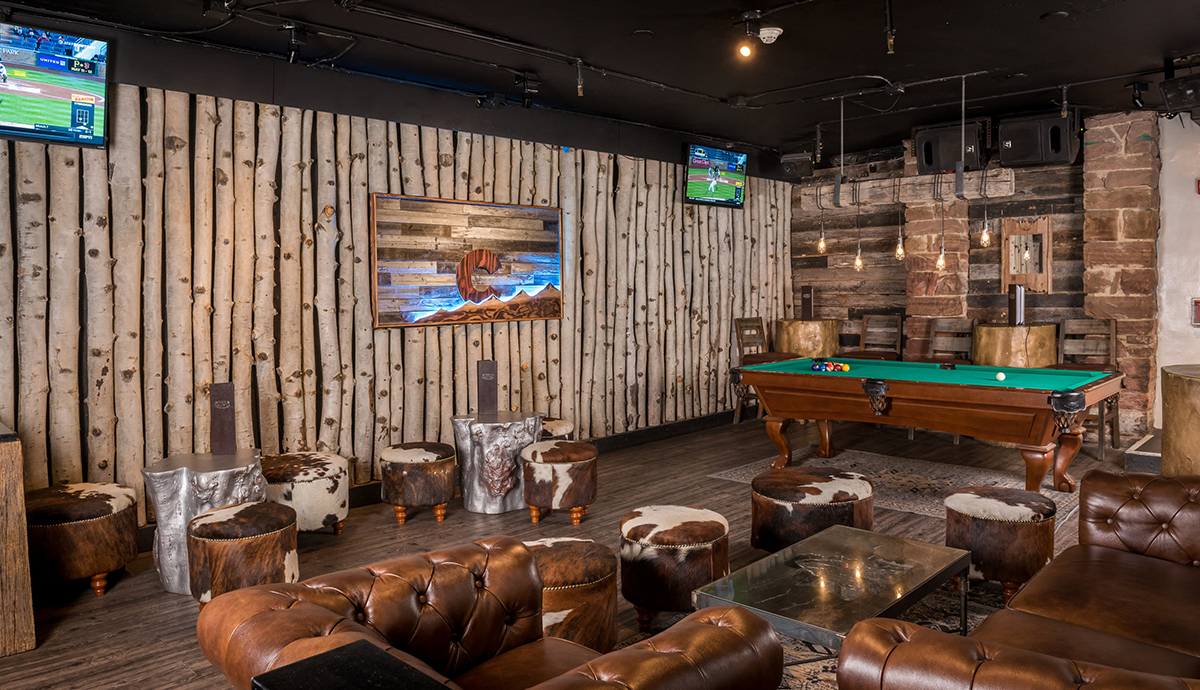 ASPEN LIVE MUSIC AND PERFORMANCES
Belly Up Aspen, at 450 S. Galena Street, is the town's premier live-music club and regularly features performances by major industry headliners with acts ranging from stand-up comedy to hip-hop. Past performers include Adam Sandler, Clint Black, Snoop Dogg and ZZ Top. The venue provides an intimate setting and an unforgettable experience. Tickets for performances go fast and can be at a premium during peak times of the season.
The Wheeler Opera House is Aspen's quintessential landmark at 320 E. Hyman Avenue. The newly renovated theater hosts a number of world-famous acts regularly as well as local special events sponsored by Aspen Film, the Aspen Music Festival & School, the Aspen Writer's Foundation, and others.
JAS Cafe, presented by Jazz Aspen Snowmass, brings intimate jazz performances by world-class musicians to intimate venues around Aspen, including The Little Nell, the Cooking School of Aspen, and the Aspen Art Museum. With a summer and winter performance schedule, JAS Cafe has become a favorite activity for locals and visitors.

ASPEN NIGHT CLUBS AND DANCING
Eric's Bar at 315 E. Hyman Avenue, is often the hub of late-night activity. The bar includes Aspen Billiards, The Cigar Bar and Su Casa restaurant to create an easy flow that allows partiers to seamlessly maneuver between playing billiards to dancing to smoking a fine cigar. Four sections, one cool vibe and open late.
In 2011, a group of young Aspen entrepreneurs launched Escobar at 426 E. Hyman Avenue on the downtown mall, and it's still a favorite destination for late-night dancing and libations. Resembling the inside of a Leer Jet, Escobar sets the mood for a wild night on the dance floor or an intimate conversation at a private table. Check the local papers for big-name guest DJ performances.
Bootsy Bellows, in the Crystal Palace building at 300 E. Hyman Avenue, is an Aspen offshoot of the Hollywood club partially owned by actor David Arquette. The club boasts fine cocktails, good music, and live performances until late into the night.
BE PART OF THE ASPEN NIGHTLIFE EXPERIENCE
Are you ready to experience Aspen's famous nightlife? The Frias Concierge can assist with information or booking reservations if needed; call (970) 429-2449 to speak with our local experts. If you are still in the planning your Aspen vacation, our reservation specialists can assist you in finding accommodations close to everything you would like to see and do. Contact us here or at (800) 633-0336.