Posted: 1 Dec 2021
Not all our winter visitors are skiers or snowboarders, and there are plenty of things to do for people who don't want to click in (or strap in) while they're on vacation. Whether you're looking for alternative snow activities or snowless options, there are plenty of ways to explore Aspen without ever hitting the slopes.
Read on to see how you can experience the best of Aspen as a non-skier.
On Snow Adventures
With 300 days of sunshine a year, Aspen's outdoor offerings beckon even during winter. Enjoy our beautiful scenery with these on-snow adventures.
ELK CAMP AT SNOWMASS
Head to Snowmass ski area to find fun for the whole family. Ride the Elk Camp Gondola to the Elk Camp Restaurant and The Lost Forest adventure zone. There you'll find a favorite winter activity - snow tubing. Large inflatable sleds zoom participants down tubing lanes carved into the snow. Plus, it's lift-served, giving tubers time to relax on the magic carpet on the way up the hill. At Elk Camp, you'll also find the Breathtaker Alpine Coaster. Riders can experience the thrill of winding through a mile of forest on an elevated track at speeds up to 28 miles per hour! If you're searching for a special night out, ride the Elk Camp Gondola after the sun sets for Ullr Nights. Enjoy gourmet dinner at Elk Camp Restaurant, toast marshmallows around the fire, and opt into other snow-centric activities.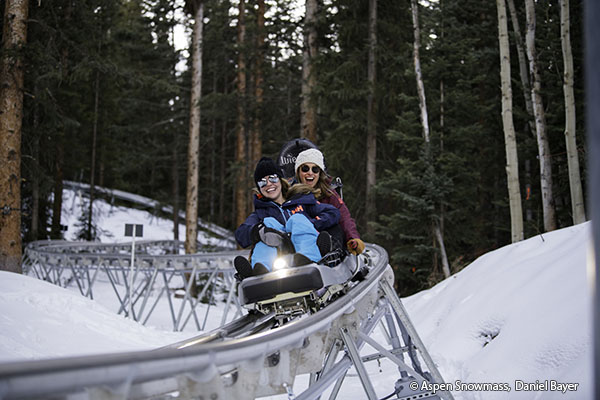 Breathtaker Alpine Coaster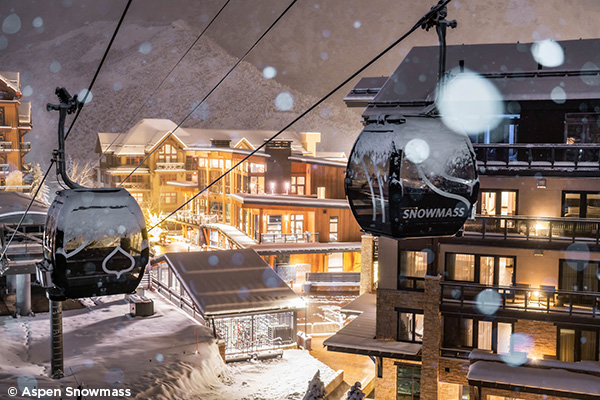 Riding the Elk Camp Gondola up to Ullr Nights
SNOWSHOEING
For those looking to venture into the snow, but aren't the most confident on skis, try snowshoeing! Aspen Center for Environmental Studies (ACES) offers naturalist-led snowshoe tours atop Aspen Mountain and Snowmass ski area.
Aspen Mountain Snowshoe Tours: Meet at the top of Aspen Mountain in front of the gondola at either 10 a.m. or 1 p.m. and embark on a 2.5-mile tour across gentle terrain. You'll learn about Wildlife in winter, mountain ecology, Aspen history, and more.
Snowmass Snowshoe Tours: Meet at the top of Elk Camp Gondola at either 10 a.m. or 1 p.m. and explore spruce and fir forests along a babbling creek on Snowmass ski area. Experience the silence of a snow-covered forest and learn about Rocky Mountain winter ecology, animals, and more.
Snowshoe tours are offered daily starting in mid-December. For more information, call ACES at (970) 925-5756.
SNOWMOBILING
A popular outing to explore remote areas within the White River National Forest is snowmobiling. T-Lazy-7 Ranch offers several guide-led tours, including rides to Klondike Cabin, Maroon Bells, and Independence Pass. Each route offers majestic views, a hot meal or hot cocoa stop, and local history. To book your snowmobile tour, contact our concierge or visit TLazy7.com.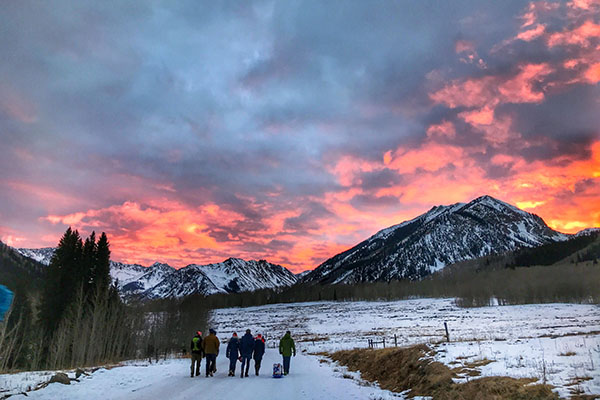 Route to Pine Creek Cookhouse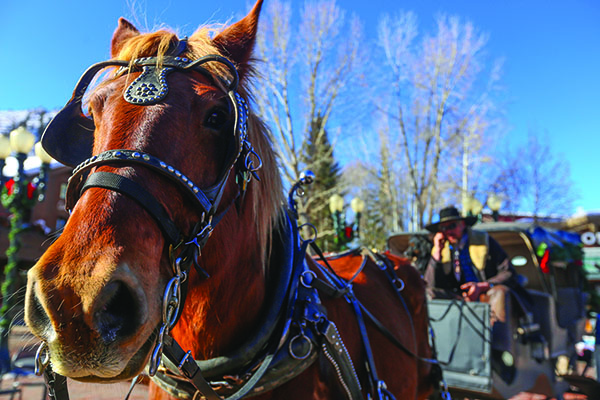 Horse-Drawn Sleigh to Pine Creek Cookhouse
CROSS-COUNTRY SKIING
Akin to jogging on snow, cross-country skiing is a great way to get some fresh air and exercise in Aspen's great outdoors. Aspen Snowmass boasts 60 miles of FREE cross-country trails that are meticulously maintained and offer routes for all levels. The Aspen Nordic Center, located at the Aspen Golf Course, offers rental equipment, trail maps, and even lessons. For more information and grooming updates/trail conditions, visit AspenNordic.com.
SNOW BIKING
With the popularity of e-biking in the summer, it's only natural that winter snow biking is turning into a favorite pastime in Aspen. To naviage snowy trails safely, riders use "fat bikes," which are mountain bikes with extra-wide tires. There are some trails designed specifically for fat biking, and riders enjoy the Rio Grande Trail and East of Aspen trail for their gentle grades and beautiful winter scenery. You can even ride a fat bike up to the Maroon Bells! Read our Guide to Fat Biking >>
PINE CREEK COOKHOUSE
Turn your meal (lunch or dinner) into an adventure when you head to Pine Creek Cookhouse. Located on Castle Creek Road, near the ghost town of Ashcroft, the restaurant not only offers a unique dining experience, but it also has unbeatable views of the Elk Mountains.
Located beyond the winter road closure, the journey to this remote restaurant is half the fun. Diners ride a horse-drawn sleigh or snowshoe through snowy alpine groves to arrive at one of Aspen's most picturesque locales. You can also cross-country ski on beautifully groomed trails that weave through aspen forests.
Reservations are required; contact our concierge or the restaurant directly.
Off Snow Adventures
Although snow is often synonymous with Aspen winters, there are numerous activities to choose from that have nothing to do with snow.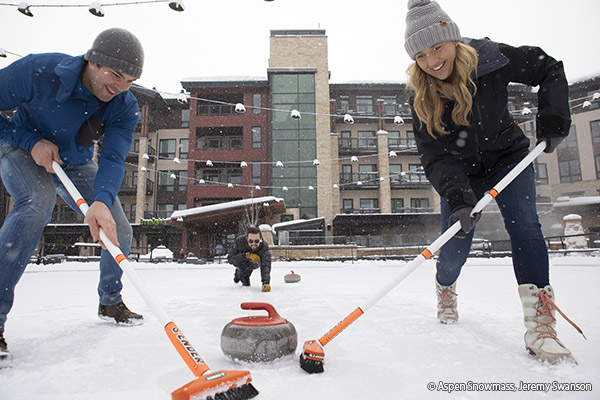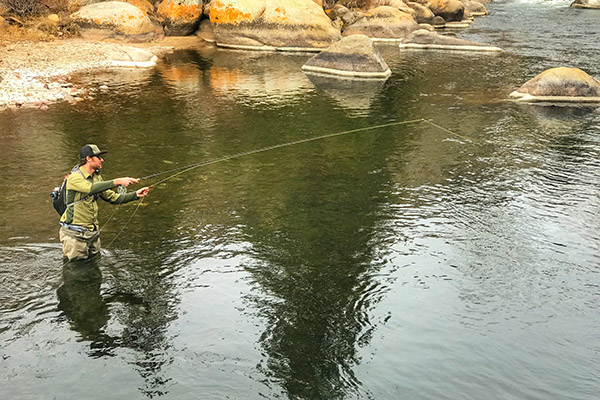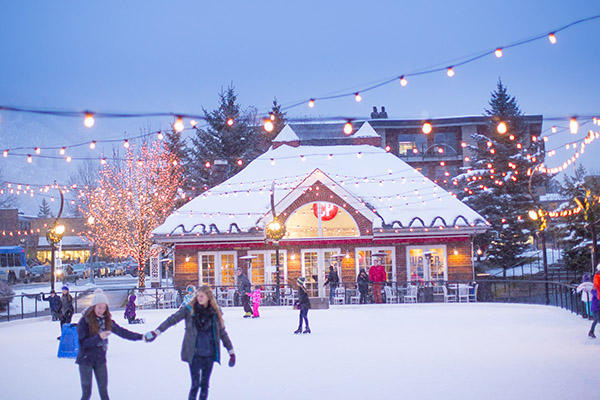 One quintessential activity for an Aspen winter vacation is ice skating. And the small town of Aspen has three ice skating rinks! The outdoor Silver Circle rink is downtown, and the Lewis Ice Arena as well as the Aspen Ice Garden are both indoor options. (Note: Frias Properties guests receive free access to the Aspen Ice Garden, an NHL-sized hockey rink.)
In Snowmass, The Rink in Base Village hosts a variety of activities including skating clinics and the ice sport curling.
Another off-mountain outdoor activity is winter fly-fishing. Aspen boasts world-class fly-fishing year-round. And winter is one of the best times to cast a line in the local Roaring Fork and Frying Pan Rivers. Waters are clear and slow-moving, and surprisingly, the winter season offers consistent fish activity and larger fish. Our concierge can arrange for a guided fly-fishing experience!
History buffs will very much enjoy the Aspen History Tours. Aspen's storied past is discussed on these historian-led tours that include visits to points of interest in downtown Aspen, the West End, and other key locales.
Aspen is also home to numerous indoor activities. The internationally lauded Aspen Art Museum, located right downtown, offers free admission and is a fantastic place to spend a snowy, cold day. Stop in to view one of the rotating contemporary art exhibits, enjoy the view from the top-floor cafe, or just admire the architecture of the building, designed by the renowned architect Shiguru Ban.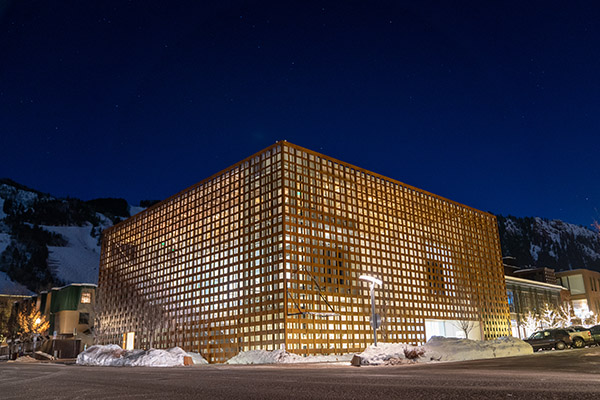 Aspen Art Museum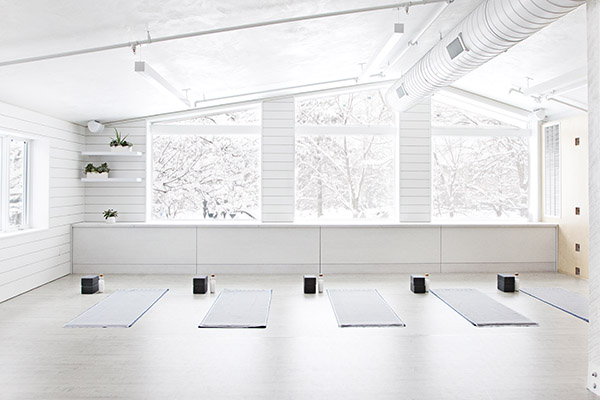 O2 Aspen Yoga Studio
In an active town full of active people, it's no surprise Aspen has a number of workout facilities, health professionals, and spots for relaxation and pampering. O2 Aspen offers yoga, fitness, and Pilates classes as well as has an extensive menu of spa treatments.
Frias Properties' guests receive free entry to both the Aspen Recreation Center (The ARC) and the Red Brick Recreation Center. The rec centers offer an indoor pool with water slide and lazy river (great for kids!), workout facilities, and a climbing gym.
Beyond its ski-town reputation, Aspen has also been lauded for its shopping scene. If you're looking for the newest Gucci handbag or those classic Prada shoes, just wander around the shop-lined downtown core. There you'll find shopping comparable to New York City's Fifth Avenue. In addition to the designer retailers, there are also unique, one-of-a-kind boutiques like Pitkin County Dry Goods and Kemo Sabe that shouldn't be missed.
INSPIRED TO EXPLORE ASPEN'S OFF-MOUNTAIN ADVENTURES?
With more than 125 centrally located vacation rentals, Frias Properties can help you find the best lodging for your visit to Aspen. View some of our rental options online, or contact our Reservations Team to learn more about availability and pricing.