7 Nov 2023
As the holiday season approaches, many people yearn for a magical winter wonderland to create lasting family memories. If you're searching for the perfect holiday destination, look no further than Aspen Snowmass. This picturesque mountain town in Colorado is a dream come true for winter enthusiasts and holiday seekers alike. From world-class skiing and snowboarding to charming winter festivities, Aspen Snowmass has it all. In this blog, we'll explore why spending the holidays in Aspen Snowmass is an experience like no other.
Things to Do in Aspen Snowmass
Winter is when Aspen Snowmass comes alive. Aside from the skiing and riding that the area is known for, Aspen Snowmass offers outdoor activities and special holiday events sure to appeal to everyone. From skiing and riding to festive s'mores by the fire and visits with Santa, here is a list of events and activities offered in Aspen Snowmass for the holiday season.
Ski and Ride this Christmas in Aspen Snowmass
With 5,600+ acres of the world's best terrain, Aspen Snowmass is a top destination for skiers and snowboarders any time of year. By Christmas week, the area's four resorts–Aspen Highlands, Aspen Mountain (AJAX), Buttermilk, and Snowmass–have opened, and all can be accessed with the same lift ticket. Having access to all four mountains also means that there are opportunities for skiers and riders of all levels.
Beginners and those looking for easier terrain will find the runs at Snowmass and Buttermilk exceptionally accommodating, with wider runs and available lessons. More advanced riders might love the more challenging Aspen Mountain or Aspen Highlands terrain, both easily accessed via the Silver Queen Gondola–within walking distance of downtown Aspen.
Cross-country skiing is also available through the Aspen Cross Country Center, which operates the Aspen Snowmass Nordic Trail System. Located just out of town, the center offers everything from gear rentals and skiing/tuning services to lessons and cross country ski tours.
Ice Skating
Skiing and snowboarding aren't the only activities that allow you to enjoy the snowy winter ambiance of this alpine wonderland. Ice skating is a popular activity amongst visitors and locals, and Aspen boasts one outdoor and two indoor rinks. 
The Silver Circle is just steps from Aspen Mountain for those looking to skate under the stars. Lewis Ice Arena and Aspen Ice Garden are situated in the downtown core and allow you to glide around the rink in the comfort and warmth of an indoor arena. 
In Snowmass, skate outside in the Snowmass Base Village plaza. Free skate rentals are available.

12 Days of Aspen
In Aspen, the last 12 days of December are known as the "12 Days of Aspen." Each of the 12 days offers opportunities to celebrate the holiday season with visits from Santa for the kids, ice skating, art workshops, and various other holiday activities. "12 Days of Après" is an opportunity for adults to share in libations, dance, and socialize at a local Aspen hotspot.
This fantastic holiday event wraps up on New Year's Eve with a light show or fireworks, providing the perfect end to the holiday season. For the most up-to-date information, check the Aspen Chamber's website.

Snowmass Luminescence
Snowmass Luminescence on Fanny Hill is a series of glowing art installations connecting Snowmass Base Village and the Snowmass Mall. Visitors can view the installation by moving uphill or downhill, experiencing a dazzling array of bright, kaleidoscopic lights standing out against a dark sky. Snowmass Luminescence is truly a one-of-a-kind experience worthy of a visit during your holiday stay.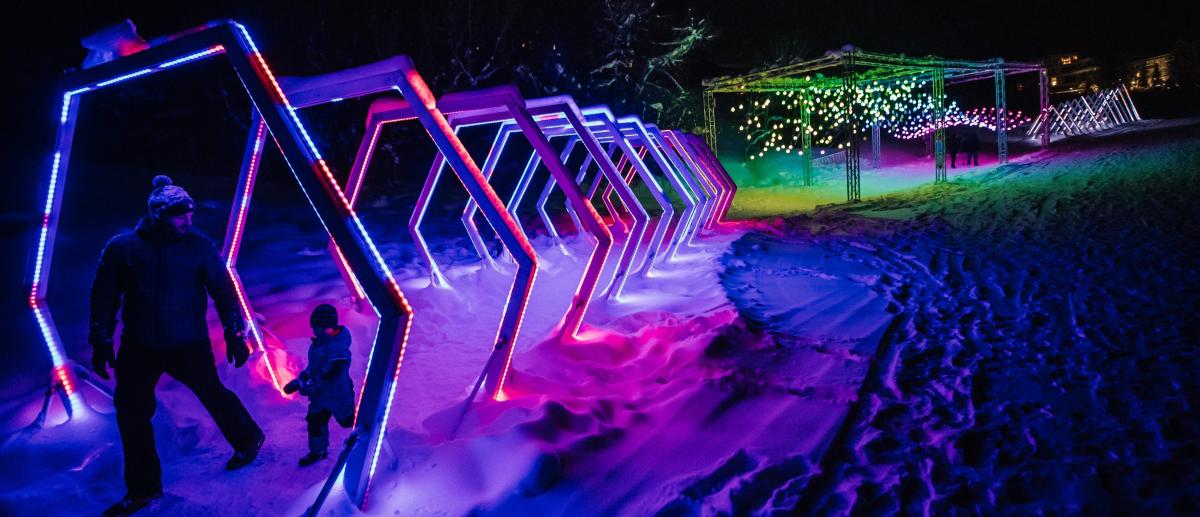 Live Holiday Performances in Aspen Snowmass
Aspen has long been known for its arts and culture, and things get particularly spectacular during the holidays. Catch one of these special events after a fun day on the slopes, shopping downtown, or just soaking in the alpine beauty.
The Wheeler Opera House
Celebrate the month of December at the Wheeler Opera House with any of its many holiday-themed performances and films. Past performances have included everything from live music to holiday films and live comedy shows.
For information on their upcoming line-up, check the Aspen Showtix page.
Aspen Ballet Santa Fe Presents The Nutcracker
Attend a performance of The Nutcracker by Aspen Santa Fe Ballet to get into the holiday spirit. The cast of this production is legendary, and it will surely delight audiences of all ages. 
Performances include ballet, flamenco, Chinese ribbon dance, circus artists, and more, making it a performance that will surely surprise and entertain. Join this magical Aspen tradition and usher in the holiday season with family and friends. 
Check the Aspen Santa Fe Ballet website for event info and to purchase tickets.
Live Music at the Belly Up
Long regarded as one of the best intimate venues in the country, the Belly Up is a true gem for music fans. Catch a live performance in this theater-styled venue where there isn't a bad seat in the house.
Look at their calendar of upcoming concerts and make plans to see a show during your holiday stay.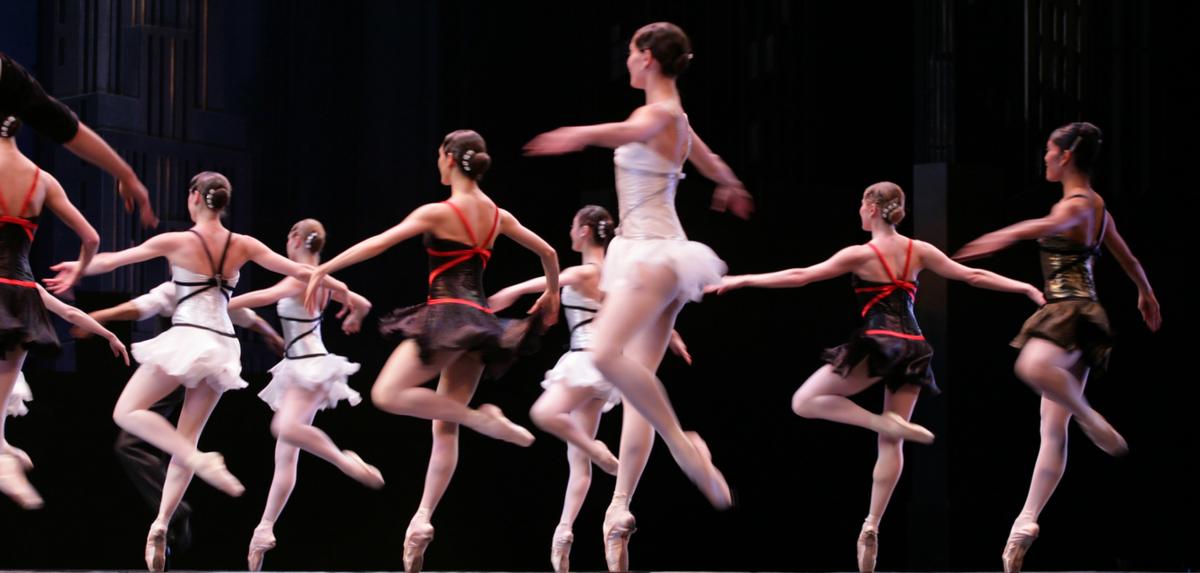 Christmas Dinners in Aspen Snowmass
If you are looking for a Christmas Eve/Day dinner to remember, many Aspen restaurants host beautiful prix fixe menus. Dining options are curated and published annually on the ACRA Holiday Dining page, and our concierge has the most updated information. 
We recommend these renowned eateries:
For Christmas Eve Dinners
ELEMENT 47 | Enjoy an amazing four-course prix fixe menu of indulgent favorites as this renowned Aspen eatery. Holiday favorites include lobster, wagyu beef, goose, handmade pasta, venison, and decadent desserts. 5 – 10 pm  $350 per guest, available with a $200 wine pairing, $50 per child. 
AJAX TAVERN | Experience truffle season with a four-course Christmas Eve menu featuring white truffles, served family style. 7 - 10 pm  $225 per guest, available with a $100 wine pairing, $50 per child.  
PROSPECT AT THE HOTEL JEROME | The five-course menu features amazing sumptuous delicacies with optional wine pairings.
First Seating: 5:30PM, 5:45PM and 6PM
Second Seating: 8:30PM, 8:45PM and 9:00PM
$195 per person for adults, $55 per person for children under 12
Optional Wine Pairings:
"Holiday" wine pairing $145, 
"Festive" Champagne pairing $295. 
Kids Beverage Pairing: $25.
PARC ASPEN | PARC Aspen offers a cozy dinner four-course prix fixe or a la carte menu for Christmas Eve. Join the intimate ambiance of the elegant dining room and festive decorations, creating an amazing setting for the perfect holiday dinner.
Early Seatings are offered at 5:00, 5:15 and 5:30 PM
Later Seatings offered at 7:30, 7:45 and 8:00 PM
$150 Four Course Prix Fixe & Condensed A La Carte Menu
For Christmas Day Brunch/Dinners
AJAX TAVERN | Enjoy a relaxed Christmas dinner at Ajax Tavern with a three-course menu that includes holiday favorites like Wagyu Beef Wellington, dry aged duck, crab, oysters and more, Situated in a casual, family-friendly setting, reservations available from 5-10 pm. $250 per guest, available with a $150 wine pairing option, $50 per child.
ELEMENT 47 | Enjoy an amazing four-course prix fixe menu of indulgent favorites as this renowned Aspen eatery. Holiday favorites include lobster, wagyu beef, goose, handmade pasta, venison, and decadent desserts. 5 – 10 pm  $350 per guest, available with a $200 wine pairing, $50 per child. 
PROSPECT AT HOTEL JEROME | Celebrate Christmas Day with a prix-fixe menu of festive holiday pairings in the Grand Ballroom at Hotel Jerome. Revel in the spectacular snowy covered peaks while listening to music from the Aspen Carolers.
First Seating: 1:00PM,1:15PM and 1:30PM
Second Seating: 3:30PM, 3:45PM and 4:00PM
Third Seating: 6:30PM, 6:45PM and 7:00PM.
$165 per person for adults, $55 per person for kids under 12. 
Optional Wine Pairings:
"Holiday" wine pairing $145,
"Festive" Champagne pairing $295.
Kids Beverage Pairing: $25. 
If you'd prefer to order in, we recommend Mawa's Kitchen for gourmet, family-style meals that can be picked up or delivered.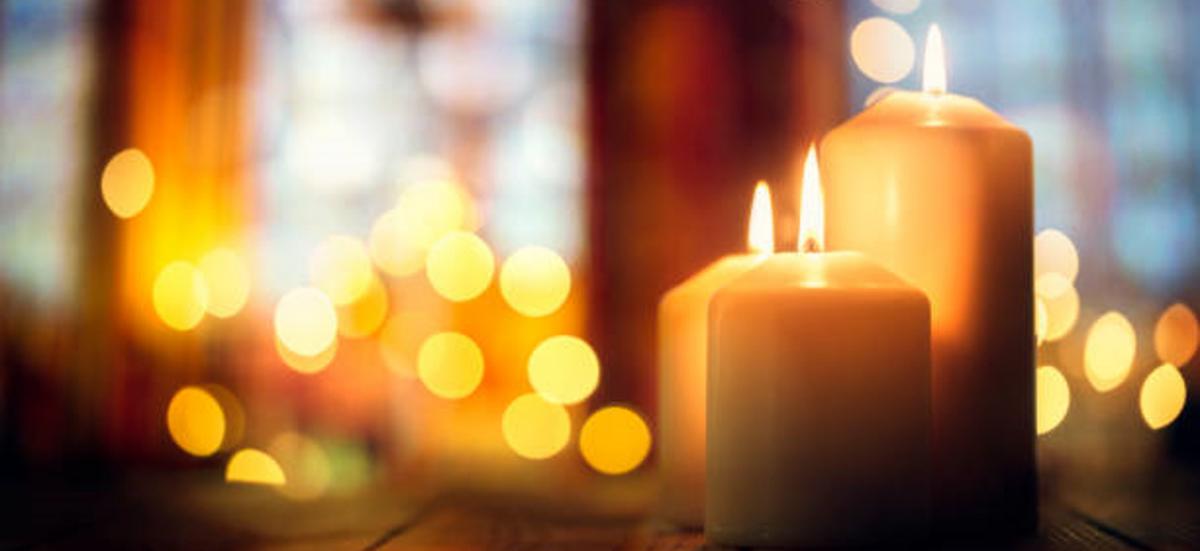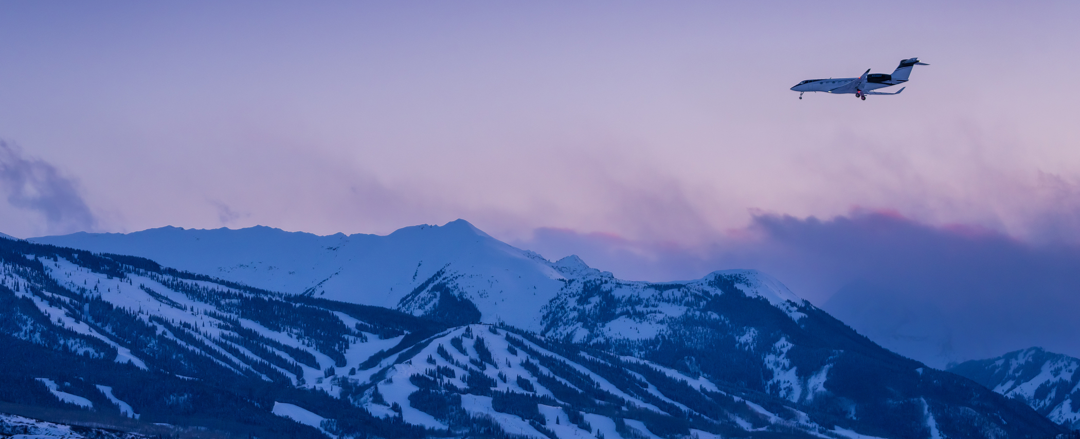 Arriving in Aspen Snowmass during the Holidays
Because of the popularity of Aspen Snowmass for the holidays, it's best to plan to arrive a few days before Christmas Eve. If you are skiing or snowboarding, this will allow time to pick up any rental equipment, grab your lift tickets, and settle in before the holiday chaos begins. 
Frias Properties provides complimentary Aspen airport transportation when you book a Frias Properties vacation rental. In addition, our contact-free check-in process means you can complete our guest registration before your arrival and head straight to your Aspen or Snowmass vacation rental.  Please note: guests of the Independence Square and Owl Creek Homes do not receive complimentary airport transfers.

Frequently Asked Questions
Is Aspen Snowmass crowded at Christmas?
Because of its outstanding alpine scenery blanketed in snow and festive twinkling nights, many view Aspen Snowmass as the quintessential holiday destination. It's a busier time of year, but it still has the advantage of being very manageable on and off the slopes. Lift lines are still reasonable for those planning to ski or snowboard, though reservations are highly recommended if lessons are needed. The same goes for meals out, as restaurants are busier this time of year.
With planning, you'll find the Aspen Snowmass area a wonderful place to spend your holiday. 
Is Aspen Snowmass a good place to go for Christmas?
Yes! There are so many events and activities in Aspen Snowmass around the holidays that it's difficult not to find something for everyone. Add in the amazing alpine scenery, and you have a festive wonderland worthy of building your holiday memories around.
Is it better to stay in Aspen or Snowmass?
Read our perspective here!

Join Us for Christmas in Aspen Snowmass
We hope you are inspired to spend the holidays in Aspen Snowmass! Start by browsing our available vacation rentals online, or contact our Reservations Team for personalized recommendations.