Posted: 23 Oct 2019
Vegas, the beach, Nashville, Charleston...they've all been done. Plan your bachelor or bachelorette party in Aspen! With activities ranging from adventurous to indulgent, award-winning cuisine, Vegas-style nightlife, and unbeatable scenery, there really is no better place.
Plus, it's the perfect place regardless of the season. Summer, fall, winter, and spring - there's always something fun and special going on in Aspen.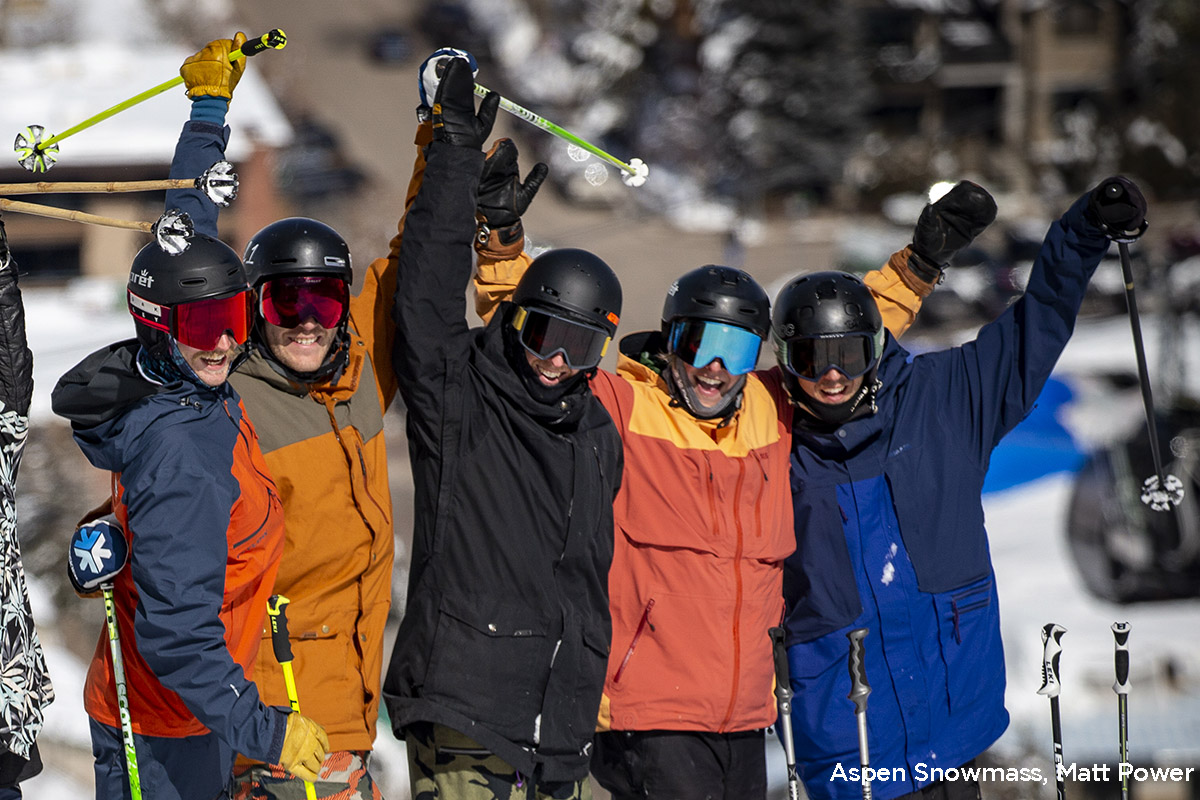 ASPEN ACTIVITIES FOR BACHELOR & BACHELORETTE PARTIES
Spending a bachelor or bachelorette weekend in Aspen can be full of non-stop activity, whether it's active and adrenaline-inducing or relaxing and restorative.
Winter:
Ski & Snowboard! Your Aspen trip isn't complete without a day on the slopes. With four ski mountains, there is terrain suited for all levels of skiers and riders. Moreover, the Ski & Snowboard Schools of Aspen Snowmass have group lessons ideal for groups of guys and girls.
Cloud Nine Alpine Bistro, located mid-mountain at Aspen Highlands, is notorious for its riotous, on-mountain parties where fondue-eating turns into table-dancing and champagne-spraying. Book a lunch reservation well in advance! Local's Tip: the 2 p.m. seating is prime time for peak partying.
Pine Creek Cookhouse is a remote, gourmet restaurant only accessible by cross-country skiing, snow-shoeing, or riding in a horse-drawn sleigh during winter months. Go for lunch or dinner, but make sure you reserve well in advance!
Summer:
C(Om)e together with mountaintop yoga! Ride the Silver Queen Gondola to and get down (dog) at the Sun Deck. Ask the Concierge for the current yoga schedule.
Explore the great outdoors with a hike up Hunter Creek or a river rafting trip on the Roaring Fork River. Aspen offers many iconic outdoor adventures that are accessible right from downtown, so you're not wasting your day driving to the starting point.
Rejuvenate at one of Aspen's iconic spas. After a day or two of activities, anyone would love to be pampered at one of the many spectacular spas in Aspen.
Shop 'til you drop with Aspen's high-end designer stores like Gucci and Prada as well as unique, one-of-a-kind boutiques like Pitkin County Dry Goods and Kemo Sabe.
ASPEN APRES SKI IS PERFECT FOR BACHELORETTE & BACHELOR PARTIES
In whichever season you visit, Aspen's apres-ski (or apres-adventure) scene is always happening. Head to the new W Hotel's WET Deck where you'll have a 360-degree view of Aspen, or the Little Nell's Chair Nine - both known for DJs, dancing, and drinks. Or spend time at the base of Aspen Mountain at the well-known Ajax Tavern, also serving up a good time.
ASPEN RESTAURANTS FOR BACHELOR & BACHELORETTE PARTIES
When you're celebrating a bachelor or bachelorette party, dinner is the prelude to the main event. Here are some top restaurants that know how to show groups a good time:
Kenichi is one of Aspen's favorite sushi restaurants, and their Tatami Room offers semi-private dining in a sunken booth with its own sound system.
Steakhouse 316, housed in a historic Victorian on Restaurant Row, offers a seductive ambiance with plush velvet booths and indulgent fare. Groups enjoy the sectioned-off room that seats 10 to 12.
The new W Aspen is Aspen's latest hotspot and features a few dining options. Meet for cocktails on the WET Deck rooftop bar; eat dinner in the Living Room, which features long tables and eclectic decor; and then head downstairs to 39 Degrees, an underground cocktail bar and grotto.
L'Hostaria Ristorante is a locals' favorite, known for delicious (and well-priced) Italian fare. Their welcoming team is happy to set up large tables as well as pre-fixe menus for groups.
ASPEN NIGHTLIFE FOR BACHELORS & BACHELORETTES
And now we've come to the main event: a night out on the town in the country's most notorious ski resort. Aspen has it all: live music, sultry lounges, trendy nightclubs. Here are our top recommendations:
If you're looking for a great music scene, Belly Up Aspen can't be missed. Bands, solo artists, and DJs are constantly flowing in and out of town to perform at this famous music venue.
For a classic nightclub scene, try Escobar, 7908, Hotel Jerome's Bad Harriet, Bootsy Bellows, and the W Hotel's 39 Degrees. You'll find neon lights, cool crowds, loud music, and packed dance floors. Book a table to ensure you can get in and experience these hot spots.
For a more casual night, head to Eric's Bar, an iconic Aspen social spot with a billiards room, cigar bar, and dance floor. Stop into The Red Onion, Aspen's oldest watering hole, and order a shot ski for the whole bachelor or bachelorette party.
STAY WITH FRIAS PROPERTIES OF ASPEN!
Renting a condo with Frias Properties is a great way to have everyone in your group stay together. Our guests enjoy health club privileges and also receive complimentary Aspen airport transportation. Contact our Reservations Team to book a condo for your bachelor or bachelorette party!