Posted: 30 Oct 2019
In Aspen, Thanksgiving means opening day - making this week an exciting one for both locals and visitors, alike. Along with opening day parties, comes spending time with family, the traditional Thanksgiving meal, and a lack of crowds on and off the mountain.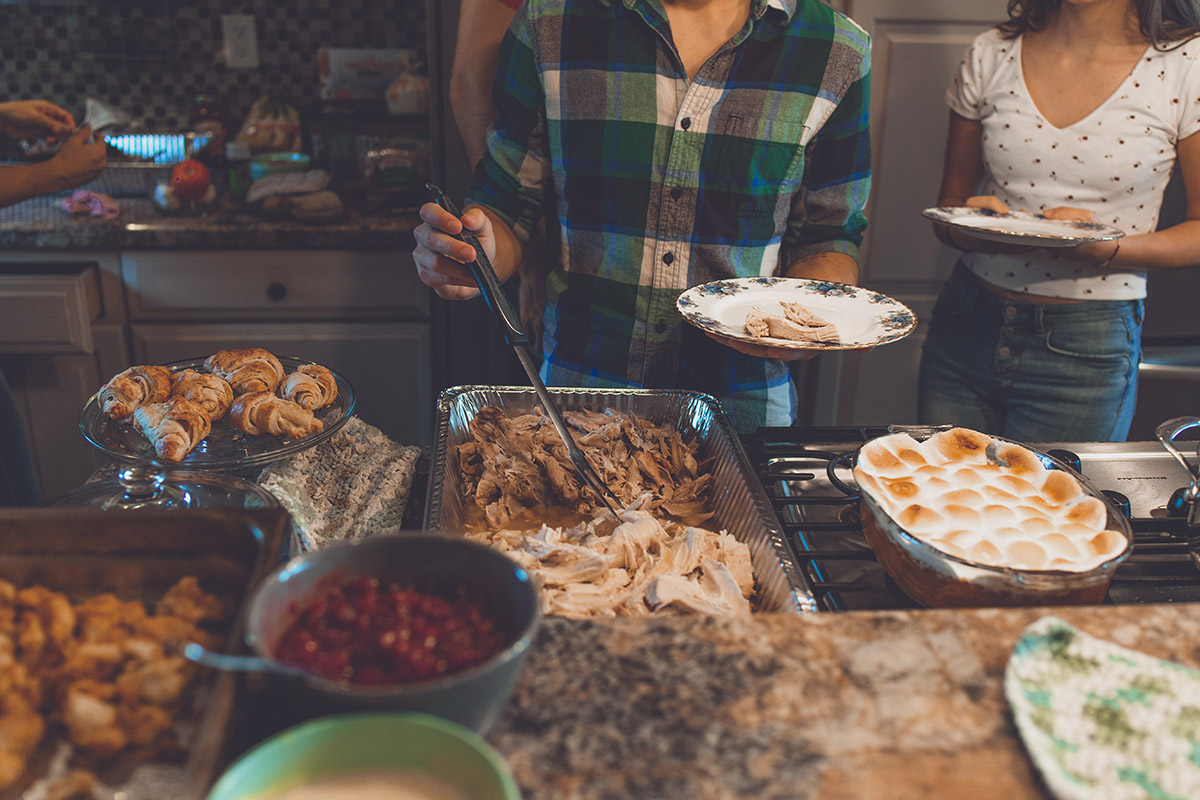 WHY SPEND THANKSGIVING IN ASPEN?
The week of Thanksgiving is the reawakening of Aspen from its shoulder-season slumber, making it one of the best times to visit. Without the Christmas and New Year's crowds, it's a time when Aspen is less about the party scene and more about family-friendly dining, activities, and fun.
Not only is Thanksgiving a time of family, friends, and celebration, but it's also the beginning of ski season. And what could be a better way to work off your turkey than skiing or snowboarding on Aspen Mountain or heading over to Snowmass Village for the Thanksjibbing - an opening day celebration with a freeskiing / snowboarding competition, turkey bowling, a restaurant-leftover challenge, kids' activities, and more.
THE BIG MEAL
Even if you're on vacation, you won't want to miss a traditional Thanksgiving meal. Whether you want to eat in or dine out, there is no shortage of options.
Dining Out
If dining out is what you're looking for, be sure to make a reservation early. Restaurants serving the traditional Thanksgiving feast fill up quickly. The more upscale options include Element 47 at The Little Nell, Prospect at The Hotel Jerome, and Jimmy's. For a meal that is just as delicious, but with a little more laid-back atmosphere, head to The Little Nell's Ajax Tavern or Home Team BBQ.
Eating In
While traveling during the holidays usually means eating out, that isn't the case when you rent a condominium or luxury private home from Frias Properties. With a full kitchen, dining area, and living room, these vacation rentals make it easy to celebrate Thanksgiving with family and friends, without having to worry about where to sit, cook, eat, and lounge.
Many places around town offer take-out Thanksgiving menus. With the option to pick up just your sides and make your mom's Thanksgiving turkey in your vacation rental or ordering your whole Thanksgiving meal, you won't be disappointed with what you serve to your family and friends.
The best place to find your Thanksgiving turkey is at Butcher's Block, Aspen's revered local butcher. Located next door to City Market, you will find the best turkey in Aspen. Be sure to order your turkey early!
To satisfy your yams or stuffing craving, order your sides from Jour de Fete or Mawa's Kitchen. Both are known for delicious, local, homemade food - a perfect combination for mashed potatoes and green beans.
And to simply order the whole meal and pick it up, try Jimmy's. In addition to their in-house Thanksgiving meal, they also will pack it all up for you to take home and enjoy by the fire.
STAY WITH FRIAS PROPERTIES THIS THANKSGIVING
Spending an Aspen vacation with Frias Properties can help eliminate some of the stress of the holiday. In addition to having a full kitchen, dining area, and room for entertaining, we offer a variety of complimentary services and amenities.
A few of those include passes to a local health club, housekeeping services, and a concierge, all of which may be appreciated throughout the Thanksgiving holiday. Our concierge can help you with Thanksgiving dinner reservations as well as recommend favorite spots for Thanksgiving takeout.
Contact our Reservations Team to find your perfect holiday vacation rental.