Posted: 1 Jul 2021
Aspen is the perfect place to propose! This destination has all the essential components that create a memorable proposal: stunning natural scenery, bucket-list adventures, world-class restaurants, and luxurious accommodations. Plus, Aspen is a great place to return to celebrate the special date when your partner said, "Yes!"
Our concierge frequently gets asked, "Where should I pop the question in Aspen?" We have created a list of recommended places to propose in Aspen, including tips on access, reservations, and more.
We hope this list helps spark proposal ideas, and we'd love to assist you with your special day. Stay with Frias Properties, and our concierge can help with all the details!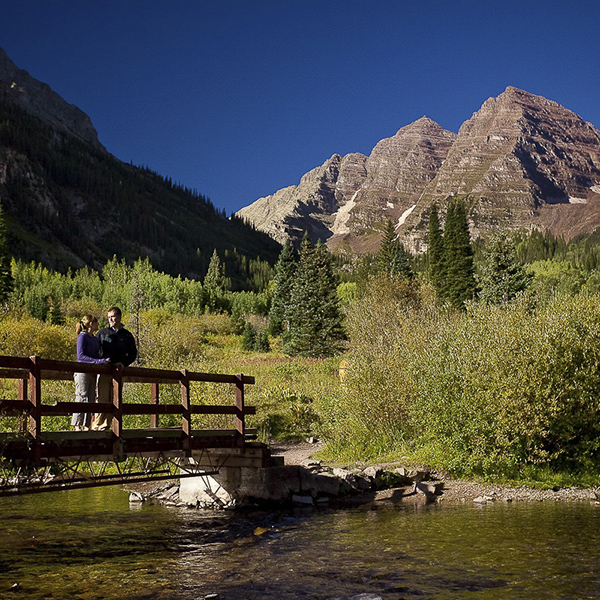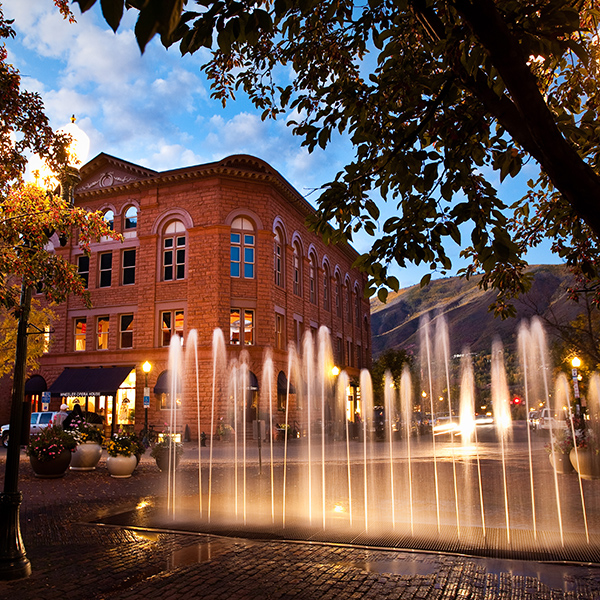 THE MAROON BELLS (spring, summer, fall)
As Colorado's most photographed peaks, the Maroon Bells provide a perfect backdrop for a proposal in the spring, summer, and fall. The mirror lake is the most stunning in the early morning, but sunset is quite dramatic as well.
Getting to the Maroon Bells Scenic Area requires some planning. Car traffic is restricted between 8 a.m. and 5 p.m. during peak summer and fall months (mid-June - early October), and reservations are required for both parking reservations and shuttle tickets. If you cannot secure a reservation, we recommend renting ebikes and riding from town.
The road to the Maroon Bells is closed during winter months, but there are outfitters that lead snowmobile tours to the Bells.
ATOP ASPEN MOUNTAIN (summer or winter)
During winter or summer, Aspen Mountain's stunning summit is a great spot to pop the question. The 360-degree views of the Elk Mountains set the stage for a romantic moment, and the Sundeck provides celebratory refreshments after you receive the "Yes!"
To reach the top of Aspen Mountain, ride the Silver Queen Gondola (ticket purchase required). In summer months, it's possible to hike to the top, but beware: it is a strenuous climb!
THE DANCING FOUNTAIN (summer only)
A downtown-Aspen landmark, the Dancing Fountain uses river water to provide a symphony of movement at the entrance to the Mill Street walking mall. Children run through the fountain on hot summer days, but at sunset, the light is just perfect for a memorable down-on-one-knee moment.
No logistics necessary for this one! We recommend an evening proposal for the best lighting.
PINE CREEK COOKHOUSE (summer or winter)
At the end of Castle Creek Road sits a stunning lodge surrounded by aspen groves and framed by dramatic peaks. Pine Creek Cookhouse is a legendary Aspen restaurant that serves lunch and dinner during peak winter and summer months. The road closes at Ashcroft Ghost Town in the winter, so diners must either cross-country ski, snowshoe, or ride in a horse-drawn sleigh to reach the restaurant.
During summer months, Castle Creek Road is a biking haven with smooth pavement and relatively low car traffic. If your partner is an ambitious athlete, bike 13 miles up the winding road. Alternatively, renting ebikes lets you cruise and take in the stunning views.
Reservations are required for both lunch and dinner in summer and winter. Transportation to Pine Creek Cookhouse can be arranged.
THE GROTTOS (summer or fall)
Located nine from from Aspen up Independence Pass, these caverns were carved by ice freezing in the rocks over thousands of years. The result is a dramatic, other-worldly venue for a proposal. In the summer, the ice melts, and sunlight filters through openings in the caves. The Roaring Fork River meanders beside the grottos, and there are many viewpoints.
To get to the grottos, drive nine miles up Highway 82, east of Aspen and turn into the designated parking area. There is a 0.6-mile loop that ends at the grottos. Car required!
JOHN DENVER SANCTUARY (summer recommended)
This idyllic park is located close to downtown, adjacent to Rio Grande Park and Theatre Aspen's summer venue. John Denver's timeless song lyrics are etched into river boulders placed in a circular pattern around the park, and the babbling stream creates a natural soundtrack for a romantic proposal.
No logistics necessary for this proposal location!
MOLLIE GIBSON PARK (summer recommended)
Also called "sunset park," Mollie Gibson Park is located just below Smuggler Mine and is the perfect spot to watch the sun set over Aspen. While it's only a short walk from downtown, Mollie Gibson Park features dramatic, photogenic views of Aspen Mountain and the other ski areas. With a sloping lawn, a photographer can set up an incredible shot to capture a proposal.
No logistics necessary for this proposal location!
Are you ready to propose in Aspen?
Start planning your Aspen proposal by reserving a centrally located vacation rental. Browse our selection online, or contact our Aspen-based reservations team for personalized recommendations. Once you've booked, contact our concierge for assistance planning your big day.