Posted: 20 Mar 2018
Updated on 1/29/2019
Anyone who has lived in a ski town will tell you that closing day is one of the most anticipated weekends of the ski season. Yes, it's bittersweet to say farewell to winter, but closing day is a time to look back and toast a ski season well-spent. And with four unique ski areas, Aspen Snowmass hosts FOUR incredible closing-day celebrations. Read on to learn more about the unique flavor of each closing day.
Buttermilk Closing Day
"The Biscuit," as its fondly called, is the first to stop spinning its lifts and celebrates the end of the season on April 7, 2019 with Bacon Appreciation Day. Buttermilk is overrun with salty-sweet treats, including bacon waffles at the Cliffhouse, bacon doughnuts from ColoraDough, bacon samplers all over the mountain, and a bacon-and-beer happy hour at Bumps.
If you plan to indulge in all that bacon, sign up for the Fueled by Bacon Sizzle Up, an uphill race starting at 8 a.m. with prizes for best costume, the "center cut" (racer who is exactly in the middle of the pack), and the winner of course.
Down at the base, the Smith Optics Grudge Match takes place on a specially designed, plaza-style terrain park in front of Bumps Restaurant. Competitors spin the "trick wheel" and perform the chosen maneuvers. The winner takes home $1,000 cash prize and a pair of Smith I/O goggles.
NEW THIS YEAR, Aspen Snowmass hosts The Apres, a weekend music festival (April 5 - 7, 2019) bringing incredible acts to an outdoor venue at the base of the mountain. Umphrey's McGee kicks off the series on Friday, April 5 followed by back-to-back nights of The String Cheese Incident. Additional bands and events will be announced, including late-night shows at Belly Up Aspen.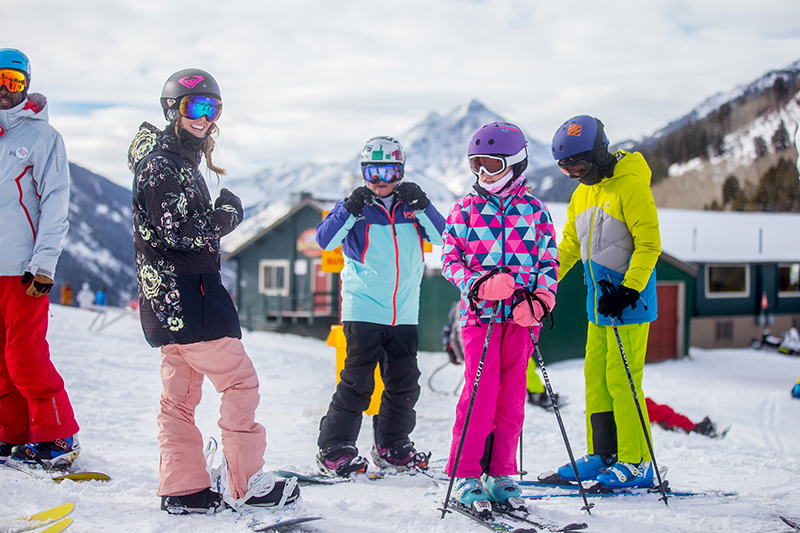 The Cliffhouse atop Buttermilk, on a quieter (and lower calorie) day | Photo: Aspen Snowmass, Jordan Curet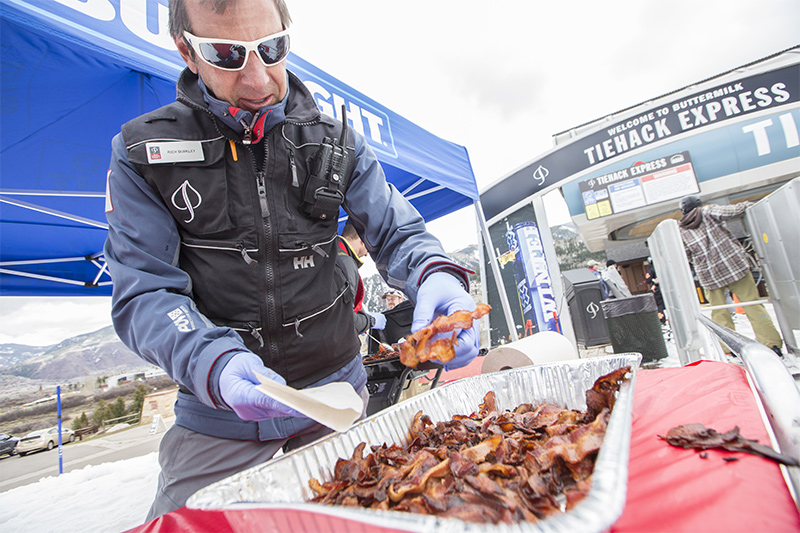 Bacon Day at Buttermilk includes a lot of BACON! | Photo: Aspen Snowmass
Aspen Highlands Closing Day
The Aspen Highlands closing party is notorious for its riotous dance party at the base after the lifts officially close. But if you want to really do it right, arrive in costume and spend the whole day on the mountain.
Hike the Highland Bowl and high-five the patrollers barbequing at the summit. Stop by Cloud Nine for a glass of champagne and a dance party on the deck. Have a snack at "Picnic Point," where crowds gather to soak in the views of Pyramid Peak. And finally, make sure you're at the base in time for the ski patrol descent when the crowd bestows the team with well-earned cheers for another season in the books.
Once the DJ starts the party at the base, settle in for gyration in ski boots until after the sun sets!
Want a front-row penthouse? Book a vacation week at The Ritz-Carlton Club at Aspen Highlands, ground zero for all the closing-day festivities.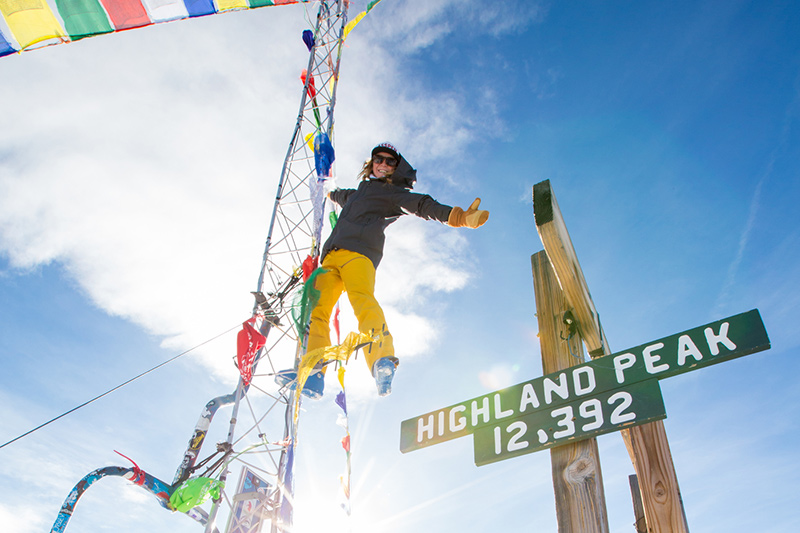 Tag the top of Highland Bowl on closing day! | Photo: Aspen Snowmass, Catherine Aeppel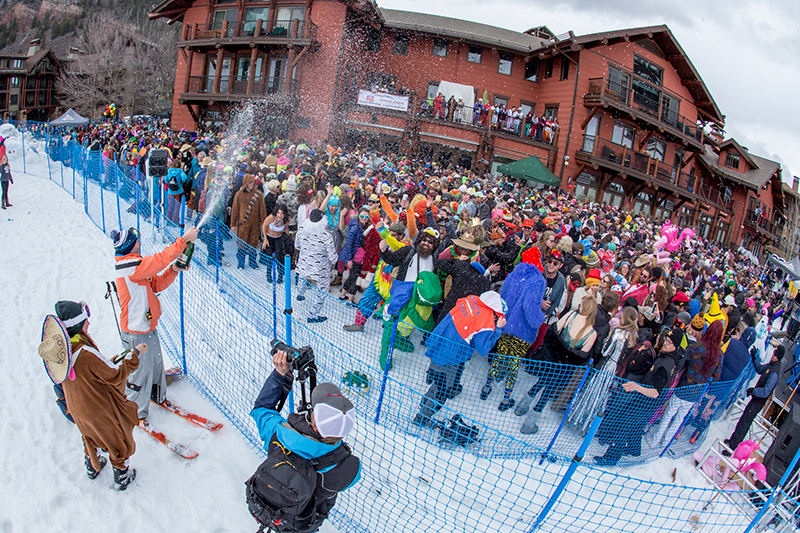 For some partygoers, the dance party at Highlands is the main and only event. | Photo: Aspen Snowmass
Snowmass Closing Day
Snowmass and Aspen Mountain both close on April 21, 2019, which makes it tough to choose between events. Thankfully Snowmass hosts a full weekend of celebrations, so it's possible to hit some Snowmass festivities on Saturday and close out the season in town on Sunday. Details for Snowmass's 2019 closing day have not been announced yet, but the theme is "Spring Fling." Stay tuned for more info!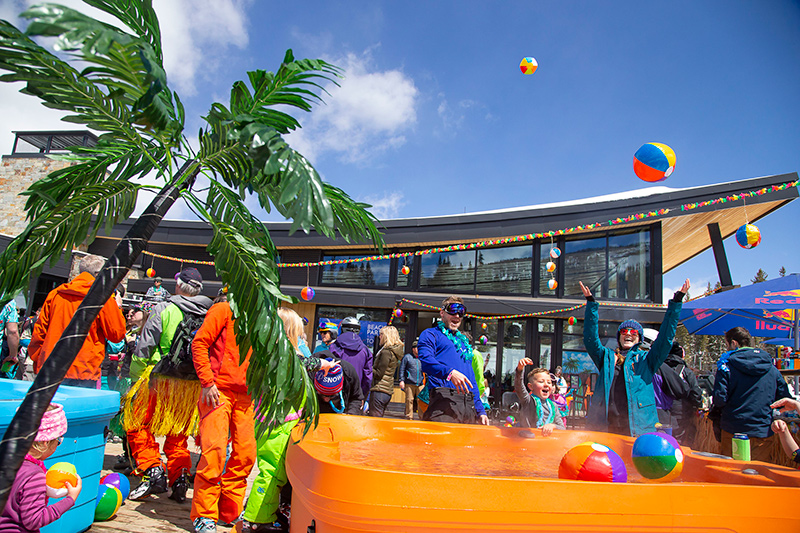 Elk Camp will surely be the center of on-mountain closing day festivities this year. | Photo: Aspen Snowmass, Hal Williams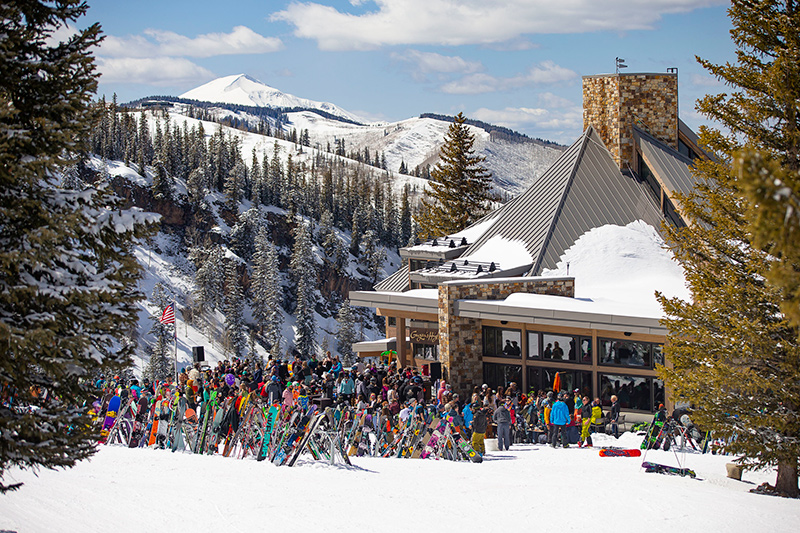 Don't forget to stop by Gwyn's High Alpine on closing day at Snowmass. | Photo: Aspen Snowmass, Hal Williams
Aspen Mountain Closing Day
As the birthplace of Aspen skiing, Aspen Mountain has many historic traditions for closing day. For example, locals gather atop Ridge of Bell at 1 p.m. for the infamous "Bump Off," a kamikaze race down the mogul field under the gondola. Spectators gather on Gent's Ridge to watch as skiers either make it or explode, with both results giving the crowds what they want!
Aspen Snowmass hosts an 80's Prom Closing Day Party at the Sundeck from 11 a.m. - 4 p.m., complete with a DJ and a constume contest. Don your best prom dress or tuxe and rock out between slush-bump runs!
At the base of Aspen Mountain, Ajax Tavern and Shlomo's turn up the music at dueling apres parties, and the sunny patios stay rocking until well after the lifts have stopped spinning.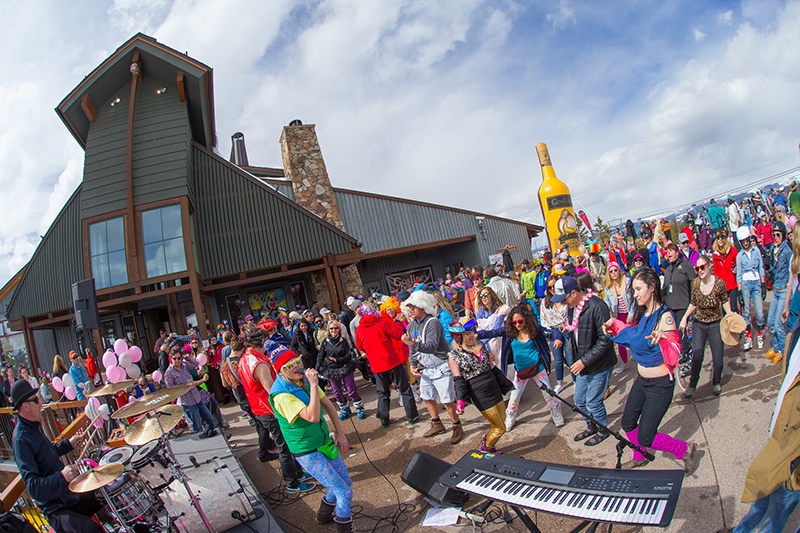 Flashing back to last year's 80's Prom atop Aspen Mountain on closing day | Photo: Aspen Snowmass, Hal Williams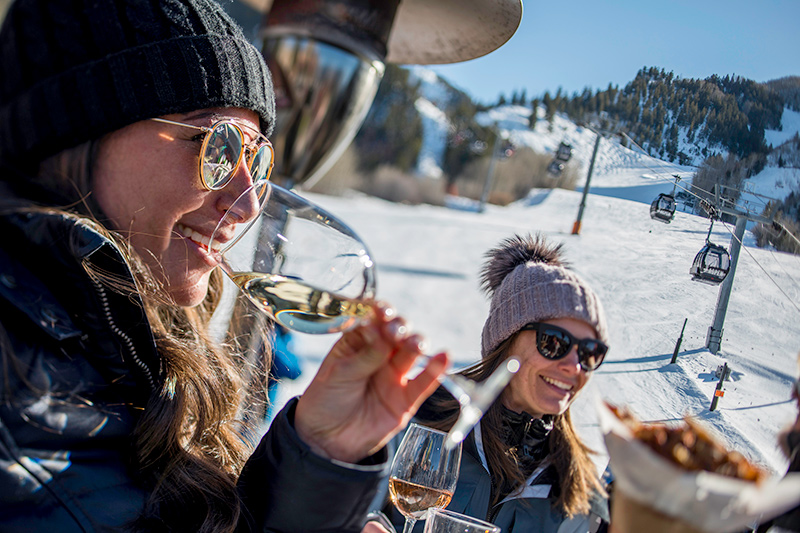 Don't forget to get one last glass of apres-ski rose at the Ajax Tavern! | Photo: Aspen Snowmass, Daniel Bayer
Are you ready to join us for closing day?
Now that you know how to experience all four closing days like a pro, join us in Aspen! Browse our lodging deals, search for a rental, or contact us for recommendations.