Posted: 24 Mar 2021
Aspen is an exceptional place to visit during any time of year thanks to its climate, surroundings, and the fact that the entire city eagerly caters to visitors. All these things make picking the best time of year to visit Aspen a bit tricky.
To help you make the decision, we have outlined what there is to love about each season, as well as the things you might not love. We'll leave it up to you to decide which time of year is ideal for your Aspen vacation!
COVID-19 VISITOR INFORMATION: This year, check our frequently updated COVID-19 Visitor Resources before booking your vacation. We provide information about local safety measures and public health policies. Alternatively, contact our Aspen-based reservations team, and we can give you an on-the-ground report about current conditions.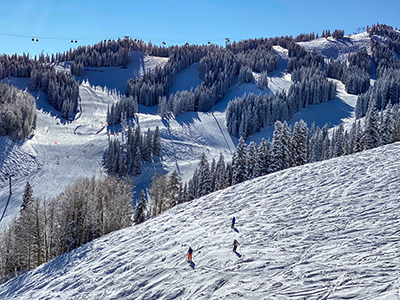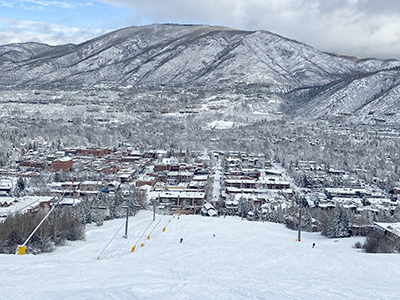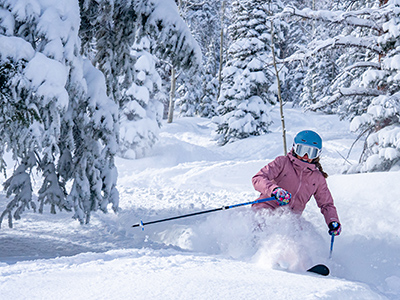 Aspen in Winter (November - February)
With an average of 197 inches of snow and four different ski resorts located within close proximity, Aspen is paradise for skiers, snowboarders, and winter sports enthusiasts of all stripes. It has a romantic, ski-town feel, is accessible by plane and car, and still has plenty of culture to excite visitors from all over the world.
Best Winter Events
The Aspen winter events calendar is packed from Thanksgiving until ski areas close for the season in April. The 12 Days of Aspen delivers festive holiday cheer throughout the month of December followed by world-renowned New Year's Eve celebrations. January brings with it Winterskol, Gay Ski Week, and ESPN's Winter X Games.
Best Winter Activities
With four ski areas right next to one another, there is plenty of terrain for skiers and snowboarders to explore during the winter months in Aspen. And that doesn't take into account all the uphilling routes, backcountry zones, and cross country skiing, snowshoeing, snowmobiling, and fat biking trails that are easy to access in the winter wilderness around Aspen. Non-skiers can apres ski, hike, shop, ice skate, sled, swim, rock climb indoors, visit museums and galleries, and much more.
Winter Drawbacks
Aspen turns into a one-road-in town during the winter months, so travel can be slightly more challenging. However, in recent years, Aspen Airport has gained more airlines and increased flight schedules that have improved reliability and ease when flying into our mountain destination.
For those who are not a fan of cold weather, the temperatures can be daunting. As long as you pack plenty of warm clothes and reserve a condo with a cozy fireplace, you'll have a great time!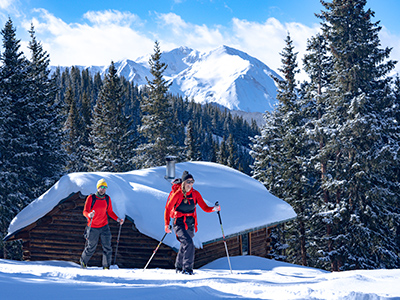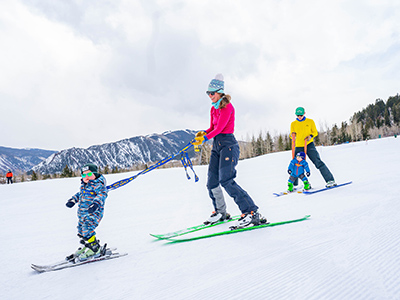 Aspen in Spring (March - May)
With a higher sun angle and more daylight hours, spring feels markedly different than winter in Aspen and is an invigorating time of year to visit. Spring is also when Aspen receives the most snowfall (on average) and hosts apres-ski parties. The ski slopes close in mid-to-late April, and once the lifts stop spinning, you can get great deals on lodging and dining all over town.
Best Spring Events in Aspen
Aspen is replete with great events throughout spring. Endurance athletes from all over the world race across Aspen Snowmass' four mountains during the Power of Four ski mountaineering competition. Aspen Snowmass hosts a cocktail competition dubbed the Apres-Ski Cocktail Classic, and Bud Light Spring Jam brings two weeks of music, parties, ski competitions and more to town.
When the spring sun becomes too strong to keep the mountains open any longer, closing day parties at each of the four ski areas wrap up the ski season in festive fashion. Once the snow melts, the Ride for the Pass cycling event challenges cyclists to climb Independence Pass before it opens to motor traffic for the summer.
Best Spring Activities in Aspen
Many of the best activities during early spring in Aspen are the same as on the winter list above, at least while Aspen's four ski areas are still open. However, the apres-ski scene in Aspen becomes much warmer and vibrant during March and April. And with longer days and warmer temperatures, spring is a great time of year to introduce kids to skiing or snowboarding.
With the ski areas closed and the snow quickly melting away, the mountains surrounding Aspen begin to open up. This means plenty of opportunities for hiking, mountain biking, road biking, whitewater rafting, fly-fishing, trail running, and more.
Spring Drawbacks
There are two downsides to spending spring in Aspen: snowmelt can make hiking and biking trails muddy, and some local businesses close for a few weeks when the ski season ends. With that said, there are still plenty of restaurants and shops open and fewer visitors in town, offering those who come a more intimate Aspen experience.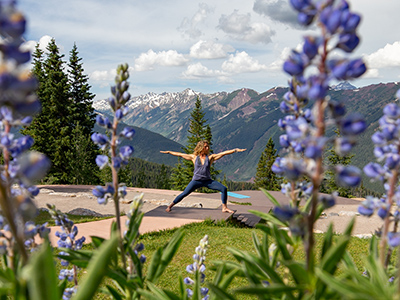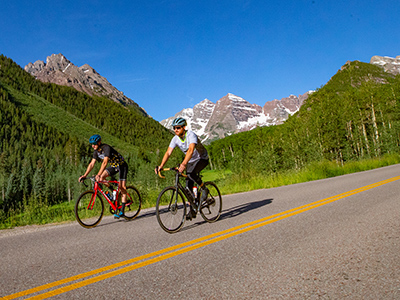 Aspen in Summer (June - August)
While most think of Aspen as a winter destination, those in the know are more likely to brag about its summer virtues. With hundreds of events and endless mountain activities to partake in, summer is the season with the most to do.
Best Summer Events in Aspen
There are so many unique summer events that it's hard to play favorites. Locals and visitors love the Aspen Food and Wine Classic, Aspen Ideas Festival, the Old Fashioned Fourth of July, and JAS Labor Day Experience music festival. Beyond all these signature summertime events, there are dozens of weekly events sure to keep you entertained during your visit.
Best Summer Activities in Aspen
If you enjoy playing in the mountains on warm summer days, Aspen has plenty to offer you. Hiking, biking, gondola rides, visits to the Lost Forest in Snowmass, horseback riding, whitewater rafting and kayaking, fly fishing, hot air ballooning and paragliding are just some of the many activities that will fill your days. If you still have energy after all the fun, summer evenings in Aspen are filled with scenic outdoor dining, concerts and vibrant nightlife.
Summer Drawbacks
The secret about Aspen summer may be out because the most popular weeks (like Fourth of July) are very busy. While the crowds offer a vibrant ambiance to downtown Aspen, it becomes a little more difficult to get a dinner reservation or a seat on the Maroon Bells shuttle during peak summer weeks.
The biggest downside of visiting Aspen in the summer is finding enough time to do all the activities and attend all the events that you might want to. This means you may have to prioritize and squeeze in what you can during your next visit. Or, stay all summer and try it all.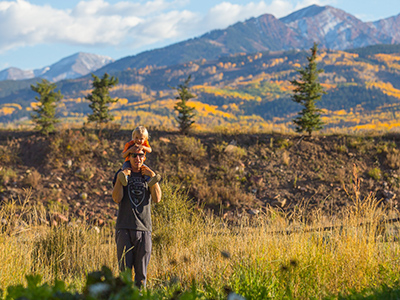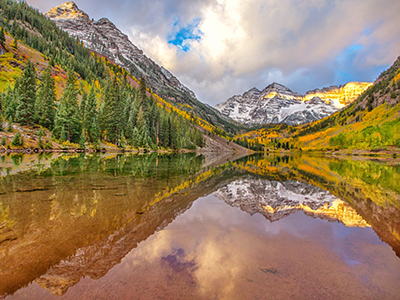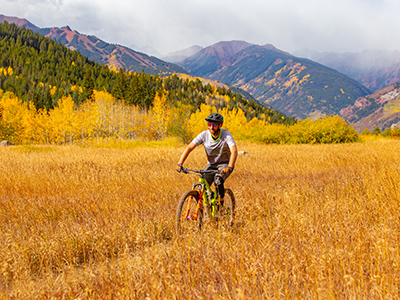 Aspen in Fall (September - October)
As the days get crisp and the mountains flush with rich autumn hues, fall replaces the frenzy of summer activity in Aspen with a colorful calm. The famous fall colors draw "leaf peepers" from all over the world, and the cool weather and sunny conditions are ideal for exploring the mountains surrounding Aspen.
Best Fall Events in Aspen
The fall months on the Aspen events calendar are relatively quiet. With that said, Aspen Ruggerfest, Snowmass Balloon Festival, Aspen Film Fest, the Golden Leaf Half Marathon, and Ruggerfest still offer plenty for those who visit.
Best Fall Activities in Aspen
There are few better places to go for Rocky Mountain fall colors than Aspen, which means that the best fall activities are those that place you directly in those colors. Most of the summer activities Aspen has to offer are still great in the fall, with the exception of a few like whitewater rafting and kayaking. Locals prefer hiking during this season because there are fewer people on the trails, and the cool temps make for easier ascents.
Fall Drawbacks
Fall in Aspen is a dynamic time of year, and our visitors strive to get to Aspen during the colors' peak. It's tough to hit the exact weekend, but the general sweet-spot is between the last two weeks of September and the first two weeks of October. Another autumn wildcard is the potential for snow. We advise our guests to pack for a whole range of weather, from 70-degrees-and-sunny to a sudden snowstorm!
You Decide!
Now that you know a little more about the different seasons in Aspen, you get to decide which might be the best for your next visit. We know it might be a difficult choice and want to thank you for taking the time to learn a little more about Aspen.
Once you decide and are ready to book your next Aspen Snowmass ski vacation, browse our vast selection of vacation rentals. Or contact our reservations specialists to get recommendations on where to stay.